Notre Dame senior Kayla McBride has final chance at title missed when sidelined as freshman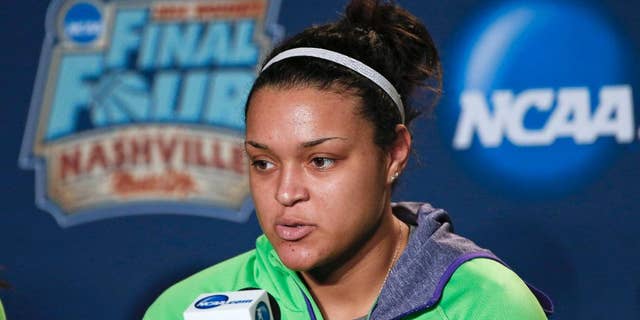 NASHVILLE, Tenn. – Notre Dame All-American Kayla McBride and the Irish have come full circle.
As a freshman, she was sidelined by academic issues and watched from the bench while the Irish lost in the national championship to Texas A&M in 2011.
Now Notre Dame is back in the title game looking for its first championship since 2001, and this time McBride will not be a spectator. The senior will try to help Notre Dame cap an undefeated season with a win against their old Big East nemesis, Connecticut.
McBride said Monday that her painful freshman season helped get her to this point.
"It was hard not being able to do the things that I love and meant so much for me," McBride said. "It changed my complete perspective about everything, and I honestly wouldn't be sitting here right now about to play the national championship game if it wasn't for that."
The Irish (37-0) need McBride at her best Tuesday night against Connecticut (39-0). Natalie Achonwa is sidelined with a torn left ACL. McBride scored 28 points helping Notre Dame beat Maryland in the semifinal, and coach Muffett McGraw expects her star guard to be up to the challenge.
"She is like an assassin," McGraw said. "I think that she's willing to throw the dagger. She wants to give you the knockout punch. She's going to compete and battle on every possession. I think it's what makes her great, and it's been fun to watch her enjoying playing the game and she plays with such passion."
McBride arrived in South Bend in 2010 from Erie, Pa., as a McDonald's All-American and talented enough as a 5-foot-11 guard to help Team USA's Under 18 team win gold. But her work ethic was lacking once on campus. The guard nicknamed "K-Mac" started only four games and played 19 before missing the rest of the season to focus on class work.
"I wasn't working as hard as I should have been, and that was on me," McBride said.
She still practiced with the Irish, working instead with the scout team. McBride didn't travel until that Final Four at season's end. She played against the men at the rec center for competition and spent hours shooting at the gym. So much that she often slept on a couch in a room off the locker room to avoid the walk back to her dorm.
McBride went through good days and bad before she said she realized she had to grow up. McBride now calls being sidelined a blessing.
"If it wasn't for that, I definitely wouldn't be at Notre Dame right now," McBride said.
The Irish are glad she's still at Notre Dame.
McBride is the second-leading scorer averaging 17.5 points a game. She averaged 21.5 points a game in four games against the Huskies last season, though she was limited to a team-high 16 points when the Irish lost the fourth game in the national semifinal.
McBride's also the veteran who helps calm down freshmen starters Taya Reimer and Lindsey Allen, helping them at the biggest moment of their young careers.
Allen has heard McBride talk about that freshman season and how it's turned her into the player she is now.
"She doesn't take anything for granted now that she's seen that it can be taken away from her easily," Allen said. "That's what she strives about, thinks about every single day. She has a chance to kind of redeem herself in that sense and get the win (Tuesday) for the national championship."
UConn senior guard Bria Hartley has known McBride since they played at the McDonald's All-American game where they rode the shuttle together. They've also played together at USA Basketball, and Hartley has seen McBride seemingly hit every shot when on the court.
McBride's favorite spot is from 15 feet to 19 feet away from the basket on the left wing. She loves knocking down pull-up jumpers too, can hit the 3 or drive to the basket. The guard plays with confidence, what Hartley calls "swag."
"She goes out there and plays with a passion that sometimes is unmatchable," Hartley said.
The Irish certainly hope McBride does just that to cap her college career.
___
Follow Teresa M. Walker at www.twitter.com/teresamwalker