Notre Dame linebacker Smith eager to be more of a leader with Schmidt out for season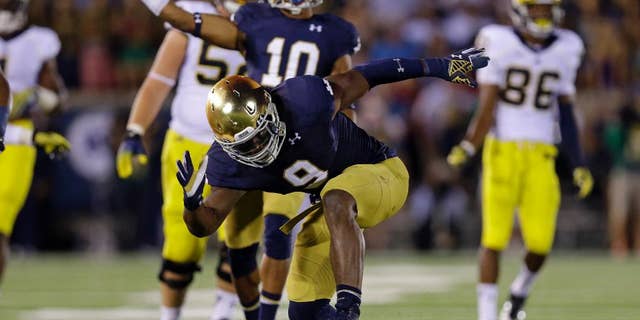 SOUTH BEND, Ind. – Notre Dame linebacker Jaylon Smith is always up for a challenge.
Smith was ready last season when he became the first Notre Dame freshman linebacker to start a season-opener in 18 years. He was ready this season when Irish coaches moved him from outside linebacker to weakside linebacker, where he had to adjust to regularly taking on 300-pound linemen.
Now with middle linebacker Joe Schmidt out for the season with a fractured ankle and being replaced by freshman Nyles Morgan, Smith said he's ready for a bigger leadership role for the eighth-ranked Fighting Irish (7-1, No. 10 CFP).
"It puts a lot more on me, but I'm up for the challenge," Smith said.
Smith said he doesn't feel any extra pressure to perform better with Schmidt out, saying he always puts pressure on himself.
"Nothing has changed from that perspective," Smith said. "Just understanding that the communication has to increase."
Smith heads into the game against 11th-ranked Arizona State (7-1, No. 9 CFP) second on the team in tackles with 59, eight shy of his total from last season when he the third most ever for a Notre Dame freshman, and leads the Irish with 6 1/2 tackles for loss. His 21 starts for Notre Dame leads the defense, although cornerback Cody Riggs has more career starts with 26 at Florida and eight for the Irish.
The coaching staff moved the 6-foot-2, 235-pound sophomore from Fort Wayne inside this season hoping he could have more of an impact and make it harder for opponents to scheme away from him. The transition to inside linebacker hasn't been easy. Defensive coordinator Brian VanGorder said Smith is still learning to make the right reads.
"At times it's been a little difficult for him," VanGorder said two weeks ago. "He's still learning it. His best football's way out in front of him. He's got tremendous traits, physical traits, but he's learning that inside linebacker position and getting better and better with it."
Smith said he's continually learning.
"It's definitely tested my football IQ," he said. "It's constant effort and mentally preparing yourself and locking in every play."
Coach Brian Kelly said it's been challenging for Smith to be a leader this season because he's been learning so much.
"Now I think he feels a lot more comfortable that he can be more assertive out there," he said.
The responsibility of making the defensive calls will fall on freshman Nyles Morgan, who will be making his first career start in place of Schmidt. Smith said he will take over the role of making sure everyone is lined up correctly, saying he's always eager to step up as a leader.
"It's ingrained in me, vocally and also leading by example. It's something I value," he said.
Smith said Morgan is similar to where he was last year starting as a freshman.
"Coming in as a recruit, you think you know everything. Then you get here and you realize you know nothing about the game of football. I went through the same thing," Smith said. "It's all about being coachable."
Smith played well last season against Arizona State, making a team-high nine tackles, 1 1/2 for a loss, forcing a fumble and breaking up a pass in a 37-34 victory in Arlington, Texas. Kelly said Smith showed in that game he could be counted on to be more than a player who could set the edge.
"He was forced to be in coverage. He was forced to pressure the quarterback. He was asked to do a lot more, and I think that's kind of what really put him in a position that I think we all felt like, 'All right, we can ask more of him that's just playing the field and being a contain player.'"
The Irish have depending on him this season to be one of their best players. He had a career-high 14 tackles against Stanford and he's continuing to learn not just his position but how all the defensive pieces fit together. VanGorder said Smith's best days are still ahead of him.
Smith said the focus for him is always to get better.
"I'm really just always looking for a way to put my team in a position to where we can be successful," he said.