Notre Dame hopes young QB ready for Strong's Texas 'D'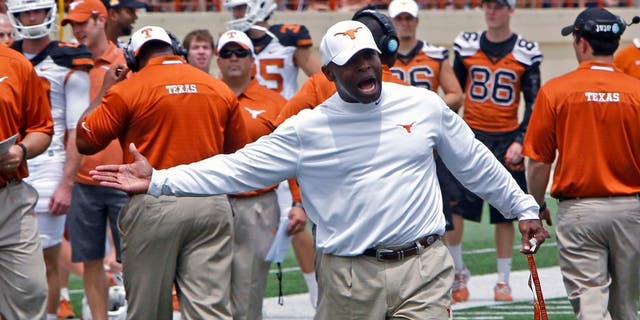 Will Texas head coach Charlie Strong, a noted defensive guru, present an extra challenge for Malik Zaire, Notre Dame's first-year starting quarterback, on Saturday night?
Fighting Irish coach Brian Kelly acknowledged during his press conference in South Bend this week that is a good question.
"I think as coaches, we certainly present all of those challenges to him in practice," Kelly said.
Whether that is an all-out blitz, eight men in coverage or something else, Kelly hopes Zaire has seen it over the past month.
"But those are just quizzes. The test is when it happens in realtime. I don't know that you really know for sure until you get the test. We think we have given him many opportunities to react and he's reacted very well to all of those kinds of scenarios that you mentioned, but I don't think you really feel confident until you get those opportunities."
One key for helping a young quarterback get along early in his career: Try to avoid asking him to do things he's not suited for.
"If he does the ordinary things extraordinarily well, he's going to succeed at a high, high level," Kelly said. "It's when you go outside that and start to do things on your own and kind of, well, I'll use this for that, and it's taking kind of the round peg and putting it in the square hole, is where we have issues."
As far as successfully keeping the Notre Dame offense on track against the Longhorns, Kelly has a simple formula for success for Zaire.
"As I've said before, if he does exactly what I tell him to do, we should be in really good shape," Kelly said.