Notre Dame has been waiting for another shot at USC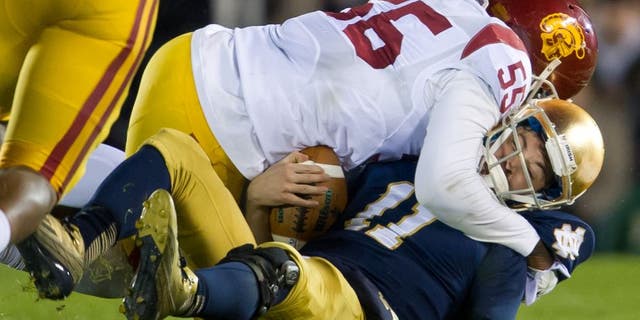 NEWYou can now listen to Fox News articles!
Notre Dame football coach Brian Kelly did not have to be asked if last year's game against USC will be on the minds of the Fighting Irish as they prepare to play host to the Trojans this Saturday.
He brought it up in his opening statement.
"Obviously excited about the rivalry game with USC for our team and our program this is certainly one that we look forward to each and every year," he told reporters Tuesday.
That is especially true when his team was pummeled 49-14 in the Coliseum in Los Angeles, as happened to the Fighting Irish in 2014.
"For us, in particular, after getting beat last year out there, it's been one that we have really set our eyes on in terms of wanting to eradicate that in our minds in terms of that game itself."
The Trojans jumped out to a 35-0 lead and ended up with 577 total yards and 35 first downs.
"They pushed us around pretty good last year," Kelly said.
Notre Dame leads the all-time series with the Trojans 45-35-5, and the Irish are 3-2 in the series under Kelly despite the loss last season.
"You build your program and you don't expect those days to occur," Kelly said. "So we kind of have talked about what our standard of play was and is, and that's not our standard of play. So I think everybody has used it as what's acceptable and what's not acceptable, and that standard of play is not acceptable."