Notre Dame AD: Strong Gust of Wind Knocked Over Student's Tower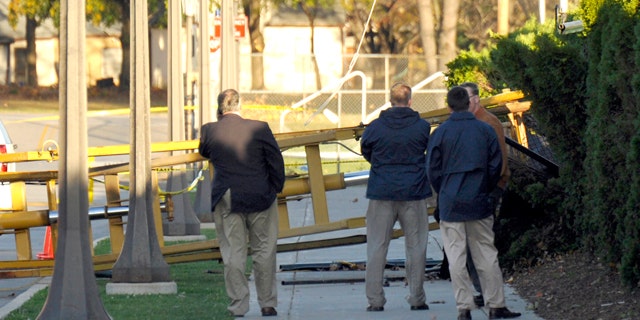 SOUTH BEND, Ind. -- A strong gust of wind swept across Notre Dame's practice football field before a tower toppled, killing a student who had been videotaping the team from the tower, the university's athletic director said Thursday.
Declan Sullivan, a 20-year-old junior from Long Grove, Ill., died Wednesday at a South Bend hospital after the hydraulic scissor lift he was on fell over at the LaBar practice complex. Athletic Director Jack Swarbrick promised there would be a full investigation, but did not say who was responsible for allowing the student to use the lift.
Speaking to reporters for the first time since the accident, Swarbrick described a normal practice that quickly became chaotic on Wednesday. He said he was walking along the football field when suddenly, the wind picked up and equipment began flying.
"I turned to face north and experienced a pretty extraordinary burst of wind. Things started flying by me that had been stationary for all of practice -- Gatorade containers, towels, etc. I noticed the netting by the goal post start to bend dramatically and I heard a crash," he said.
Swarbrick said training staff, medical trainers, coaches and players responded to Sullivan, but after emergency workers arrived, the team went back to the field so the rescuers could help the student. Sullivan was taken to a South Bend hospital, but Swarbrick said he received a call from the ambulance before it arrived that Sullivan was no longer breathing.
The National Weather Service said winds in the area were gusting to 51 mph at the time the hydraulic scissor lift, which can be lowered or raised depending on needs, fell over. The football team had practiced indoors the day before because of the blustery conditions caused by a fierce storm.
It was not clear specifically who authorized Sullivan to go up in the scissor lift to videotape Wednesday's practice, but Swarbrick said the decision to practice outside was left up to individual programs at the university. As a student worker, Sullivan reported to a video coordinator associated with the team.
Swarbrick said the university would review its protocol for sending people up in the temporary towers. He said at least one other student was in a temporary tower.
"We're going to look at how it was done this day," he said. The university also was going to investigate whether Sullivan had contact with anyone when he was in the tower filming practice. The student, who also wrote for the student newspaper, reportedly posted messages on his Facebook page just before the tower fell, including one calling it "terrifying" being on the tower amid high winds.
Chuck Hurley, chief deputy coroner for St. Joseph County, said Thursday that Sullivan died of multiple blunt force trauma injuries to the head, chest and abdomen.
Indiana Occupational Safety and Health Administration spokesman Marc Lotter said Thursday the agency had an investigator on the scene in South Bend. He said it was too early to say when the agency, which has the authority to levy fines, might release a report.
The Fighting Irish planned to host Tulsa on Saturday as scheduled, Swarbrick said, and the team will wear decals on their helmets to honor Sullivan. Notre Dame was making grief counselors available for students and was planning a special Mass in Sullivan's memory Thursday night.
Sullivan's uncle said the family has many questions for the university about the accident, but for now, they want to celebrate his life.
"He always brought joy to people and that's how we're remembering him," Mike Miley, of Schaumburg, Ill., told The Associated Press.
"I'm understanding that many of the players had gotten to know Declan. I'm sure they're grieving and our hearts are with them as well," Miley said.
Matt Gamber, editor in chief of The Observer, the independent student newspaper for the University of Notre Dame and Saint Mary's College, said Sullivan was majoring in marketing and film and had written about arts and entertainment events for the newspaper over two years.
"He was an extremely enthusiastic and a really driven kid, and that really showed through for us in his writing. He had a lot of excitement and energy for the events and subjects he covered," Gamber said.
"Those who know him the best describe him as an enthusiastic, really fun guy to be around," Gamber said.
The newspaper reported about 200 people attended a memorial Mass for Sullivan on Wednesday night in the chapel of his dormitory. Afterward, attendees processed to the campus candlelit grotto, where about 150 students recited part of the rosary.
"Declan Sullivan was a bright, energetic, dedicated young man and we will miss him greatly." university president, the Rev. John Jenkins, said Thursday.