'Nothing falls but raindrops' thanks to much-improved Twins defense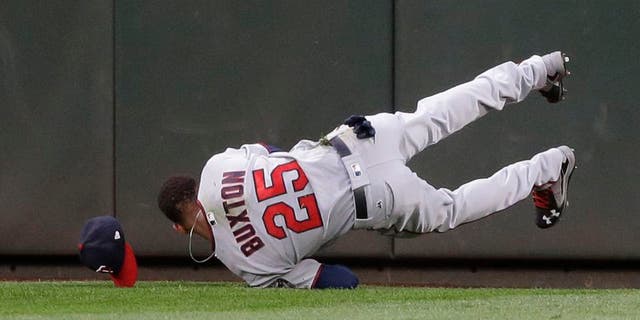 NEWYou can now listen to Fox News articles!
MINNEAPOLIS -- The Minnesota Twins are wobbling from a four-game sweep over the weekend by Cleveland that pushed them out of first place, their thin pitching staff exposed by another doubleheader and the surging defending American League champions.
The Twins wouldn't have been in the position to play such a pivotal midseason series toward the AL Central race, though, without the vast improvement they've made this year on defense.
For the numerous pitching problems that remain in need of resolution, there was no more critical step in the reconstruction of this franchise than the reestablishment of an everyday lineup that can not only survive defensively but thrive. After all, if you can't catch the ball, good pitchers quickly can go to waste.
"It's a lot of pride. We take it very seriously to go out there and help our pitcher out any way we can," center fielder Byron Buxton said. "Any play that can possibly be close, we'll be diving for. Even if we miss, we know we've got backup to cover us."
With the super-speedy Buxton anchoring the young, agile outfield, the Twins have been able to station Eddie Rosario and Max Kepler with excellent range and ability in the corners. They've even coined a motto for their fielding responsibility, "Nothing falls but raindrops." Though chief baseball officer Derek Falvey and general manager Thad Levine took over a team that lost 103 games last season, they were confident they were inheriting the potential for much better defense than what the Twins had shown. They could see as much with their previous clubs, Cleveland and Texas.
"Each of those guys could play center field. When you have three center fielders manning your outfield, that's a good place to start," Falvey said.
The only significant winter acquisition was light-hitting catcher Jason Castro, but he commanded a $24 million, three-year contract by virtue of his value behind the plate in calling games, blocking balls and framing pitches.
Second baseman Brian Dozier has always been a slick fielder. First baseman Joe Mauer has become even more adept at scooping low throws from the left side of the infield, where third baseman Miguel Sano and shortstop Jorge Polanco have played up to the trust the front office and coaching staff placed in them.
"Miguel, he's always going to be a big man. But we knew he was athletic. We knew he had great hands. We knew he had a great arm," Falvey said. "So while at third base he may not be the rangiest of guys over there moving forward, we felt he could be a pretty steady defender."
Polanco is also an offense-first player, but he has held his own at a critical position.
"We bet on the makeup, the athleticism and his willingness to work on his defense to really take that next step," Falvey said, "and he's done that."
Major league teams have only begun to discover accurate methods of quantifying defense that's good, bad or in between. It's still more difficult to assess than hitting or pitching, though.
Let's start with errors, an inconsistent and subjective statistic at the discretion of the official scorer at each ballpark but one with potential to significantly influence the outcome of a game. Squandering sure outs in the field is a fast way put the pitcher in trouble for a damaging inning.
Sound fielding used to be the hallmark of a franchise that did more with less during the Metrodome days, making up for a lack of 40-home run hitters and power-armed starting pitchers with players who were fundamentally sound. In 2002, when the Twins won the first of six division titles in a nine-year span and reached the AL championship series, they established a club record for fewest errors with 74. They matched it with the same total in 2003.
With 26 errors over 67 games this year, the Twins have the second-fewest in the major leagues. Last season, with 126 errors, they committed the second-most. Only Milwaukee (136) made more.
Analytics websites like FanGraphs.com provide publicly available metrics to paint a clearer picture. According to its data, the Twins rank third in the major leagues in defensive runs saved (25), behind Cincinnati (37) and Tampa Bay (28). In 2016, the Twins were third-worst, with minus-49 runs lost to defensive inadequacy.
Another value in fielding, no pun intended, for a roster with good defense is the cost efficiency of the skill. Home runs always have, and probably always will, cost more on the market for player contracts.
For the Twins, Buxton is the star of this show.
Despite badly struggling through the first month of the season at the plate, manager Paul Molitor has found it difficult to keep him out of the lineup. To his credit, the 23-year-old Buxton, who was the second overall pick in the 2012 draft, has been able to separate the two disciplines.
"You go as hard as you can while you can," Buxton said. "I know I can't play this game forever."