Notes: Baseball games were not meant to end in ties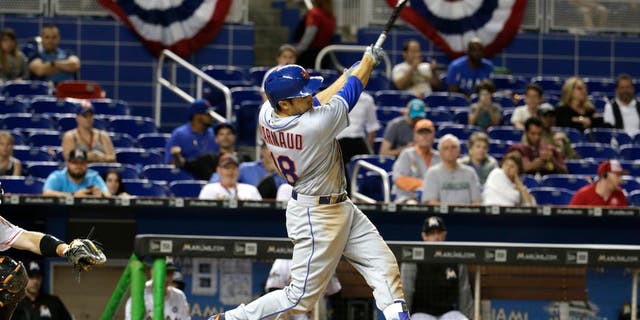 NEWYou can now listen to Fox News articles!
I generally am not a fan of media-on-media commentary, writers opining on other writers ideas. It strikes me as too clubby, and less interesting than an original take, even the hottest of the hot.
In this case, though, Im making an exception.
Two friends of mine, two of the people I actually respect most in the business, want to do away with extended extra-inning games.
To which I say, no, a thousand times no, play all freaking night, if thats what it takes.
My two friends, ESPNs Jon Boog Sciambi and the New York Posts Joel Sherman are quite smart, and their arguments are perfectly valid. I disagree vehemently, and my guess is that most fans do, too.
First, the background:
On April 5, as the Mets completed a 12-inning victory over the Braves, Boog tweeted the following:
Boog later added,
Joel wrote a column endorsing that concept in the wake of the Mets 16-inning victory over the Marlins on Thursday.
Joels best point is that is that extended extra-inning games increase the risk of injury at a time when baseball desperately wants to keep players healthy. Fair enough, but players keep dropping under normal circumstances. Sundays injury list alone was so lengthy, you would have thought MLB was the NFL.
Im waiting for the sport to figure out a truly effective preventative measure, just one. In the meantime, a total of 63 games 2.59 percent -- went 12 innings or longer last season, according to STATS LLC. The elimination of such games to help with injuries would be the approximate equivalent of the elimination of the intentional walk to help with pace of play.
Now for the pro side of the pros and cons.
One of the many things I love about baseball is its quirkiness. Long extra-inning games are full of quirks extended relief outings; starting pitchers summoned as relievers, pinch-hitters and pinch-runners; position players pitching.
Fans seem to enjoy the oddities, at least judging from the admittedly small sample size of Twitter. Never mind that parks empty and TV ratings dwindle as the innings mount. Such games are often quite memorable, and part of the sports allure.
Does the average 15-inning epic wreck a pitching staff? Darned right it does! And that, too, is part of the fascination; such games are part of the challenge of playing 162. Deeper teams hold an advantage. So do teams that excel at roster management, such as the Orioles under Buck Showalter.
The introduction of ties or the adoption of a much-discussed rule that would place runners on first and second at the start of a designated extra inning would penalize the smarter, better constructed clubs.
Oh, and one other thing: Extra innings are avoidable. If teams dont like em, they should push to win games in regulation, just as postseason contenders should push to win their division to avoid the wild card.
Long live extras. Play all night, for all I care.
Not to spoil the Marlins' party, but…
Six of the Marlins relievers are on pace to throw 85 or more innings, even with the team using an eight-man bullpen.
The 16-inning game, taxing as it was, merits only a fraction of the blame.
The Marlins rotation is averaging slightly more than five innings per start, ahead of only the Reds. This is partly by design; the Marlins know their starters are not very good, and do not want them going through batting orders three times.
The strategy makes sense, and manager Don Mattingly was correct to remove right-hander Dan Straily after 5 1/3 no-hit innings Sunday Straily had walked five, including his last two hitters, and had thrown 93 pitches.
The Marlins, though, cannot survive at this pace (nor, for that matter, can the Mets, who have three relievers on track for "100" innings Fernando Salas, Addison Reed and Hansel Robles -- even though their rotation ranks second in the majors in innings per start, behind only the Giants).
The Miami starters will need to go deeper, Mattingly will need to adjust, or both.
Shifty fish
Oh, and while on the subject of the Marlins, its also worth noting that the team is employing defensive shifts at a dramatically and I mean dramatically -- higher rate this season.
In fact, the Marlins have shifted nearly as much through 12 games as they did all of last season, according to STATS LLC.
The raw numbers:
The Marlins thus far have shifted 159 times (34 percent of their opponents plate appearances). Thats second in the majors only to the Rays (209 shifts, 42.6 percent.)
In 2016, the Marlins were last in the majors in shifts, using only 166 (2.7 percent). STATS records a shift whenever three defenders are on either side of second base.
The Marlins previously had positioned their infielders mostly through charts maintained by their renowned infield coach, Perry Hill. Their positioning cost them Sunday on Asdrubal Cabreras game-tying single off David Phelps in the ninth inning; the Fish were not technically in a shift, but second baseman Dee Gordon was shaded toward first with Cabrera, a switch-hitter, batting left-handed.
That said, the Marlins had a remarkable weekend, rebounding from their 16-inning defeat to earn three straight narrow victories over the Mets in games started by Noah Syndergaard, Jacob deGrom and Matt Harvey.
Oh, that trade
Could it be that the Diamondbacks will regret parting with center fielder Ender Inciarte more than shortstop Dansby Swanson in the Shelby Miller trade?
Inciarte, 26, hit his fourth home run in four games Sunday, surpassing his season total from 2016. The Braves, after signing him in December to a five-year, $30.525 million contract with a club option, will control him for as long as they control Swanson, through 22.
The Braves, then, acquired two up-the-middle mainstays for Miller, plus right-hander Aaron Blair, who is now at Triple A.
Inciarte, though, did not become the full-time center fielder until after Brian Snitker replaced Fredi Gonzalez on May 17.
Gonzalez generally started Inciarte in center against left-handers, moving him to left and using Mallex Smith in center against right-handers. Inciarte, who missed nearly a month after straining his left hamstring in the seasons third game, struggled to get untracked.
He admits now that the trade unnerved him.
Ill be honest. I was a little disappointed with the Diamondbacks, Inciarte said. Ive got a lot of friends there. I grew up playing with the Diamondbacks.
The first thought that came to my mind is that I heard the ball doesnt carry much at Turner Field. The first two months, there were a lot of things in my head. But once Snit got here, he talked to me, put me in center field, gave me a chance to play every day. I didnt have to worry about playing left and center. He got me settled, and I started having fun.
Snitker, who began last season as the Braves Triple A manager, had seen Inciarte in spring training and also on his rehabilitation assignment. It took him less than a week after becoming the major-league manager to make Inciarte his regular center fielder.
The more I was here, I thought, This guy is a center fielder, a God-given center fielder, Snitker said. It was his jumps, his feel. And his arms a weapon.
Hes a guy you can build around in center field.
And this one, too
The Justin Upton deal has proven quite a bonanza for the Braves, while the Padres wound up with only one year of Upton plus a compensation pick after he left as a free agent, high-school shortstop Hudson Sanchez.
The Braves bounty, after two subsequent trades, came to include three top pitching prospects: Left-hander Max Fried, right-hander Touki Toussaint and lefty Luiz Gohara.
Fried was in the original deal, in which the Braves pared Uptons $14.5 million salary. The Braves used most of the savings to take on Bronson Arroyos contract, which was the price for acquiring Toussaint from the Dbacks, then later obtained Gohara for Mallex Smith, who was in the Padres deal.
The Braves package from the Padres also included infielder/outfielder Jace Peterson, who is in his third year with the club, and outfielder Dustin Peterson, the teams 2016 minor-league player of the year.
The Upton trade is one reason that most analysts rate the Braves farm system as the best in the game. Fried is the teams No. 8 prospect, according to MLBPipeline.com. Gohara is No. 10, Toussaint No. 11 and Dustin Peterson No. 17.
Sanchez, 18, did not crack the Padres Top 30, which includes seven shortstops.
For Padres Solarte, it's about his girls
Last April, Padres second baseman Yangervis Solarte signed a brand contract with Fantex, receiving an upfront payment of $3.15 million in exchange for a portion of his future earnings.
Then in January, Solarte agreed to a two-year, $7.5 million deal with the Padres that included two club options and cost him a year of free agency.
Why would Solarte, 29, agree to the second deal when he already had security from his first?
The answer stems in part from his personal situation Solartes wife, Yuliette, died in September at age 31 from complications in her fight against cancer, leaving Solarte to raise their three daughters, ages 6, 5 and 18 months.
Solarte, speaking through an interpreter, said he wanted as much as security as possible for his family, particularly since he turns 30 on July 7. He delayed his free agency until he is 33, but Solarte said that with his next deal he can bet on himself, knowing that his daughters future is assured.
Solarte said that his mother, Yanmili, is taking care of his daughters in Miami, with help from his brother and sister-in-law.