Notebook: Notion of interchangeable relievers doesn't add up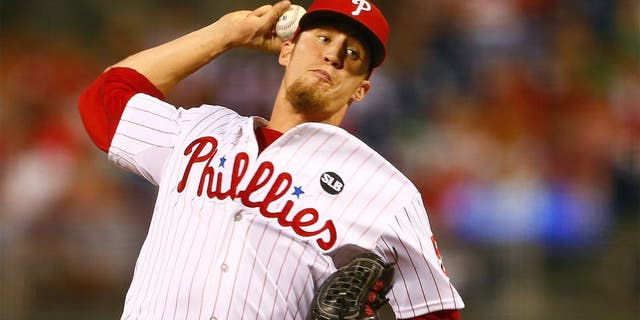 Sabermetrics took hold in part because conventional baseball thinking was inflexible. But at times, some who espouse advanced metrics have appeared inflexible, too.
Case in point: The opinions of some in the sabermetric community that relievers are relatively interchangeable, and that virtually any good reliever can be a closer.
The Astros -- a team as devoted to analytics as any other -- clearly do not hold those views.
Last off-season, the Astros signed two right-handed relievers, Luke Gregerson and Pat Neshek, for a combined $31 million.
In recent days, they signed free-agent lefty Tony Sipp to a three-year, $18 million deal and made a 5-for-2 trade with the Phillies for righty Ken Giles, who could replace Gregerson as the closer.
Do the Astros' moves represent an evolution of thought by both the team and the industry, considering that all 30 teams now embrace sabermetrics to some degree?
Or did even the most fervent believers in numbers appreciate quality relievers all along?
"I think it's overly simplistic to assert that executives who use analytics believe good closers or good relievers are overvalued. Good players are valued, and elite players even more so," Astros general manager Jeff Luhnow said.
"Also, that high-leverage, late-inning role is the hardest role in the game. It's not something everyone who throws hard can do. We've proven that over and over again as an industry."
Luhnow tried to trade for Aroldis Chapman or Craig Kimbrel at the non-waiver deadline in July, recognizing that his bullpen lacked hard throwers. The GM was not successful in either quest, and the collapse of the bullpen in the final month and Game 4 of the Division Series underscored the need for an upgrade.
Giles, who became the Phillies' closer after the team traded Jonathan Papelbon on July 28, ranked 10th in the majors among relievers last season with an average velocity of 96.5 mph.
Josh Fields, the hardest-throwing Astros reliever, ranked 47th at 94.1 mph. Velocity is but one element of pitching, but it usually helps pitchers miss bats, and missing bats is a good thing.
The back-to-back World Series appearances by the Royals -- the team that vanquished the Astros in the DS -- only reinforced the value of strong bullpens. It's a copycat industry, and teams are addressing the shortage of quality starters by forming assembly lines of relievers. The data-driven Dodgers are another example; they recently tried to add Chapman to a bullpen that already included an expensive closer, Kenley Jansen.
To understand how the value of relievers is increasing, consider how the three-year guarantees for a trio of comparable relievers -- Joe Smith, Gregerson and Ryan Madson -- rose from $15.75 million to $18.5 million to $22 million the past three off-seasons. That's a considerable jump, even when taking into account the normal inflation in the market.
The Athletics, another team that makes heavy use of analytics, signed Madson and awarded another free-agent right-hander, John Axford, a two-year, $10 million contract. Two years ago, the A's also traded for Jim Johnson, who at the time was a $10 million closer.
The top free-agent hitters and starting pitchers generally are out of the Athletics' price range; the only way for the team to upgrade its roster is to invest in less expensive relievers.
The lesson: Relievers matter. To every team.
FREE OF PAIN
Good news from Braves first baseman Freddie Freeman, who missed more than a month with a right wrist contusion, then batted .242 with a .773 OPS after returning on July 25, well below his career averages.
Freeman, who also did not start the final weekend because of his wrist, reports, "This past week was great for me. I've been working really hard to get my wrist healthy this offseason and I finally turned the corner. I've done every treatment possible and something finally worked. It has been the worst six months. I finally have a peace of mind that I don't need surgery."
Now, before John Copollella gets any ideas, let's remind the Braves' frenetic general manager of what he told USA Today shortly after Fox Sports and others reported that he was shopping Freeman earlier this off-season:
"I'd give my right arm before we trade Freddie Freeman. It is not happening."
TIME FOR PADRES TO GET REAL
After the Diamondbacks signed Zack Greinke, I asked someone with the Padres if the move might cause the team to shift direction and trade off more parts.
Nope, the Padres person said -- while the D-backs got stronger by adding Greinke, the Dodgers got weaker by losing him. Such logic, though, reflects a narrow perspective; the D-backs further improved with the addition of Shelby Miller, and the Dodgers and Giants are going to get better, too.
The Padres, then, need to realize that they are unlikely to be competitive in the NL West. Maybe they already are at that point; they're open to trading anyone on their roster, including right-hander Tyson Ross, according to rival executives. The problem is, the Braves' monster return for Miller might create unrealistic expectations for other teams with starting pitching to trade.
Ross is under control for two more seasons, one fewer than Miller. He likely will earn about $24 million in that period -- not an inconsequential sum -- mitigating the potential return. But he still has more value than righty Andrew Cashner, who is entering his free-agent year, and righty James Shields, who is owed $65 million over the next three seasons.
The Padres already have purged the vast majority of their future obligations to closer Craig Kimbrel and infielder Jedd Gyorko. A trade of Shields would continue the pattern. A trade of Ross might make more sense at the non-waiver deadline, when he could be the best starter available.
ROCKIES' MENU OF OUTFIELDERS ENTICING
Just as the Padres are open to trading any of their top three starting pitchers, the Rockies are open to any of their three left-handed hitting outfielders -- Carlos Gonzalez, Charlie Blackmon and Corey Dickerson.
A move, however, might not happen right away -- teams currently are sifting through the free-agent market, where the options still include big-ticket items such as Justin Upton, Yoenis Cespedes and Alex Gordon, and attractive alternatives such as Dexter Fowler, Gerardo Parra and Denard Span.
The Rockies' menu includes options at a variety of prices. The amount owed Gonzalez -- $37 million over two years -- looks increasingly reasonable. Blackmon, entering his first year of arbitration, is projected to earn $4.5 million, according to MLBTradeRumors.com. Dickerson, who is a year away from arbitration, figures to be in the $550,000 range.
The Angels, Giants and Mets almost certainly will add outfielders in the coming weeks, and the Cardinals, Nationals and Orioles are among the other teams looking. Free agents cost only dollars and in some cases draft picks, as opposed to actual players. But eventually, the Rockies' time will come.
RAYS READY TO MOVE?
Three teams still could trade a top-of-the-rotation starting pitcher -- the Padres, Indians and Rays. And of those, the Rays are perhaps the most open-minded to making a deal, sources say.
The Padres could hold Ross and try to sign him to an extension. The Indians would prefer to keep Carlos Carrasco, Danny Salazar and Co. -- their goal is to win, and win with their starting pitching intact.
The Rays, even after trading righty Nathan Karns, offer three starters with the potential to be No. 2s -- righty Jake Odorizzi and lefties Drew Smyly and Matt Moore. They also can move Alex Cobb, who likely will miss much of the season after undergoing Tommy John surgery last May, but is under club control at affordable salaries for the next two years.
Rays relievers Jake McGee and Brad Boxberger also are available, and trade is talk is intensifying around McGee, FOX Sports' Jon Paul Morosi reported on Friday. It might take longer to trade a starter -- the Rays, like the Rockies with their hitters, might need to wait for the free-agent market to settle, and pitchers such as Johnny Cueto and Mike Leake to come off the board.
DODGERS' ETHIER: NOT SO BAD!
Some perceive Dodgers outfielder Andre Ethier as overrated when in reality he actually is just overpaid on a five-year, $85 million contract that runs through 2017.
Ethier, who will play next season at 34, still is owed $38 million over two years, but the Dodgers are willing to reduce that obligation -- as well as Carl Crawford's remaining $41.75 million over two years -- by including cash in any trade.
So really, Ethier is not a bad alternative for teams looking for a left-handed hitting outfielder who hits right-handed pitching well.
Consider how Ethier compared last season to some of the free-agent hitters in weighted runs created plus against right-handed pitching:
(wRC+ attempts to credit the hitter for each offensive outcome while adjusting for park effects and the current run environment; the statistic is scaled so that the league average is 100).
Chris Davis was fourth in the majors at 161. Ethier was 12th at 150 -- ahead of Justin Upton and Jason Heyward, significantly ahead of Daniel Murphy and Ben Zobrist.
Ethier, using wRC+, also is the fourth-most productive outfielder against right-handed pitching since 2010 (minimum 2,000 plate appearances), behind only Mike Trout, Jose Bautista and Shin-Soo Choo.
THE STAYING POWER OF BROXTON
Veteran relievers rarely are candidates for full no-trade clauses, but it's easy to understand why Jonathan Broxton negotiated one into his two-year, $7.5 million, free-agent contract with the Cardinals.
Broxton, 31, was traded in three of the past four seasons; the Cardinals were his fifth team in four years. Yet, his career numbers gave him more leverage than perhaps the average fan might think.
Broxton's career ERA is 3.23; his career FIP is 3.00. He has averaged 10.28 strikeouts and 3.5 walks per nine innings. And after a rocky first four months with the Brewers last season, due in part to an unusually high home-run rate, he rebounded to finish strong with the Cardinals.
Only seven pitchers have appeared in more games through their age 31 seasons than Broxton -- K-Rod is first with 730, Huston Street third at 638 and Broxton eighth at 608. Street, surprisingly enough, is first in saves and games finished for all pitchers through age 31.
AROUND THE HORN
*It will be interesting to see if the Braves flip newly acquired outfielder Ender Inciarte, who is under club control for the next five seasons.
Inciarte, 25, was the eighth-toughest player to strike out in the majors last season and a combined plus-34 in defensive runs saved at the three outfield positions.
The Cubs, one of a number teams that inquired on Inciarte after the D-backs traded him to the Braves, seem more inclined to trade for a starting pitcher, dangling outfielder Jorge Soler or, perhaps less likely, infielder Javier Baez.
Still, if the Cubs acquired Inciarte to play center with Heyward in right, they perhaps could live more easily with Kyle Schwarber in left. Keep in mind, too, that the Cubs have numerous prospects to trade behind Soler and Baez; one scout said third baseman Jeimer Candelario was the best hitter in the Arizona Fall League.
*Orioles GM Dan Duquette defended his team's farm system at the team's FanFest on Saturday, telling the crowd, "Don't believe the crap from some of these publications."
Most of those publications rank the Orioles' system -- at best -- in the bottom fourth of the majors. And the team's top two prospects, right-handers Dylan Bundy and Hunter Harvey, remain significant injury concerns.
Duquette can back up his words by trading for a Rockies outfielder, but the Rox likely would want righty Kevin Gausman, a native of Centennial, Co. And the Orioles lack the depth to trade Gausman, who was the fourth pick of the 2012 draft and might be poised for a breakthrough.
More likely, the Orioles will mine the free-agent market for a starting pitcher and left-handed hitters if they are unable to re-sign free-agent first baseman Chris Davis.
Pedro Alvarez, Gerardo Parra and Will Venable are among the hitters in whom they have interest, sources say.
*Tony La Russa, the DBacks' chief operating officer, says it is "probably unlikely" that the team will sign free-agent right-hander Mike Leake, who is willing to take significantly less to play at home in Phoenix, sources say.
"It's gone back and forth," La Russa said. "Getting Shelby (Miller) gives us a (full) rotation. I think it's difficult because when somebody wants to pitch for you and you really like the person, you want to try and work it out. But it's complicated and probably unlikely."