Notebook: As Fiers' no-hitter shows, Astros not driven solely by stats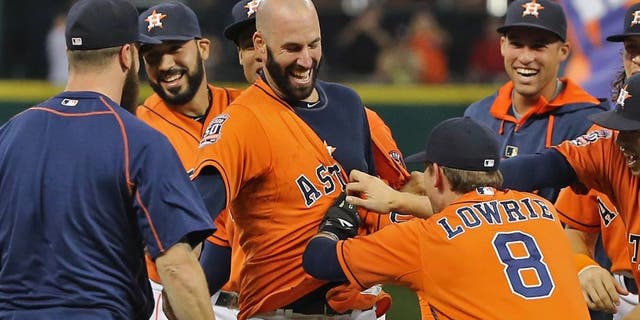 If the Astros are as data-driven as most in the industry believe, why the heck did they allow Mike Fiers to throw 134 pitches in his no-hitter on Friday night?
Because, in truth, the Astros are not influenced solely by numbers.
General manager Jeff Luhnow said he was comfortable with manager A.J. Hinch and pitching coach Brent Strom using their judgment on Fiers, and the right-hander had two things working in his favor against the Dodgers:
*He grew more efficient and dominant as the game went on, averaging 20 pitches in his first three innings, 12.3 in his final six -- and at one point striking out five straight hitters in the seventh and eighth.
*The re-insertion of Lance McCullers into the rotation on Sunday and a day off on Thursday meant that Fiers would not pitch again until at least Friday.
"I trust A.J. and Strom in that area -- they were very thoughtful about Mike's usage," Luhnow said. "They kept track of pitch count by inning and how he was feeling, how his stuff was and also our options for additional rest prior to his next start."
Luhnow added: "Arm care is a highly inexact science, as you know."
Eureka!
The Astros, in fact, are handling their starters quite differently from the Rays, another team that makes extensive use of data.
Only the White Sox are averaging more pitches per start than the Astros. The Rays, meanwhile, rank 28th in that department, ahead of only the Marlins and Rockies.
The Rays have been quite careful about allowing their younger starters to face hitters a third time. Their restrictions do not apply to staff ace Chris Archer, who ranks ninth in the AL with 101.7 pitches per start. But with less established pitchers, they often prefer to trust their bullpen in close games.
The Astros, on the other hand, feature two veterans, lefty Dallas Keuchel and righty Collin McHugh, who rank in the top 13 in pitches per start. Another veteran, Scott Kazmir, ranks 27th.
Hinch, who was the Diamondbacks' manager when Edwin Jackson threw his 149-pitch no-hitter in June 2010, often goes by feel when deciding whether to pull his starters or stick with them.
He stuck with Fiers, allowing him to become the first pitcher this season to throw more than 130 pitches in a start.
Here's to staying open-minded.
A TEAM THAT IS LESS THAN ANGEL-IC
Both Los Angeles teams had an embarrassing weekend, the Dodgers getting swept and no-hit by the Astros, the Angels allowing 36 runs while getting swept by the Blue Jays.
The Dodgers could prove to be a $300 million Titanic, but they still lead the NL West, if only by 1½ games over the Giants. The Angels, on the other hand, have fallen 1½ games behind the Rangers in the race for the second wild card and 5½ games behind the Astros in the AL West.
The truth seems evident -- the Angels are not very good.
Twice this season, the team has gotten hot, going 14-7 from May 9 to June 1 and 17-3 from June 27 to July 22. But in all other games, the Angels are 32-51.
The pitching isn't great; the staff ranks eighth in the AL with a 3.84 ERA. But the Angels' bigger issue is their offense, which ranks 11th in the AL in runs per game. And in a sense they're lucky be even at that level - the team is 13th in OPS and 14th in weighted on-base average.
Not that it would have mattered against the Jays, but the Angels blew it by failing to acquire Chase Utley, who had the right to veto any trade and preferred one of the L.A. teams. The Angels, with more playing time to offer, had a clearer path to Utley than the Dodgers. And yet they got shut out, knowing that the complementary hitters they added at the non-waiver trade deadline were not nearly enough.
Things will not necessarily get better next season -- the Angels must address second base, third, catcher and left field. Oh, and in case you've forgotten, they need to find a permanent GM who can work for a strong-willed owner, Arte Moreno, and with a strong-willed manager, Mike Scioscia.
As one rival GM put it, "You take all of the beatings (from Moreno) and you've got no power (due to Scioscia)."
Not so encouraging, is it?
ROCKY MOUNTAIN LOW -- AGAIN
Nearly two weeks ago, I wrote that Rockies manager Walt Weiss did not appear to be in jeopardy, quoting general manager Jeff Bridich as saying, "That's not even on the radar."
Perhaps at that time it wasn't. But last Tuesday, Weiss asked Denver Post columnist Mark Kiszla, unprompted, "Am I in trouble?" And since then, the Rockies have lost five of six to the Nats and Mets, allowing 14 or more runs three times.
The Rockies' problems, of course, go far beyond Weiss, but the team's .402 winning percentage is the lowest in the majors, thanks in large part to a pitching staff again that has collapsed after a series of promising changes last offseason.
I wrote in the spring about those changes, which were highlighted by the hirings of new pitching coach Steve Foster and bullpen coach Darren Holmes. At the time, a Rockies official expressed concern to me that such a story would create false expectations. It was a career first -- someone all but asking me not to write something positive.
Well, that person was right. And I probably should have known better. If the Rockies fire Weiss, they might be doing him a favor. They have yet to figure out how to build a successful pitching staff at Coors Field.
HOW THE KANG SHOW BECAME A HIT
The Pirates' handling of infielder Jung Ho Kang's transition from South Korea further establishes the team as one of the most progressive in the game.
"It was off the charts," Kang's agent, Alan Nero, said of the Pirates' approach.
At Nero's suggestion, the team allowed Kang to participate in the hiring of his interpreter. The idea made sense, given how closely Kang and the interpreter would work together. General manager Neal Huntington said he was "embarrassed" that he did not think of it sooner.
But the Pirates didn't stop there.
They also allowed Kang to work out with his former Korean team, the Nexen Heroes, when they trained in Arizona prior to the opening of spring training. Manager Clint Hurdle made it a personal project to connect with Kang, Huntington said, and the Pirates even adjusted Kang's workload in spring training, cutting back at times because he was not accustomed to a 45-day regimen with one day off.
Another adjustment for Kang was not playing regularly at the start of the season, but Huntington said the Pirates never considered sending him to Triple-A. They trusted him. They believed in him. And they communicated that to him repeatedly.
"It was a matter of respect and appreciation for one of the best position players in his country," Huntington said. "He's very intelligent. He has a feel. He wasn't a rookie. We wanted to maximize his ability, not make him acclimate to us."
Kang, in turn, showed minimal ego as the Pirates brought him along slowly -- he has not played more than 126 games in a season since 2010, and never more than 133. Hurdle avoided playing him more than three straight days in the early part of the season. But since the All-Star break, Kang has appeared in 33 of the team's 34 games.
"He is a very tough man -- very tough mentally and very tough physically," Hurdle said.
Kang has been hit by 16 pitches, the highest total on the Pirates and third-highest in the majors.
'REALIZE IT CAN BE TAKEN FROM YOU'
One of the more poignant moments of the season occurred on May 24, when the Giants designated Casey McGehee for assignment and made Matt Duffy their everyday third baseman.
Duffy said that McGehee pulled him into a small room in the visiting clubhouse at Coors Field and told him: "No hard feelings. You did what you had to do. Always work hard. Play with a chip on your shoulder. Realize it can be taken from you in a second."
Those words resonated with Duffy, who -- like Kang -- has emerged as a leading threat to the Cubs' Kris Bryant for NL Rookie of the Year (the 170-pound Duffy actually entered the weekend with a higher slugging percentage than the 215-pound Bryant).
McGehee, twice designated for assignment and eventually released by the Giants, continues to rave about the rookie who drove him out of San Francisco.
"He did what you hope every young guy does when he gets a shot," said McGehee, who moved on to the Marlins. "I really respect the way he goes about his business and that he has had to earn everything he's ever gotten.
"On top of all that, he can play. I can't say enough good about the guy. I'm a fan."
MORE ON THE GIANTS
*Giants shortstop Brandon Crawford has three younger sisters -- Amy, the fiancee of Gerrit Cole, is the oldest. His wife, Jalynne has four sisters, including a twin. And to top it all off, Brandon and Jalynne have two daughters, one 2½, the other 17 months.
So, what it has been like for Crawford being surrounded by females his entire life?
"It has taught me patience," Crawford said.
*Mike Leake's .218 career batting average is 37 points higher than Madison Bumgarner's, though Bumgarner has 11 total homers to Leake's five.
Watching Leake take batting practice on Friday, I suggested him as a possible pinch-hitter to Giants manager Bruce Bochy.
"Nah," Bochy said. "Bum would get pissed."
*Add Nationals right-hander Jordan Zimmermann to the list of free-agent starters that the Giants are likely to consider this offseason -- though Zimmermann, a native of Wisconsin, might prefer to return to the Midwest.
Something else the Giants might consider: Trading Angel Pagan, who is owed $10 million in the final year of his contract, and giving more time in center to Gregor Blanco, whose .789 OPS would be a career high. Advanced metrics, however, portray Blanco as below-average in center.
THE EXECUTIVE MERRY-GO-ROUND
In recent years, we've seen some teams promote from within to turn assistant GMs into GMs and GMs into presidents or executive VPs -- see Rick Hahn and Ken Williams with the White Sox, Mark Shapiro and Chris Antonetti with the Indians, Brian Sabean and Bobby Evans with the Giants.
The volatile market for executives could lead to similar types of arrangements as teams attempt to prevent assistant GMs from pursuing GM openings with other clubs.
The Rangers could be one such team if other clubs seek to hire their assistant GM, Thad Levine. So could the Cardinals, whose assistant GM, Michael Girsch, also figures to attract interest.
The Indians, facing the possible departure of club president Mark Shapiro to the Blue Jays, could promote both GM Antonetti and assistant GM Mike Chernoff, though Antonetti would be unlikely to assume Shapiro's business responsibilities.
Finally, there are the Athletics, who eventually figure to promote David Forst to GM and Billy Beane to a club president-type position whether they face outside pressure or not.
AROUND THE HORN
*As I reported last week, the Cubs tried to land Chase Utley before the non-waiver trade deadline. Utley, though, was uncomfortable about getting traded while on a rehabilitation assignment, sources said.
The Cubs resumed talks with the Phillies after Utley cleared waivers, but by then the Dodgers' Howie Kendrick was injured, creating an opening with Utley's preferred team and leaving the Cubs as nothing more than a fallback option.
*Maybe it's nitpicking, but all of the Blue Jays' big bats are right-handed -- and as one rival GM points out, the Yankees' Andrew Miller and Twins' Glen Perkins are the only left-handed closers among the AL contenders.
The Jays were one of many teams in the mix for Ben Zobrist before the non-waiver deadline, but sources said the price would have been Matt Boyd-plus -- and Boyd eventually was part of the package for David Price.
*A number of rival executives were privately critical of the Cubs for taking Kyle Schwarber with the fourth pick of the 2014 draft. Needless to say, some of those execs are now conceding their mistake.
"We loved the bat. We didn't think he could catch. So we undervalued him," one rival GM said. "It was a great lesson for us. Chicago deserves all the credit in the world for recognizing how special the bat could be."
*Random facts you might not know:
-The Rangers' Jon Daniels, who turns 38 Monday, is the youngest GM -- and the third-longest tenured, behind the Athletics' Beane and Yankees' Brian Cashman (I'm not counting Sabean, who is now an executive VP).
-The Reds have lost nine straight to fall into last place in the NL Central, but Joey Votto leads the majors with a 1.273 OPS since the All-Star break. His slash line over 159 plate appearances: .391/.560/.713.
-Shin-Soo Choo's OPS for the Rangers since May 1 is .814 -- and that includes a .644 OPS in June.
-The Diamondbacks have the same record as the Nationals (62-61) and also are the highest-scoring team in the NL.
*One rival exec had a great line in criticizing the Dodgers for keeping their top prospects but failing to land an impact player in their three-team, 13-player deal with the Marlins and Braves.
"Donald Trump doesn't value shop," the exec said.