Notable goodbyes give way to drama-filled storylines in La Liga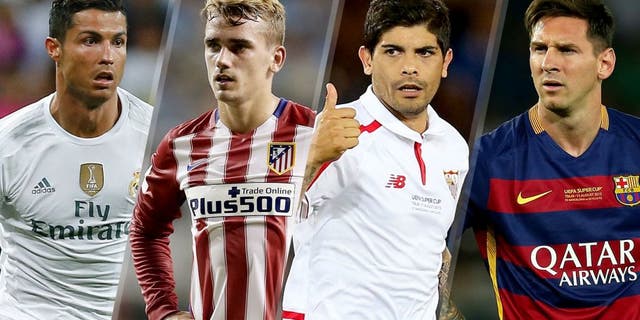 MADRID --
The Spanish Primera Division season begins with one or two wistful sensations, although with every expectation that a summer of some notable goodbyes will quickly give way to regular drama and probably a familiar hierarchy at the summit of La Liga. Come May, the trophy is likeliest to end up in Barcelona or Madrid, as ever, but likely too to be lifted by a club captain new to that particular role.
Iker Casillas, Real Madrid's goalkeeper for the past 16 years and their skipper for the last five, has gone over the border to Porto. Xavi Hernandez, 17 years after his Barcelona debut, has left too, bound for Qatar, and handed over the armband to Andres Iniesta.
Both of them had arrived at a moment when an "adios," however hard, was appropriate. For a period last month, it looked as if Sergio Ramos, who assumes the captaincy of Madrid, might be stepping away from Spain as well, though after nourishing carefully the idea he might be tempted by Premier League giants Manchester United, he has signed the new, improved contract he had been wanting from Madrid. Ramos' maneuverings over his future may have tested the patience of some supporters but a majority of Madridistas admire his drive and his talent. The fact that he scored the goal that guided them to winning the UEFA Champions League 16 months ago is a fairly sound guarantee of supporter-loyalty, too.
Had Ramos gone to England, some conclusions might have been drawn about a shifting balance of power in Europe. There is vast wealth in English soccer, drawn much of it drawn from the huge quantities paid for its television rights, that is the envy the rest of the world. Yet La Liga retains a superior pulling power to England in many important ways. It pulls in more prizes; Spanish clubs, Barcelona and Sevilla, won both the major international club competitions, the Champions and the Europa Leagues, last season. It pulls in more top-tier stars: Although the transfer window has not so far featured a headline switch from England to Spain -- like Gareth Bale in 2013 and Luis Suarez a year ago -- one day sooner or later David de Gea, United, looks set to become Casillas' long-term replacement in Madrid's goal.
One man who has left La Liga, to join the champions of England, Chelsea, is Pedro, but he did so with Barcelona's blessing. How much they might miss his energy, his speed and his goals should be assessed in two phases. Should Suarez, Lionel Messi and Neymar thrive over the next four months and they did for second half of the previous season, the reasons Pedro was allowed to leave the club will be plain as he was Barca's chief understudy. Come January, there will be another distinguished international player trying to establish himself Barcelona's front five. Arda Turan has joined from Atletico Madrid but because of the FIFA's imposed registration ban on Barca after the club were found to have infringed regulations on the transfer of under-18-year-olds, neither he, nor the acquisition from Sevilla, Aleix Vidal, can play until 2016.
Of more pressing concern to the defending champions is their defending. A helter-skelter series of curtain-raisers served to remind both of Spanish soccer's potential to thrill and produce the spectacular and of some of the vulnerabilities that occasionally show up in Barca's backline. In the UEFA Super Cup, Sevilla scored four times against them, Barcelona winning 5-4 in extra-time. In Bilbao four days later, Barca conceded another four, on the way to a 5-1 aggregate defeat over the two legs of the Spanish Super Cup.
"That's not normal," observed Iniesta of the leaky start to his era as club captain. "Teams become champions on the basis of their defensive strength." His concerns, ahead of Sunday's meeting with Athletic, at the same San Mames where Barcelona were blitzed last weekend, deepened when Gerard Pique, the club's best central defender, picked up a four-match suspension for something he allegedly said to referee during the Super Cup. Barca are appealing that punishment.
With or without Pique, Barca right now look a long way from embarking on La Liga 2015-16 as they did their 2014-15 campaign. It was late October, and the ninth match of the season when Cristiano Ronaldo put the first goal they conceded past goalkeeper Claudio Bravo.
That goal was one of the 48 Ronaldo scored in his 35 La Liga matches, five more than You-Know-Who. The defining individual rivalry between Madrid's best player and Barcelona's will doubtless take a foreground position again. As for Ronaldo's position on the pitch, look out for subtle changes, now that Rafa Benitez is Madrid's head coach, and giving signals that Bale may shift inside from the wide right position and that the essential 4-3-3 of his predecessor, Carlo Ancelotti, will evolve into something more like 4-2-3-1.
It will not simply be about Messi and Ronaldo. This might be the year that a Neymar or a James Rodriguez emerge as candidates to genuinely complicate the debate about who is the most gifted individual at work not just in Spain but across the world's most popular sport.
It will not be entirely about Madrid and Barcelona, either; Atletico, despite losing Arda, have some exciting attacking firepower; Valencia have a sound basis to take on the twin Champions League and La Liga challenges; while Sevilla, on the evidence of the UEFA Super Cup, have maintained their dash and intelligence. What they won't welcome greatly is again sharing top division status with their noisy city rivals, Betis having won promotion after a year in the Segunda Division.
There's a Canary Islands presence, with Las Palmas back in the Primera, and another proud football city, Gijon, is on the elite map. Sporting are welcomed back in style with a match against Real Madrid, at home, on Matchday one.