Not such a Dull debut: A's rookie throws impressive scoreless inning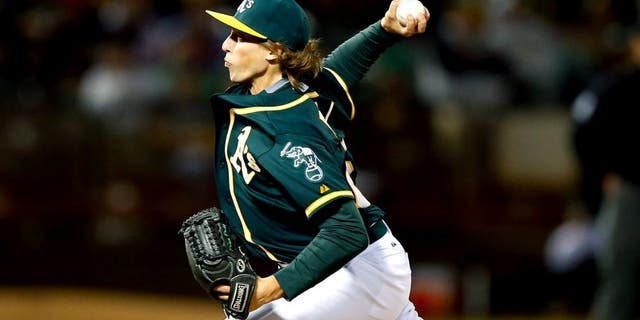 NEWYou can now listen to Fox News articles!
One of the young players the Oakland Athletics called up on September 1 was Ryan Dull, a 32nd-round pick by the A's in 2012 who dazzled in the minor leagues this season.
With the A's on the wrong end of a 6-1 score at the hands of the visiting Los Angeles Angels on Tuesday night, manager Bob Melvin inserted Dull into the game in the eighth inning, and the kid responded with a scoreless frame of work.
Later, as quoted by MLB.com's Jane Lee, Melvin commended Dull's seeming nonchalance on the mound, as well as his youthful demeanor: "Looks like someone's 12-year-old kid out there and didn't seem to be affected by any nerves. Used all of his pitches, low-90s fastball with some movement, looked like some sliders to the righties, some changeups to the lefties and knew where it was going. Impressive start for him."
Dull expressed excitement about finally making his MLB debut: "It was exactly how I thought it would be, just going out there and getting to experience what everyone as a kid dreamed of," Dull told Lee. "Little bit nervous, but after my first couple of pitches under my belt, I was able to relax."
He also told Lee that his phone 'hasn't stopped buzzing all day', as it's obvious the experience was a momentous one for his family and friends.