Not quite the yips, but Cardinals K Catanzaro laboring on PATs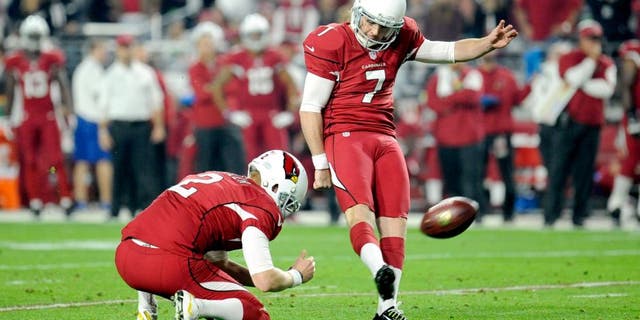 Arizona Cardinals coach Bruce Arians has an unexpected concern heading into the playoffs. His kicker may have a case of the yips.
Chandler Catanzaro missed a field goal and another extra point in Sunday's regular-season finale against the Seattle Seahawks. While they had no impact in the 36-6 loss to Seattle, Arians admitted Catanzaro's recent struggles may have him hyperventilating in the postseason.
"Every time he kicks one I hold my breath," Arians told reporters Sunday. "So I'll be holding my breath every time he kicks one in the playoffs."
Oddly enough, Catanzaro's issues are not on field goals. Although he missed a 51-yarder Sunday, the second-year kicker converted on 28-of-31 fields. Extra points are another story for Catanzaro, who has the third-highest total of misses (5) in the league, including three in the past six games.
"It's not representative of how hard I work and my preparation," said Catanzaro, who converted all 27 extra points in his first season. "I just feel really sick right now. That's not me."
Percentages on extra points are down throughout the league following the NFL's institution of a new rule that places the ball at the 15-yard line for such kicks, but Catanzaro said the added distance has not affected his approach.
"You know, I can't put my finger on it," Catanzaro said. "It's just another kick to me. My mindset hasn't changed at all. ... There's no excuse for it. It's embarrassing. It makes me sick. It makes me sick to my stomach. Hopefully I'll be able to help my team out in the playoffs."