'Not one of us': ESPN commentator slams RGIII as 'cornball brother'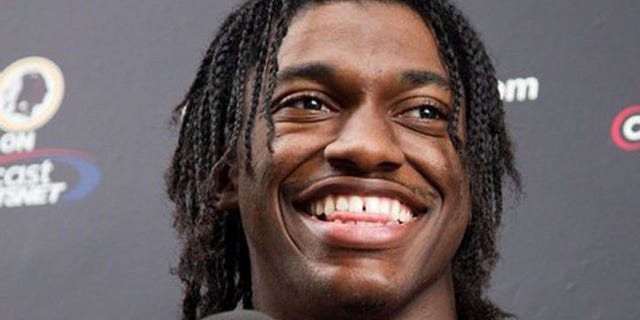 Finally, someone who is not a fan of RGIII!
An African-American ESPN commentator is under fire for racially charged comments about Robert Griffin III, the charismatic rookie quarterback for the Washington Redskins who has been lauded for his talent, brains and even ability to unite partisan lawmakers on Capitol Hill.
Since being drafted out of Baylor University after winning the 2011 Heisman Trophy, Griffin, who graduated early with honors, has become the face of his NFL team. But Rob Parker, a veteran newspaper columnist who appears regularly on several ESPN television and radio shows, played the race card on ESPN's First Take on Thursday.
"Is he a brother, or is he a cornball brother?"
"Is he a brother, or is he a cornball brother?" Parker wondered. ""He's not real. Okay, he's black, he kind of does the thing, but he's not really down with the cause. He's not one of us. He's kind of black, but he's not really, like, the guy you want to hang out with because he's off to something else.
"We all know he has a white fiancee. There was all this talk about how he's a Republican ... Tiger Woods was like, 'I've got black skin but don't call me black.'"
ESPN spokesman Mike Soltys told FoxNews.com midday Friday that the sports network has suspended Parker.
"Following yesterday's comments, Rob Parker has been suspended until further notice," Soltys said. "We are conducting a full review."
Earlier, Griffin's father told USA Today that Parker needs to define what "one of us" means.
"That guy needs to define that," Griffin II said. "I wouldn't say it's racism. I would just say some people put things out there about people so they can stir things up. Robert is in really good shape on who he is, where he needs to get to in order to seek the goals he has in life ... so I don't take offense."
The Redskins are sure glad Griffin is one of them. He has guided the team to a 7-6 record, and has it fighting for playoff spot. But even after Parker's comments, Griffin refused to be drawn in.
"I'm thankful for a lot of things in life and one of those things is your support," Griffin III wrote to more than 575,000 followers. "Thank you."
Sally Quinn of the Washington Post is among those who have heaped high praise on Griffin, calling him the talk of the town.
"The guy was a political science major, he knows about politics, he's clever, he's smart, he's funny," Sally Quinn wrote. "It's what people talk about at dinner parties, it's what people talk about in the office, and it has united Washington in a way that I have never seen before."
Parker is no stranger to discussing race and sports, including columns on the lack of black NFL head coaches and the NBA's off-court dress policy. He also called Hank Aaron a "coward" for declining to attend games when slugger Barry Bonds would break baseball's career home run record.
Parker's comments caused a firestorm of online criticism, with most postings calling for the outspoken analyst to be fired.
"Rob Parker may have had worst commentary I have ever heard concerning Robert Griffin III," read a Twitter post by former NFL coach Tony Dungy. "Not sure how ESPN can defend it!"