North Korean women's soccer team staying out of sight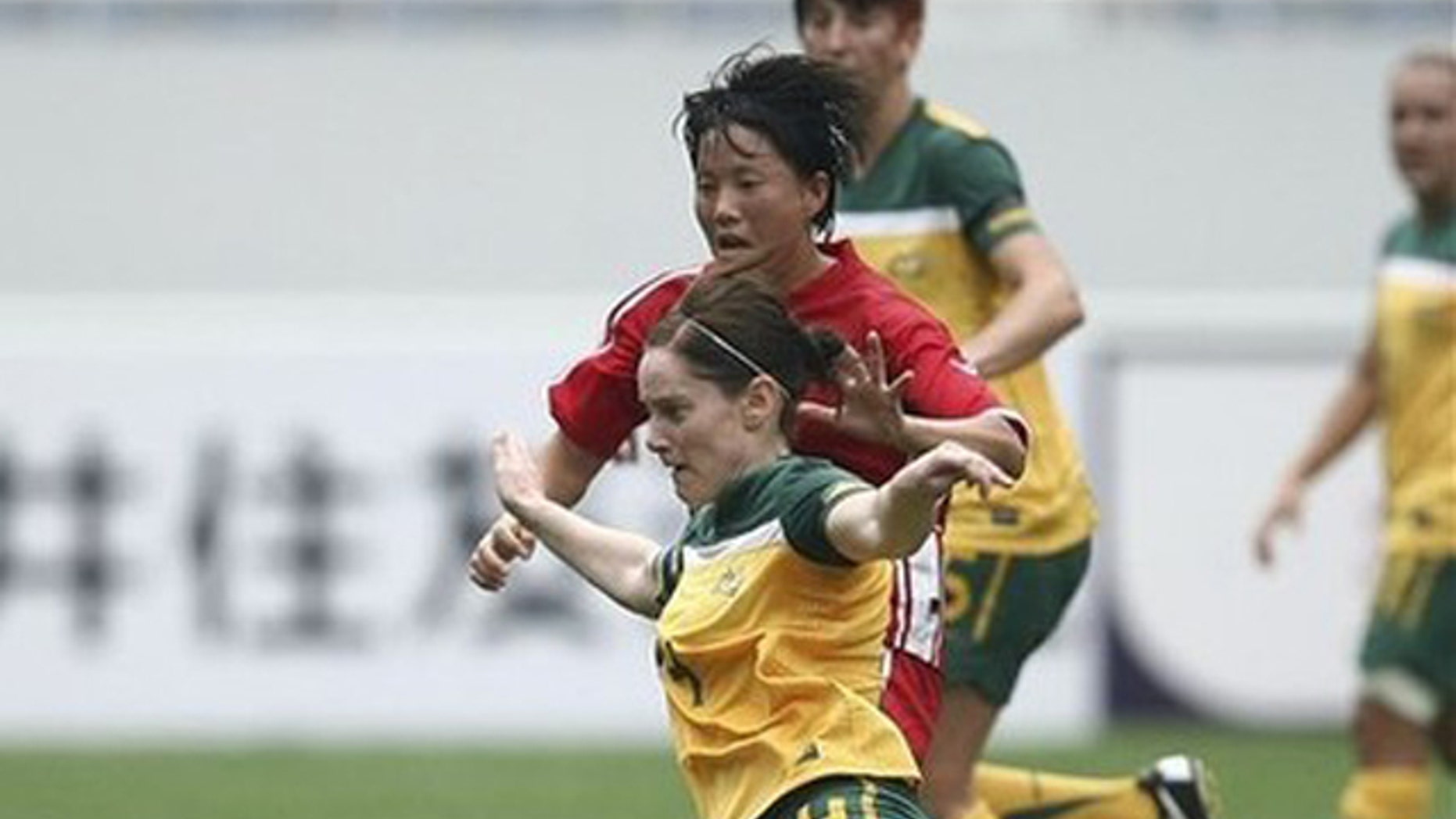 GLASGOW, Scotland – A supposed lightning strike ruined the last major tournament for the North Korean women's soccer team.
Judging by the way the team is staying shielded and out of sight at its hotel ahead of the London Olympics, it's unlikely to happen twice.
The North Koreans are still recovering from a major doping scandal at last year's World Cup, when five players tested positive for steroids. Team officials said that was a result of the players being treated with musk deer gland therapy after getting struck by lightning during a training camp.
The team was banned by FIFA from the next World Cup, but were still allowed to compete at the Olympics, where they'll take on Colombia in their opening Group G game on Wednesday.
Until then, don't expect to see the players walking around the streets of Glasgow. While United States players have been sightseeing and shopping in Scotland's largest city, their North Korean counterparts have been holed up at their hotel, passing the time playing table tennis and other games.
Coach Sin Ui Gun told reporters his players don't have much free time and need their rest.
"We have training sessions in morning times and the afternoon, and at other times they have sleep, they have to refresh," the coach said. "There is a hall with some games machines and table tennis. They love to spend the time inside because in Glasgow, as you know, it rains quite heavily on us."
Only the coach and team manager Choe Nam Hyok showed up at Monday's news conference, with the latter serving as interpreter. One player was supposed to be available, but never appeared.
North Korea, one of the world's most closed-off countries, likes to keep out of the limelight. But the women's team found itself very much in the spotlight last year when it became embroiled in the most serious doping case at a major FIFA tournament in 17 years.
The World Cup doping scandal still infuriates Australia, which lost out to North Korea in Olympic qualifying. Australia women's coach Tom Sermanni said North Korea shouldn't even be at the London Games.
"We were very disappointed, amazed in fact, that the World Anti-Doping Agency and the IOC (International Olympic Committee), who apparently take a very, very strong stance on the use of drugs, decided to take absolutely no action whatsoever," Sermanni said earlier this month.
Both organizations "allowed North Korea firstly to enter the Olympic qualifications and then allowed them to, once they qualified, to actually participate in the Olympic Games," Sermanni said. "To say we were disappointed, and I still am disappointed, is probably an understatement."
FIFA explained, however, that a country serving a ban "shall serve whenever possible the sanction in the competition in which the infringement occurred."
Choe, the team manager, said he wasn't with the squad at the World Cup and that it wasn't up to him to say whether North Korea deserved its spot in the London Games.
"That conversation runs between FIFA and IOC and some of the executive members, I think," Choe said. "We didn't give any comments about our participation in the Olympics officially from our football association, so I think there's no comment from us."
The last major doping scandal at a major FIFA tournament was at the men's 1994 World Cup in the United States, when Diego Maradona was kicked out after testing positive for stimulants. He was banned for 15 months.
Four of the North Korean women received bans of 18 months and the fifth will serve out 14 months, meaning none are eligible to play in the Olympic tournament. In addition to being excluded from the 2015 World Cup, North Korea's football federation was fined $400,000 and team doctor Nam Jong Ae was banned for six years.
North Korea wants to put all that behind when it opens its Olympic campaign against Colombia at Hampden Park on Wednesday.
Colombia was involved in its own doping scandal at the 2011 World Cup. Backup goalkeeper Yineth Varon failed an out-of-competition doping control and was banned for two years. The Colombian Football Federation has said that Varon had hormonal treatment that led to the failed drug test.
  North Korea, which won the 2008 Asian Football Confederation women's tournament, has been known for its defensive tactics. But the team has now turned to a more attacking 4-3-3
Sin said the players will be doing their utmost to impress the country's new leader, Kim Jong Un.
"It is our honor, greatest honor to him as our new leader, as for the feeling of our whole nation, and also as a Korean people, as a member of the Korean nation, everybody hopes to get a very big success in every work as well as in the Olympics, too," Sin said.
"It is our very biggest hope to win the game as much as possible and to be the champion to meet his hope and to bring very big pleasure to our people and also to our leader."