Norman police release video of their interview with victim in Joe Mixon case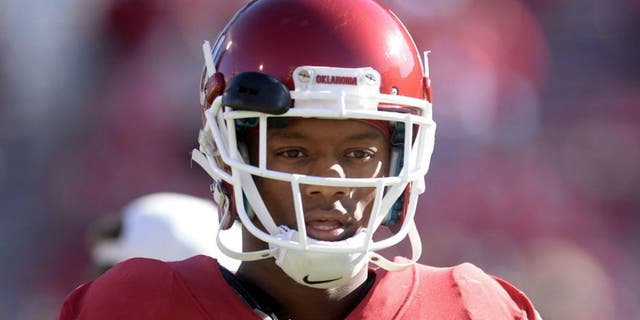 Norman police on Thursday released a video of their interview with Amelia Molitor in the days after she was punched by Oklahoma running back Joe Mixon in a local restaurant in July 2014.
In the 52-minute video, Molitor claims that Mixon and his friends were harassing her and her friends prior to the incident at Pickleman's Gourmet Cafe in Norman. When she walked away from them and into the restaurant, she says they began egging Mixon on, asking if he was "going to take that."
"I was just like, 'This guy ... seriously they're trying to fight me right now. This guy is out of his mind,'" she says. "And that's where I go blank. I remember a flash. ... And then it was like I got hit by a train."
The full interview is here. (Warning: It contains very graphic details.)
In December, Mixon's attorneys released surveillance video of the incident, showing the two having an argument. Molitor pushes Mixon before he lunges at and then punches her, knocking her instantly to the floor. Five days after the release of that video, Mixon issued a public apology to Molitor.
Mixon, who claimed his group of friends was harassed as well during the incident, received a one-year deferred service and 100 hours of community service and was suspended for the entire 2014 season. But the release of the video -- which police had shown Oklahoma coach Bob Stoops in 2014 -- brought some scrutiny to the program for not punishing Mixon more severely.
This past season, Mixon was one of the Sooners' key players, rushing for 1,274 yards and recording 15 total touchdowns. Amid of chorus of boos from the simmering anger over the recently released video, Mixon was one of the stars of Oklahoma's Sugar Bowl win over Auburn on Jan. 2, scoring two touchdowns and recording 180 total yards.
Mixon has entered the NFL Draft but reportedly was not invited to this month's NFL Draft Combine.