No surprise Bruins hand QB keys to freshman Rosen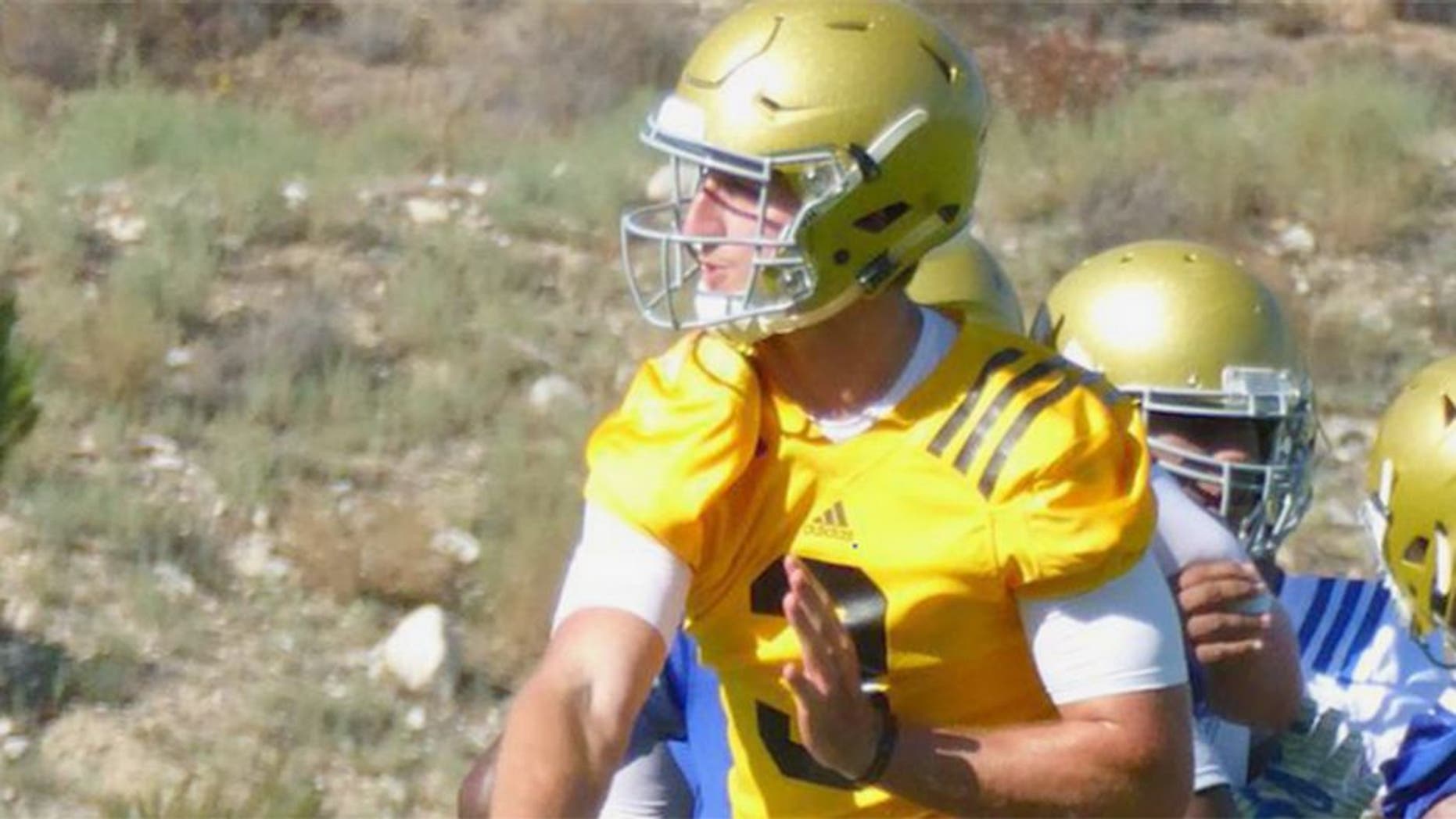 The news out of UCLA on Wednesday wasn't much of a surprise. Jim Mora announced touted true freshman Josh Rosen as the Bruins' starting quarterback, ahead of junior Jerry Neuheisel.
"When you're recruiting the No. 1-ranked quarterback in the country, you kind of hope that he lives up to that billing," Mora said of the 6-foot-4, 210-pound Rosen, "and we haven't played one single snap of real football yet, but at this point he's living up to that billing."
As we mentioned in one of our Audible videos last week, we expected Rosen to win the quarterback job for an offense that returns starters at every other position. Back in the spring, Rosen, an early enrollee, had impressed Bruin coaches and his new teammates not only with his physical talent but also with how quickly he picked up the offense.
I'd spent some time around Rosen and his family for my latest book "The QB" because I'd become intrigued by his unique path to prominence as a top high school recruit in Southern California back in 2014.
Now, as the new quarterback on an otherwise stocked UCLA team -- one that has dominated its crosstown archrival three years running -- Rosen becomes perhaps the biggest wild card in this year's Pac-12 race. To get a better picture of the Bruins' new starter, I've included some material from the book to illustrate just who the 18-year-old is, where he came from and why there's been so much buzz about him.
Before entering his senior year of high school, one offensive coordinator at a Top 25 program who had been to one of Rosen's games told me that the kid already threw better than some NFL quarterbacks he'd seen. Rosen's pedigree was also a curiosity on the recruiting trail. Both of his parents were champion ice dancers. His mom, Liz Lippincott, a 6-foot Princeton grad, comes from the Wharton family -- as in Wharton, the University of Pennsylvania's prestigious business school. Rosen's dad, Charles Rosen, a 6-2 Penn grad, is a prominent spine surgeon.
Most interesting of all: Unlike nearly all the other touted QB prospects, Rosen hadn't spent hundreds of hours by the side of any personal quarterback coach. He actually hadn't spent any time with them at all. His mother had heard stories about how David Sills V made his pilgrimages from the East Coast to see longtime private QB coach Steve Clarkson and thought it was "ridiculous." Besides, she said, Josh had ended up with maybe an even better method of honing his skills as a quarterback.
By the time he was 6, Rosen had been immersed in the world of competitive tennis. His parents took him to a weekly private lesson and for two other regular workouts. On weekends he had tournaments. At age 10, the pace of his tennis training already had escalated, and so had Rosen's profile on the youth tennis circuit. By 12, he was the No. 1-ranked player for his age group in Southern California and was top 50 in the country, known in the tennis community for his blazing 105-mph serve and his creative game. The USTA was pushing for him to enter its Player Development program, in which many of the kids his age end up being home-schooled.
Rosen, though, was more interested in football.
"The misery ended" was how he described leaving tennis behind. "Tennis was a tough time for me, but then I came into my own," he explained to me for "The QB."
"A lot of this [football] recognition is pretty nice. It is just a really fun sport. You're bringing all these people to a game instead of just your parents. It's just a different energy."
Rosen was so impressive quarterbacking the Bellflower St. John Bosco JV team as a freshman that Fresno State offered him a scholarship. Rosen's mom is convinced his skill set as a quarterback actually was honed by those thousands of hours on the tennis courts.
"It immediately transferred with the accuracy, footwork and focus," she said. "How many backhands and volleys did he have to put into the back corner? The amount of time they spent in shot-making and training for pinpoint accuracy is incredible. And I'm so thankful for that."
Tom House, the country's leading sports biomechanics whiz, agreed with Lippincott's take. He had his own example of a budding-tennis-star-turned-QB -- his own first football protégé, Drew Brees. The New Orleans Saints star used to beat Andy Roddick when they were tykes in the Texas tennis youth scene.
"The best carryover from tennis for quarterbacks is the footwork and the durability of the shoulder capsule," House said. "The footwork for a tennis player with angles, distance and time translates really well for a quarterback."
The psychological grind from competitive tennis also can prove quite an asset, too, House said. "It's center stage, like a golfer or a pitcher or a quarterback, where the last two are team sports, but they're individually based. When you screw up, there's no place to hide, so you have to deal with it. And the kids who learn to 'fail fast forward,' they get over the fact that failing is a bad thing. Failing can actually be a good thing. You learn as much or more from failing as you do from winning."
Rosen's talent immediately caught the eye of the Elite 11 coaches when they saw his high school film, and then again at a regional workout in the spring of his junior year.
"He throws it better than any kid we've seen in two years," said Pac-12 Network analyst Yogi Roth, a former USC assistant coach who also is an Elite 11 coach.
"I think his physical tools are awesome. I don't know what Troy Aikman looked like in high school, but I bet this is what he looked like. The ball rips out of his hand."
With plenty of talent on both sides of the ball, the Bruins, ranked No. 13 in the preseason AP poll, don't need Rosen to play like an All-American this fall. But they do need him to be consistent, be accurate with his throws and, perhaps above all, make good decisions. Rosen does have the benefit of relying on Paul Perkins (a back who ran for almost 1,600 yards in 2014) and a deep group of receivers led by Jordan Payton.
It has been 30 years since a team won a national title with a true freshman quarterback (Oklahoma did it with QB Jamelle Holieway). However, there have been several recent examples of first-year freshman QBs who have starred for good teams. Just last year, Clemson's Deshaun Watson was one of the most impressive quarterbacks in the country. Before that, Matt Barkley, Terrelle Pryor and Chad Henne also excelled as true freshman quarterbacks at other glamour schools.
Can Rosen help UCLA get to the Playoff in his debut season? That'd seem like a stretch, but getting the Bruins their first conference title in 17 years probably would make a lot of UCLA fans very happy.
UCLA opens its season Sept. 5 against Virginia.