No sack title for Raiders' Khalil Mack, but plenty of push-ups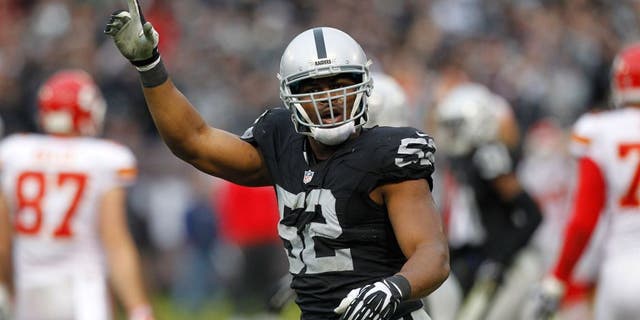 NEWYou can now listen to Fox News articles!
There's no shame in losing a quarterback tackling race to NFL sack champion J.J. Watt.
Just ask Oakland Raiders defensive end Khalil Mack. Watt surpassed him for a third single-season title, but it looks like Mack is coping just fine judging by this video from Arrowhead Stadium.
Watt really turned it on for the record in Week 17. He tallied three sacks and two forced fumbles vs. Jacksonville; Mack (no sacks ) couldn't keep up against Kansas City.
But Mack future is no less bright without the mark. He just posted the best sacking season for a Raider since Derrick Burgess had 16.0 in 2005.
A few more push-ups and Mack could be well on his way to more milestones in 2016.