No issues for Holland in Frisco rehab start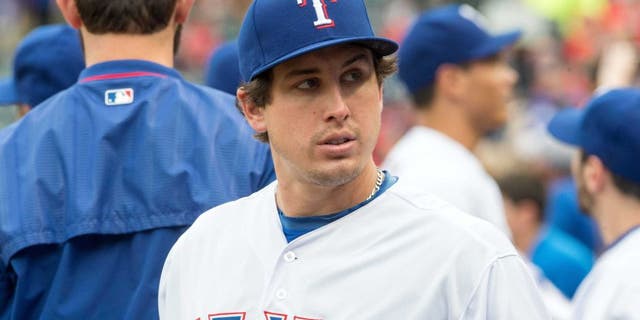 FRISCO, Texas -- €" Texas left-hander Derek Holland continues to make strides in his bid to get back into the team's rotation.
Sunday that included 3 1/3 innings for Double-A Frisco in a rehab start. While the three runs and seven hits allowed by Holland to San Antonio may stand out to some, Holland isn't concerned about those numbers.
He was just happy to throw 63 pain-free pitches and take another step towards getting back to Arlington.
"Everything was there," said Holland, whose start Sunday was his third rehab start in his bid to recover from a strained muscle in his left shoulder. "I feel strong. That's the big question we always talk about is one, making sure I'm in shape, two making sure my arm is good to go and three, just being able to compete out there."
Holland was touched for the three runs before retiring a batter as he gave up consecutive singles to open the game and then a three-run homer. But that was it for the runs as Holland struck out four, walked just one and had a fastball that hit 94 mph in the third inning.
The outing is something Holland can build on as he prepares for another rehab start, which is scheduled for Friday again with Frisco.
"I think everything was good," said Holland, who threw 10 more pitches in the bullpen after exiting. "The fastball sometimes got away. I was yanking a little bit, sometimes pulling off. It wasn't straight, which was what (catcher Pat) Cantwell told me so I was very pleased with that."
Holland started the home opener for the Rangers April 10, but he left after just one inning because of the shoulder problem. While he said he feels like he could be ready to pitch for the Rangers after one more rehab start, he's more focused on being 100 percent when he gets back in the rotation.
"It's all about me getting prepared for the big leagues, and not Double A and Triple A," he said. "I feel strong. The command has been a little bit off but I'm not worried because I know it's going to click when it needs to. My focus is when I come out the game is do I feel good."
MORE FROM FOX SPORTS SOUTHWEST:
- PHOTOS: Cowboys Cheerleaders Auditions
- Ranking NFL quarterback salaries
- Highest paid player on every NFL team