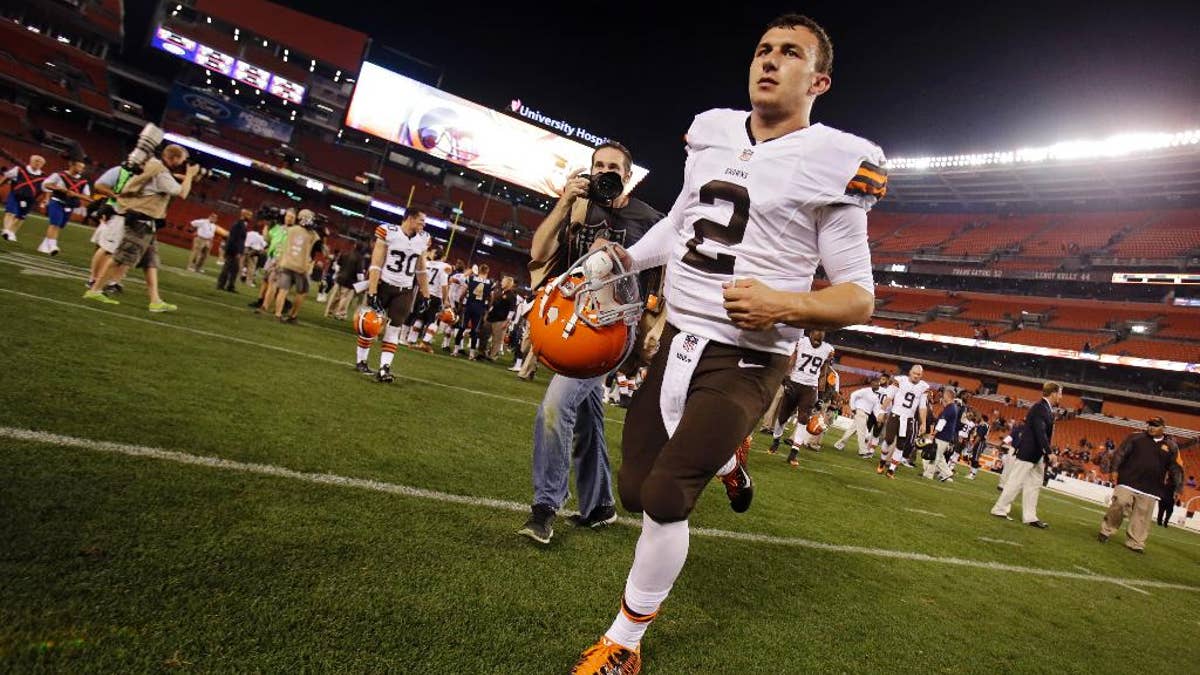 COLUMBIA, S.C. – South Carolina and Texas A&M find out this week what life's like minus two of college football's most transcendent, attention-grabbing stars of recent years.
There will no Jadeveon Clowney-Johnny Manziel matchup in this one.
Had this game been played last year fans would've clear their schedules to watch the helmet-popping defensive end chase the reigning Heisman Trophy winner around Williams-Brice Stadium. With Clowney and Manziel in the NFL, those viewing the SEC Network's first football broadcast might need rosters and slo-mo replays Thursday night to catch all the new faces.
"They are probably a little bit like us that they haven't had a bunch of superstars to talk about this preseason," said Steve Spurrier, the Gamecocks' 10th-year coach. "Their players are anxious to earn their way, just like our guys."
Sophomore Darius English takes over Clowney's starting spot for No. 9 South Carolina after backup duty last season. Kenny Hill, also a sophomore, replaces Johnny Football in the No. No. 21 Aggies' huddle. Hill passed for 183 yards and a TD in four games last fall.
The 6-foot-6 English got a chance to start against Kentucky when Clowney, also 6-6, pulled himself from the game shortly before kickoff. English finished the season with 19 tackles and a forced fumble against North Carolina.
"Darius has had a really great camp and a great spring," defensive line coach Deke Adams said. "Hopefully, he'll get a chance to show it on Thursday night."
English was named a Georgia state defensive player of the year after notching 21 sacks his senior season at McEachern High in Powder Springs, Georgiaa But he was a lanky, easily pushed around 205 pounds when he arrived on campus. English has added about 40 pounds since and feels like he's able to hold his ground and push back when challenged.
English has a quick first-step and a wing span of 7 feet that helps sweep past offensive lineman, according to Adams.
"I can get in there and bang with those guys," English said.
The good news for Gamecocks' fans is he won't be chasing Manziel.
The guy with the target on his back will be Hill, who won the Texas A&M quarterback competition over five-star freshman Kyle Allen. The two competed after longtime backup Matt Joeckel transferred to TCU in April.
Hill, the son of long time major leaguer Ken Hill Sr., showed more polish and experience and will start against the Gamecocks, offensive coordinator Jake Spavital said.
"The experience of being here and watching how we do (things) offensively and seeing Johnny play has helped him," Texas A&M offensive coordinator Jake Spavital said. "He's seen more than Kyle (Allen) has right now and that was important. He's our guy and we're putting all our eggs in that basket."
Hill passed for 183 yards and a touchdown in four games last season.
Don't expect the same, "Johnny Dollar" flash from the Aggies latest quarterback. Hill told team officials he wanted to wait until after playing South Carolina before discussing his starting status.
That focus on the field has offensive coordinator Jake Spavital smiling. "There'll be a lot less repeating myself than last year with Johnny," the coach said.
English and Hill won't be the only newcomers on the field.
South Carolina will have several new faces on defense, and a new quarterback in Dylan Thompson. He was the backup the past three years as Connor Shaw led the team to a 33-6 record.
But don't expect the Aggies to fill sorry for the Gamecocks; Texas A&M also lost several starters to the NFL.
Along with Manziel's selection by Cleveland, standout receiver Mike Evans was taken by Tampa Bay and guard Jake Matthews went to Atlanta.
Texas A&M coach Kevin Sumlin said to expect a heavy rotation of players as the Aggies look to see what this new group can do.
"Our team is in a place right now where they're excited to play," he said. "There's been enough said outside the program about what we are and the guys are anxious to get on the field."