No. 9 Kansas State loses 38-27 at No. 5 Baylor to miss out on share of Big 12 title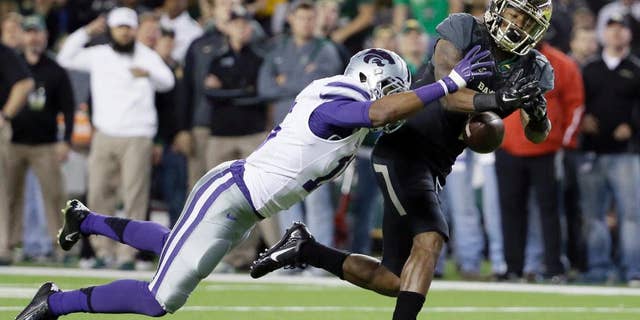 WACO, Texas – Jake Waters kept throwing passes to Tyler Lockett like he has so often in their two seasons together at Kansas State.
Even with their record-setting nights, they weren't able to do enough to get the ninth-ranked Wildcats another Big 12 title.
Bryce Petty completed 34 of 40 passes for 412 yards in his final home game for Baylor, and the fifth-ranked Bears won 38-27 on Saturday to clinch their second consecutive Big 12 title. They have to share the title with fourth-ranked TCU, a team they beat on the same field on Oct. 11.
"It all boiled down to tonight, and we weren't the team we wanted to be," said Kansas State coach Bill Snyder, avoiding the Baylor-TCU debate. "I'm not into that. And I won't be on the committee, no matter what."
Waters completed 22 of 27 passes for 300 yards and ran for 31 yards, giving him a single-season record for the Wildcats (9-3, 7-2) with 3,634 total yards.
Lockett, already K-State's career leader for receptions and yards, had 14 catches for 158 yards. His highlight-worthy 8-yard catch in the fourth quarter broke a tie with his father, Kevin, for the most touchdown receptions in school history after already surpassing the elder Lockett in those other categories.
"It's a great accomplishment. ... When the season's over, I can look back on it and be excited for it. It's hit me, but it hasn't hit me yet," said Tyler Lockett, who has 27 TD grabs. "I can be able to look back and see everything that I was able to accomplish here and being able to be part of a great Kansas State team. But yeah, it hurts to lose a game that really matters."
Not medically cleared to play until Friday, Petty showed no ill effects of the concussion he sustained in the last Baylor game. He put his head down for a 1-yard TD run only 1:35 in, capping an opening 81-yard drive that put Baylor (11-1. 8-1, No. 6 CFP) ahead to stay.
Baylor coach Art Briles accepted another Big 12 championship trophy and stated his case that the Bears should be considered the league's "One True Champion." But they have to wait and see on what seems like a long shot for a spot in the College Football Playoff.
Despite the much-repeated "One True Champion" slogan for the only power-five conference with a round-robin schedule and no championship game, Big 12 Commissioner Bob Bowlsby has publicly said that Baylor and TCU (11-1, 8-1, No. 3 CFP) will be presented as co-champions to the playoff selection committee even though the Bears beat the Horned Frogs 61-58.
"Don't say one thing and do another, that's my whole deal," said Briles, acknowledging a brisk conversation with Bowlsby on the podium during the trophy presentation. "If they had said from the get-go, co-champs and head-to-head don't matter. I'm OK with it. ... I'm not obligated to him. I'm obligated to Baylor University and this football team."
While Baylor and TCU tied for the top spot in the conference, the Horned Frogs have been ranked higher in all six weekly playoff rankings — all after the Bears' home win over TCU. The Frogs were third, three spots ahead of Baylor, heading into the selection committee's final meeting Sunday.
"There's so much of this season to be proud of regardless of what happens," Petty said, adding with a smile that he was intrigued by what will happen.
For the fourth year in a row since the Big 12 went to 10 teams, the title wasn't decided until finishing the regular season on the first weekend in December when other leagues play championship games.
And for the second year in a row, the Bears won at home in a finale, this time in their new campus stadium on the banks of the Brazos River after beating Texas 30-7 last year at Floyd Casey Stadium to earn a spot in the Fiesta Bowl.
Antwan Goodley had nine catches for 116 yards as Baylor won its 16th consecutive home game, matching Alabama for the longest current streak. The Bears are 6-0 in their new stadium even after scoring few than 45 points there for the first time.