No. 8 Iowa State loses 2nd straight after 14-0 start, 77-70 to No. 15 Kansas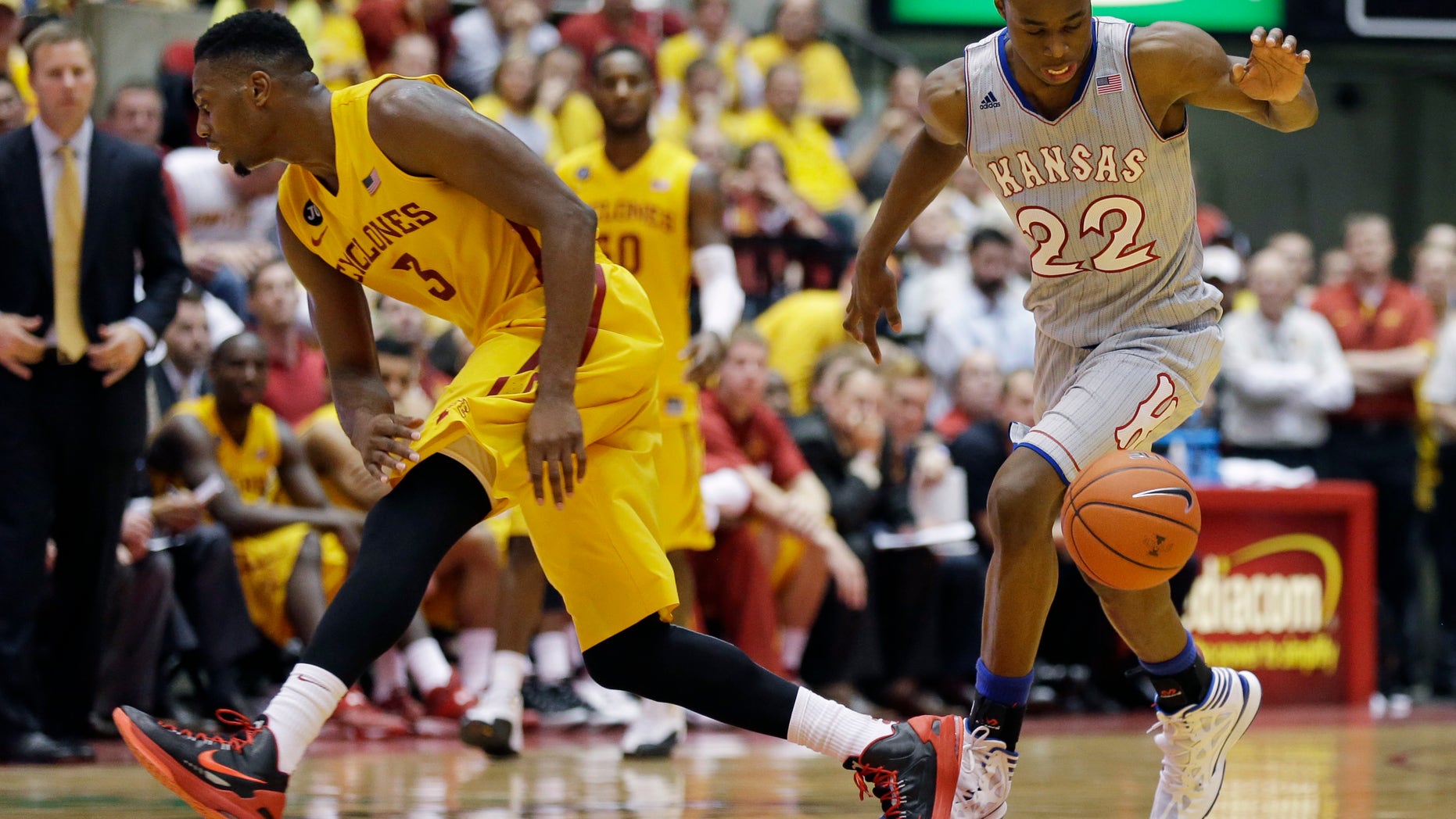 AMES, Iowa – Iowa State can shoot it with the best of them, as the Cyclones have shown many times this season.
But when those shots don't fall, Iowa State can struggle. Factor in an opponent that's long and tall and it results in a game like the Cyclones endured against Kansas.
No. 15 Kansas got a career-high 23 points from Naadir Tharpe and overwhelmed No. 8 Iowa State on the boards in a 77-70 victory Monday night.
Iowa State shot an icy 31 percent from field and missed 21 of 25 3-point shots. Then there was the matter of being outrebounded 53-36.
"The best shooters in the world have nights like this," Iowa State coach Fred Hoiberg said. "It's a tough loss. They're long, athletic, they play extremely hard and they're as well coached as any team in the nation. We couldn't have had much worse of an offensive night and we still had a chance to win."
Freshman Andrew Wiggins had 17 points and a season-high 19 rebounds for Kansas (12-4, 3-0 Big 12), which handed the Cyclones (14-2, 2-2) their second straight loss after a school-record 14-0 start.
Kansas broke a 36-36 halftime tie with a 16-5 run and led the rest of the way.
"We missed a couple, got our shot blocked a few times, missed some open shots," Hoiberg said. "I thought that affected us and that's when they got up 11 on us right away. You can't have stretches like that against a team like Kansas because they'll make you pay in a big way."
The Jayhawks certainly made Iowa State pay.
Iowa State missed its first eight shots of the second half and 12 of its first 13, but somehow managed to get within five points late in the game. But the Jayhawks made enough free throws and the Cyclones missed enough shots for Kansas to hold on.
Seven-foot freshman Joel Embiid finished with 16 points and nine rebounds for the Jayhawks, who earned perhaps their most impressive win of the season. Embiid blocked five shots and altered numerous others.
Iowa State's top two inside players, Georges Niang and Melvin Ejim, were a combined 10 for 33 from the field, with Niang going 0 for 9 from 3-point range. One of those misses came when Embiid ventured outside to swat it away.
DeAndre Kane, who sprained an ankle in a loss at Oklahoma on Saturday, had 21 points for Iowa State, which lost for the 17th time in 18 games against Kansas. Ejim finished with 15 points and Niang, a miserable 4-for-20 from the field, scored 11.
"I think guys got good looks out there. We just didn't knock them down," Kane said. "We'll get back in the gym and we'll get some shots up and we'll get out of the shooting slump we're in."
Kane, who led the Big 12 with 22.7 points, 6.3 assists and 3.3 steals through three league games, responded well enough to around the clock treatment on his left ankle that he was able to start.
It didn't provide the early boost the Cyclones needed.
Kansas took a 15-4 lead less than 5 minutes in. But the Cyclones fought their way back to tie the game at 36-all on Kane's 3 over Embiid at the halftime buzzer.
The Jayhawks started the second half the way they did the first. Perry Ellis extended their lead to 52-41 with a slam with 13:32 left, and Embiid wrapped two baskets around a blocked shot as Kansas went ahead 64-53.
Kane could have made it a one-possession game with under a minute left, but he missed a contested layup and Tharpe answered with two free throws.
Kansas committed 24 turnovers, but it survived by shooting 49 percent from the field and dominating the glass.
"We handled the ball miserably. Looked like a third grade team out there offensively sometimes taking care of the ball. But we made up for it by being pretty good on the glass. It was a great win," Kansas coach Bill Self said.
Hoiberg called Iowa State "a rhythm team and when we get in that rhythm, we're a tough team to stop. We just never really found it tonight."
As for all those Kansas rebounds, Hoiberg noted: "We missed a lot of shots. There were a lot of rebounds for them to get."