No. 8 Florida State looks for defensive improvements when Seminoles host No. 25 Maryland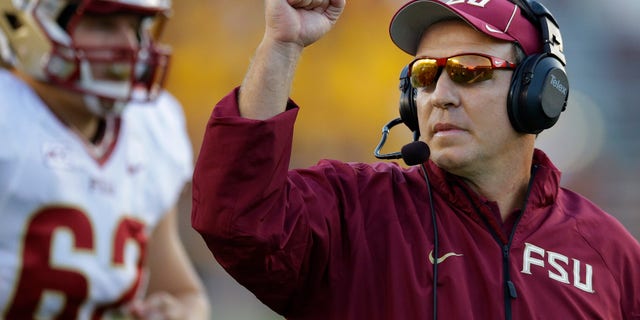 TALLAHASSEE, Fla. – Eye discipline was the phrase du jour around the Florida State football facilities this week.
Coach Jimbo Fisher believes his defense was overaggressive in the 48-34 win against Boston College. The Eagles piled up 200 yards rushing on 45 carries as the eighth-ranked Seminoles (4-0, 2-0 Atlantic Coast Conference) were caught out of position and missed tackles.
They can't afford to that Saturday against No. 25 Maryland (4-0). The Terrapins run a read-option offense that emphasizes misdirection and play-action.
"We had a couple knucklehead things we did with eye control, gave up a couple big plays that were very simple," Fisher said of the BC game. "You want to see guys make plays, but sometimes on defense you have to realize that you don't make every play.
"A couple of our situations came from eye discipline, trying to be overaggressive and not staying with what we had to do and within the scheme."
That's Maryland's goal, "Just trying to get your eyes out of whack," Seminoles linebacker Christian Jones said.
Boston College running back Andre Williams ran for 149 yards, including a 30-yarder in which two Florida State defenders missed opportunities to bring him down. Two more defenders missed tackles on the first-quarter touchdown pass to tight end Jake Sinkovec. Blown chances were common.
"Just some little eye violations," Florida State safety Terrence Brooks said. "We're a very aggressive defense. We want to get to the ball fast. That right there kind of killed us a little, too."
"We did tackle well. We just weren't in the right place all the time or didn't have our eyes on what we were supposed to."
Junior nose guard Timmy Jernigan said the defense is still getting used to the multiple 3-4 defense under new coordinator Jeremy Pruitt.
The Terrapins are off to their best start since 2001 and quarterback C.J. Brown leads the ACC in total offense with 331.5 yards per game, including 70.8 yards rushing per game. There's going to be plenty of misdirection Saturday and the Florida State defense has had tackling issues the first four games.
"When you're facing the Marylands, the Oregons, those types of teams that run those types of offenses, you have to be very sound with your eyes," Jernigan said. "The biggest thing is being in the right gap, doing what you're supposed to."
___
Here are five things to watch when No. 25 Maryland takes on No. 8 Florida State Saturday:
ROUGH RUNNING: Florida State has the No. 2 rushing offense in the ACC with an average of 239.5 yards per game. Devonta Freeman has a team-high 322 yards rushing and leads the trio of backs that includes James Wilder, Jr. and Karlos Williams. Maryland's run defense has allowed 98.5 yards per game and ranks No. 13 in the FBS and No. 2 in the ACC. Inside linebacker L.A. Goree leads the team with 26 tackles and linebacker Cole Farrand tied for the team high in 2012. Something has to give.
SACK CITY: Florida State quarterback Jameis Winston measures 6-foot-4, 225 pounds. The redshirt freshman's size and athleticism makes him difficult to get on the ground despite being sacked four times by Boston College. The Terrapins rank No. 2 in the ACC with 17 sacks, led by linebacker Marcus Whitfield's 5.5 sacks. The Seminoles are loaded at the skill positions, but Winston is what makes them national championship contenders. The Terps need to pressure him more than he has been so far. "He reminds me a lot of EJ Manuel, who they had a year ago," Maryland coach Randy Edsall said. "I'm just very, very impressed with his poise and his level of maturity. You can see that he's playing with a lot of confidence.
DIGGS DIGGING IN: Maryland receiver Stefon Diggs leads the ACC with 547 all-purpose yards. He ranked No. 8 in FBS last season with 1,896 all-purpose yards. The Seminoles have to keep tabs on Diggs in every offensive facet.
PERFECTION: Florida State kicker Roberto Aguayo is perfect on all seven field goals and 26 extra points in 2013. The redshirt freshman is on pace to break the single-season school scoring record. Aguayo, however, has yet to kick in a pressure situation.
ONE MORE CHANCE: The Seminoles and Terrapins have played every year since 1992. Maryland has only won twice and never in Tallahassee, Fla. There are no more schedules meetings after Saturday with Maryland moving to the Big Ten in 2014. This is its last chance to win inside Doak Campbell Stadium.