No. 6 seed Seahawks to begin postseason road at third-seeded Vikings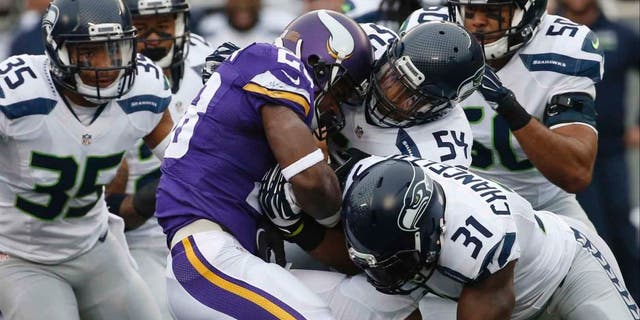 The Seattle Seahawks will open the playoffs at the Minnesota Vikings on Sunday in a rematch of one of their most impressive victories of the season.
Sixth-seeded Seattle rolled to a 38-7 victory in Minnesota on Dec. 6 behind a suffocating defensive effort, limiting the Vikings to 125 total yards and holding league rushing champion Adrian Peterson to 18 yards on eight carries.
While the Seahawks are just 2-9 away from home in the postseason, they closed the regular season with five straight road victories, including Sunday's 36-6 throttling at NFC West champion Arizona. Seattle has allowed a total of 34 points during the road winning streak.
"You look at our past few road attempts, we've been on it," Seahawks coach Pete Carroll said. "We've played really well knowing that we have to do this to get into the playoffs and move our way through it. I'm really fired up about that because these guys are confident that we can to wherever we've got to go."
Starting with last month's matchup against the NFC North champion Vikings, Seattle has outscored its last three road opponents by a staggering 109-19 margin.
"We're a different team than we were a couple of years ago when we went on the road," Seahawks cornerback Richard Sherman said. "This year we're going in as champions. It's a different kind of fight. They're going to have to take it from us."