No. 4 Utah expects heavy pressure from ASU defense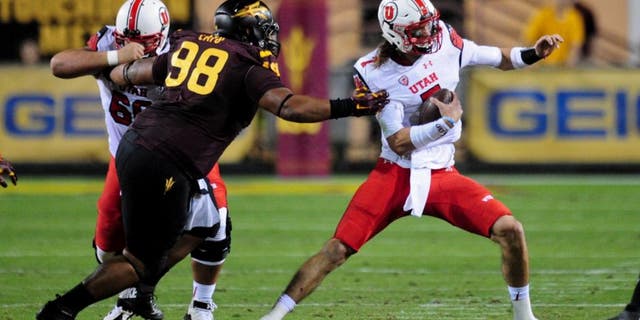 NEWYou can now listen to Fox News articles!
SALT LAKE CITY -- The play of Utah quarterback Travis Wilson was a huge reason the Utes shot up the rankings and now sit at No. 4. The play of Wilson is also the reason why there are questions about the Utes' legitimacy.
That may be a simplistic synopsis but that's the type of influence Wilson has on game day. It's not that Wilson is the No. 1 offensive threat, it's that opponents are much more worried about Devontae Booker and the Utah defense.
Teams would rather contain Booker, who's No. 10 in the country with 133 yards rushing per game, and force Wilson to beat them with his arm. Arizona State (4-2, 2-1 Pac-12) could fall into that classification when it faces Utah (5-0, 2-0) on Saturday.
"The team that can run the football is the one that will have the advantage," Arizona State coach Todd Graham said. "(Booker is) as good as there is in this league. I mean, really strong runner. He's a powered, downhill runner, makes a lot of his yards straight ahead and cutting it back."
Booker is ready for the challenge of an aggressive defense that blitzes the pass and run. He posted a season-high 222 yards rushing against California last week. The Sun Devils allowed 215.3 yards rushing per game in their first three games, but just 62.3 in the last three.
"That's what they did to us last year and I know they're going to do it to us again this year, just blitz pretty much every down," Booker said. "They're going to want us to beat them through the pass game. We've got to just keep passing the ball well and keep the defense honest and getting all those guys out the box."
Enter Wilson. He had the best game of his career against Oregon with 227 passing yards and four touchdowns. Wilson then threw for 170 yards and a touchdown with two interceptions against Cal last week. That's the inconsistency that's plagued him throughout his career. It hasn't helped that Utah's wide receivers have been underwhelming.
"There's some things we've identified that he could've done better," Utah co-offensive coordinator Jim Harding said. "We could've played better around him up front and on the perimeter. We all have to do our part for that position group to excel. We can protect better, we can get open better and we can throw the ball better."
The Utes need Wilson to step up to stay on the path toward a Pac-12 title and a berth in the College Football Playoff.
Things to watch when Utah hosts Arizona State:
BALL CONTROL: Arizona State ranks last in the Pac-12 with a minus-2 turnover margin. The Utes lead the nation with a plus-2 turnover margin -- per game. ASU QB Mike Bercovici threw for five touchdowns last week, but the Utes defense is confident. "We watch so much film that ... we know exactly what's going to happen," said safety Marcus Williams, whose four interceptions rank sixth in the nation. "(Bercovici) stares down his routes. Wherever he's going, I'm going to be around the ball. ... I know I'm going to get a pick this game regardless of the quarterback's trying to trick me or look me off."
TURNAROUND: ASU was a popular preseason pick to win the Pac-12 then it started 2-2. Things turned around with an upset of then-No. 7 UCLA. A victory against Utah would tie the two teams atop the South Division. Arizona State has won 11 straight against Utah dating back to 1976. "Every year it's a dog fight because (coach Kyle Whittingham) does such a great job," Graham said. "I've got a lot of respect for him. You can tell the character and toughness and fundamentals. They're very well-coached."
STRONG VS. STRONG: Utah has allowed just two sacks in 2015, the second-fewest in the nation. The Arizona State defense, with its heavy blitz package, has 19.0 sacks -- tied for No. 7 in the country. "It definitely brings a different set of challenges because they're bringing plus-ones or plus-twos every down," Utah right tackle J.J. Dielman said. "You've got to be really on your A game in film study and flipping protections and stuff like that. ... Just getting guys on the right guys. If you can do that, the offense is going to have a big day. It's easier said than done."