No. 24 Toledo's perfect season dashed by N. Illinois comeback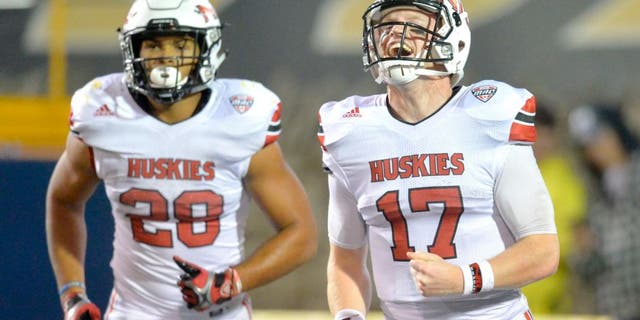 TOLEDO, Ohio (AP) -- Freshman quarterback Ryan Graham led Northern Illinois on two fourth-quarter scoring drives, and the Huskies rallied to beat No. 24 Toledo 32-27 on Tuesday night.
Joel Bouagnon's 2-yard touchdown with 1:59 remaining lifted the Huskies (6-3, 4-1 Mid-American Conference) to their sixth consecutive victory against the Rockets (7-1, 4-1). Bouagnon rushed for 87 yards on 26 carries.
Graham entered midway through the second quarter after Drew Hare suffered a leg injury. Hare spent the second half on the sideline in crutches, and Graham was 9 for 12 for 132 yards and ran for 41 more yards.
The Huskies closed to 27-25 when Graham found Kenny Golladay for a diving 7-yard touchdown reception with 9:27 left. Northern Illinois caught a big break on the scoring drive when Toledo's DeJuan Rogers was called for a personal foul on a field goal attempt.
The Tuesday night meeting was part of the MAC's 12th season of switching key games to mid-week dates in exchange for major national television coverage. Both teams dressed for the occasion, with Toledo wearing gold jerseys over gold pants for the first time and Northern Illinois donning new all-white road uniforms.
Toledo's Kareem Hunt rushed for 140 yards and two touchdowns. His 1-yard score with 4:23 left in the third quarter gave the Rockets a 24-16 lead.
But the Huskies rallied while playing without two players who provided much of their early offensive spark. One possession before Hare departed, wide receiver Tommylee Lewis was helped off the field and did not return.
Hare and Lewis connected five times for 125 yards in the first quarter, including a 67-yard touchdown and a 50-yard completion that set up the first of four Christian Hagan field goals.
Terry Swanson rushed for 133 yards on 16 carries, but the Rockets struggled through the air. Senior Phillip Ely was 15 of 33 for 136 yards, a touchdown and two interceptions -- including a pick by Boomer Mays on the Rockets' final possession.
Northern Illinois is looking to represent the West Division in the MAC Championship game for the sixth consecutive season.
For Toledo, its outside chance at a New Year's Day bowl game was dashed. The Rockets received their No. 24 rank in the first College Football Playoff poll of the season released right before kickoff.