No. 24 Houston rallies to take down No. 21 Memphis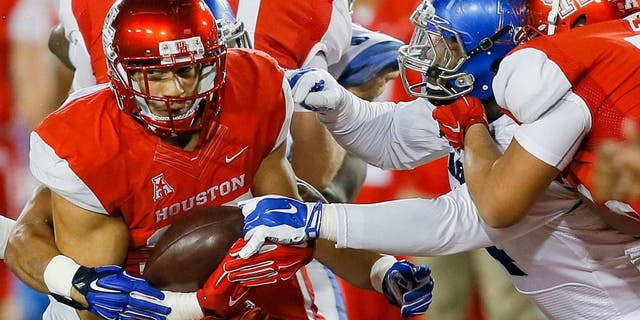 HOUSTON -- Backup quarterback Kyle Postma rushed for the go-ahead score and threw for a touchdown to rally No. 16 Houston from 20 points down to a 35-34 win over No. 25 Memphis on Saturday night.
Postma came in just before halftime when Greg Ward Jr. left with what appeared to be a left ankle injury. Postma went 21 of 33 for 236 yards and carried six times for 49 yards.
His 7-yard touchdown run with 1:27 left capped a nine-play, 77-yard drive to give Houston the lead. Jake Elliott missed a 48-yard field goal wide right with 19 seconds left to seal the win for Houston.
Kenneth Farrow had 10 carries for 46 yards and two touchdowns for Houston (10-0, 6-0 American, No. 24 CFP), which trailed 20-0 to the Tigers (8-2, 4-2, No. 21 CFP) before Postma entered.
Paxton Lynch was 20-of-31 passing for 278 yards and two touchdowns for Memphis.