No. 23 Rutgers women cap rough week with 94-64 loss to No. 1 UConn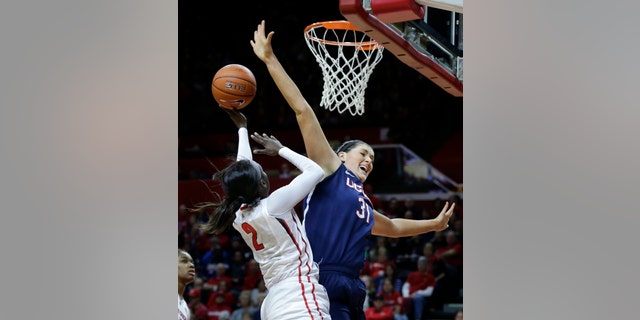 PISCATAWAY, N.J. – Rutgers' first appearance in the Top 25 in two seasons will most likely be a short stay after a week to forget.
The 23rd-ranked Scarlet Knights followed a disheartening one-point loss to Memphis with a 94-64 defeat to No. 1 Connecticut on Sunday.
"It's tough to deal with," junior Betnijah Laney said. "Just getting ranked and taking a loss like that and then coming home and taking another huge loss. We are a team that is capable of pulling ourselves together, which I believe we will do. We will focus on what we have to do."
Rutgers was playing well before the two recent defeats. The Scarlet Knights had won nine straight — the longest winning streak in six seasons. Coach C. Vivian Stringer wasn't totally surprised by the recent letdowns.
"I did notice some things the last game or two that I tried to warn us about," she said. "It's almost like look what happened here."
Freshman guard Tyler Scaife scored a season-best 22 points and Kahleah Copper added 20 for the Scarlet Knights (13-4, 4-2 American). They had little help as the rest of the team combined for just 20 points, including only three from the reserves, who went scoreless against Memphis.
Bria Hartley scored a career-best 30 points, including six 3-pointers, and Breanna Stewart added 23 for UConn (19-0, 6-0), which has won 25 straight games — the sixth longest streak in school history.
"If I hit them I keep going, if I miss them all I keep going," Hartley said. "I've got to stay with my shot and I'll be confident that I'll eventually make them."
Hartley didn't miss too many, making 11 of her 15 attempts. The last time she played at Rutgers, she had a game to forget, going scoreless in just four minutes. Hartley wasn't the only Huskies player hitting shots. The team shot a blistering 57 percent from the field.
"I think offensively we all were on the same page and had a really good flow the entire game," Hartley said. "The mixture of shots inside and outside and everyone was able to hit shots."
The Huskies raced to an 18-6 lead in the game's first 5 minutes. Stewart had eight of the team's first 18 points as Connecticut didn't miss many from the field. UConn extended the advantage to 41-20 on the 6-foot-4 sophomore's layup with 4:58 left before Rutgers closed the half with a 9-2 burst to trail 43-29 at the half.
"We got such great balance, Stewie and Stef (Dolson) kept things together," UConn coach Geno Auriemma said. "It was a great team effort, everyone played great."
Rutgers cut it to 12 before UConn put it away behind Stewart and Hartley.
UConn was still playing without sophomore forward Morgan Tuck, who is dealing with swelling in her right knee. It will be the 11th game this season that she has missed due to knee-related issues, including the last three.
This could be the final meeting in New Jersey for the two schools as Rutgers is headed to the Big Ten next season. Both coaches have hinted they wouldn't mind seeing the series continue.
"It's not to say it's last time we'll be down here," Auriemma said. "I talk to Vivian about this kind of stuff. I don't imagine it will be last time down here. It's good to bring your team down here in this kind of environment."
UConn has dominated the series winning 31 of the 37 meetings, though Rutgers did win five of eight from 2005 and 2008. The Huskies have won the last 11 games.
"It's Connecticut, and it's everybody else," Stringer said. "Whether people want to do deal with it or not. It's Connecticut and everyone else. Talent wise it's clear they are there. Coaching wise it's clear they are there."
___
Follow Doug on Twitter at http://www.twitter.com/dougfeinberg