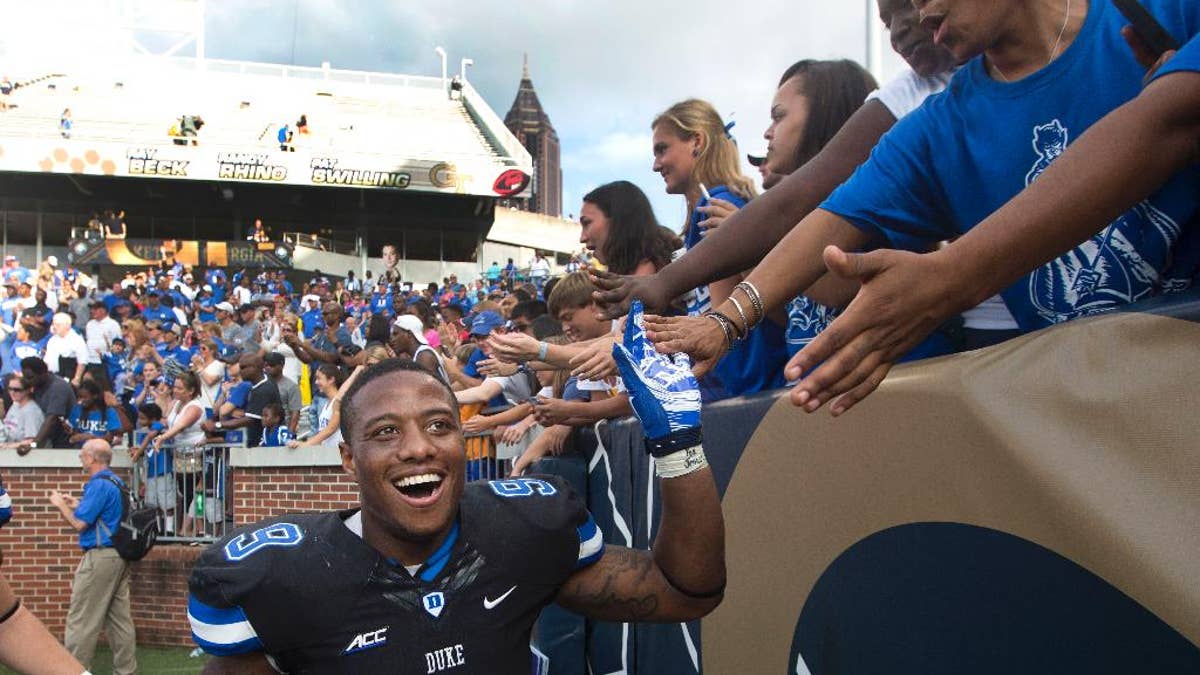 ATLANTA – By winning its first five games, Georgia Tech cracked the national rankings for the first time since 2011.
It looks as if they'll be there only one week.
The No. 22 Yellow Jackets came out totally flat against Duke, turning the ball over three times in the second half before a late rally fell short.
The Blue Devils held on for a 31-25 victory Saturday, showing they intend to be a factor on the non-Florida State side of the Atlantic Coast Conference.
"Those guys just wanted it more than us," Georgia Tech linebacker Quayshawn Neely said. "They knew what was at stake. We knew what was at stake. I give credit where credit is due."
The Yellow Jackets (5-1, 2-1 ACC) are still in the mix in the Coastal Division race — along with Duke and everyone else, for that matter — but they can't have many more games like this one.
"Three turnovers is atrocious," said Zach Laskey, who fumbled the ball away on the first possession of the second half, with Georgia Tech trailing only 14-12.
Justin Thomas was even worse, tossing a pair of ugly interceptions — one deep in Duke territory — that doomed the Yellow Jackets. He sustained an ankle injury late in the first half, but tried to play through it.
Despite rushing for 119 yards, this was easily his worst performance of the season.
"He wanted to play," coach Paul Johnson said. "But I could tell it was bothering him."
Anthony Boone threw for 123 yards and a touchdown, Josh Sneed rushed for 102 yards and a score, and the Blue Devils snapped a 10-year skid against Georgia Tech.
Backup quarterback Thomas Sirk had a couple of short TD runs for the Blue Devils (5-1, 1-1), who won in Atlanta for the first time since 1994 and showed they aren't going to give up their Coastal Division title without a fight.
Duke finished with 250 yards on the ground, not far off Georgia Tech's 282 yards.
"We haven't won here in so many years," Blue Devils safety Deondre Singleton said. "We kept a chip on our shoulders."
Duke defeated its biggest rival, North Carolina, the past two years after dropping 21 of the previous 22 meetings.
Now, the Blue Devils have taken care of a different thorn in their side.
"It felt good, no question," coach David Cutcliffe said. "We haven't been successful at all (against Georgia Tech) for the most part."
Cutcliffe had angered Johnson during the week by saying it was difficult for Georgia Tech to recruit high-level players because of its unique triple-option offense.
If Johnson was expecting that to serve as motivation for this team, he was mistaken.
"We're not good enough to lose the turnover battle 3-0 to anybody and win the game," the coach said. "Hopefully you learn from it and move on."
The second-half kickoff was delayed 1 hour, 17 minutes by thunderstorms moving through downtown Atlanta.
When play finally resumed, the Blue Devils were clearly the better-prepared team.
Laskey's fumble on the first possession was recovered by Duke's Jeremy Cash at the Georgia Tech 46. The Blue Devils needed nine plays to reach the end zone, converting a pair of third downs before Snead took it in with a 4-yard run.
Jamal Golden returned the ensuing kickoff 51 yards, but the Yellow Jackets managed only one first down before the drive stalled. Harrison Butker was wide right on a 52-yard field goal attempt.
Duke drove down the field again before settling for Ross Martin's 34-yard field goal, pushing the lead to 24-12.
That's when the Blue Devils defense came up with the biggest play of the game. With Georgia Tech at the Duke 10 after DeAndre Smelter went 21 yards on a reverse, Thomas let go of a terrible pass — straight to Duke freshman linebacker Zavier Carmichael.
Thomas had another pick on a desperation sling along the sideline that went right to Cash, setting up Sirk's 1-yard plunge that made it 31-12 with 8:18 remaining.
Thomas told his coach that he was trying to throw it away.
Cash was stunned when the pass came his way.
"An interesting throw by a quarterback," he said. "I was very surprised that he, in fact, threw that ball."
Thomas did not take another snap. Tim Byerly finished up at quarterback and had a couple of touchdown runs that at least made things interesting at the end.
Duke recovered a pair of onside kicks to preserve the victory.
"We came out flat," Laskey said. "We need to flush this out of our system and get ready for North Carolina."
___
Follow Paul Newberry on Twitter at www.twitter.com/pnewberry1963