No. 21 Louisville looks to go 2-0 in ACC, No. 17 Hokies' defense faces challenge in Week 3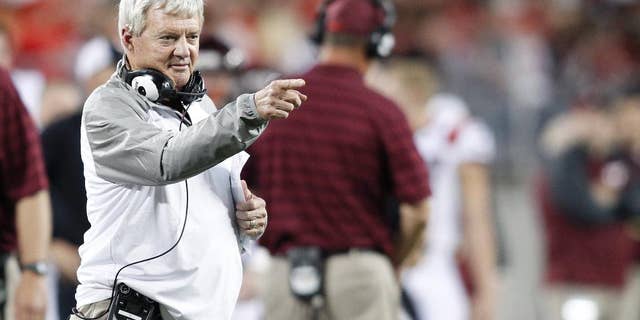 A look at things to watch in the Atlantic Coast Conference during Week 3 of the season:
GAME OF THE WEEK: Louisville at Virginia. The No. 21 Cardinals (2-0, 1-0 ACC) beat Miami in their league debut and play their first ACC road game Saturday against Virginia (1-1). Bobby Petrino's Cards are in a favorable front half of the schedule before getting into the Atlantic Division's heavy hitters (at Clemson, home vs. No. 1 Florida State). Mike London's Cavaliers were expected to finish in the Coastal Division cellar but held up well against highly ranked UCLA at home in Week 1.
BEST MATCHUP: Virginia Tech's defense vs. East Carolina's Shane Carden-Justin Hardy duo. The Carden-to-Hardy connection drives the Pirates' high-scoring attack. But the No. 17 Hokies (2-0) shut down the Pirates last year, holding ECU to 204 total yards while racking up seven sacks and picking off Carden three times. The Pirates (1-1) played tough in a loss at South Carolina last week. "That ball doesn't stay in his hand long," Hokies coach Frank Beamer said of Carden. "I think it's going to be tough to get to him."
INSIDE THE NUMBERS: Saturday's Kansas-Duke game brings together basketball powers heading into different directions on the gridiron. Coming off a 10-win season, David Cutcliffe's Blue Devils can start 3-0 for the first time in 20 years. As for the Jayhawks (1-0), they're looking for their first road win in five years and stand at just 5-20 in three years under Charlie Weis.
LONG SHOT: Arkansas State should be prepared for Miami under new coach Blake Anderson, who spent the past two years as offensive coordinator at Miami's fellow Coastal Division team North Carolina. Could that help the Red Wolves keep things close Saturday despite opening as a 17½-point underdog? "They're going in a different direction than North Carolina in terms of (Anderson's) personality and what he wants to accomplish," Miami coach Al Golden said. "But you definitely do see some residual (elements) for sure."
IMPACT PLAYER: Pittsburgh tailback James Conner is moving the chains for Pittsburgh heading into Saturday's trip to Florida International. He's averaging an ACC-best 183.5 yards rushing per game and has run for at least 150 yards in three straight going back to last season's bowl game. Last week, he ran for 214 yards on 36 carries against Boston College. "I think he can handle it," Pitt coach Paul Chryst said of the workload. "A lot of times if backs are getting high numbers of carries, they're earning that, and you're doing some stuff well that you can keep coming back to them."
___
Compiled by AP Sports Writers Aaron Beard and Joedy McCreary in Raleigh, North Carolina.