No. 20 Cincinnati rallies for ninth straight win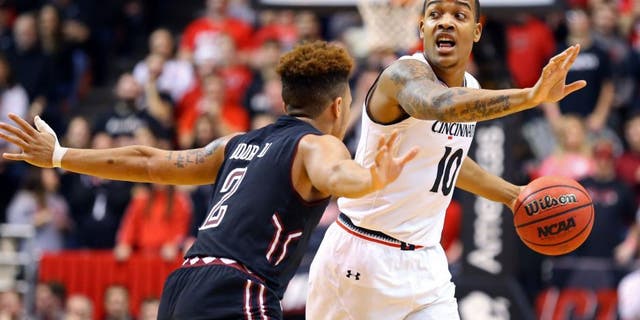 NEWYou can now listen to Fox News articles!
CINCINNATI (AP) -- Trailing after an ugly first half, No. 20 Cincinnati put together one of its best stretches of the season and got its ninth straight win.
Kyle Washington scored 10 of his 16 points in the second half, leading the 20th-ranked Bearcats to an 81-74 victory over Temple on Wednesday night that kept Cincinnati perfect in American Athletic Conference play.
The Bearcats (16-2, 6-0) trailed by six points before Washington made two one-handed shots over defenders during a decisive 17-5 run that put them ahead to stay. Cincinnati went 17 of 23 from the field in the second half and led by as many as 13 points.
"We had some tremendous performances in the second half especially, unprecedented execution," coach Mick Cronin said. "If you're going to win a lot of games in a row, you've got to win different ways. You've got to be able to adjust."
Cincinnati took control by getting the ball inside to Washington and Gary Clark, who had seven points and eight assists.
"We had a little bit of miscommunication at times," Temple coach Fran Dunphy said. "We didn't do a great job inside. They did just about everything they needed to do."
The Bearcats extended their best winning streak in three seasons and completed a series sweep of the Owls (10-10, 1-6).
Troy Caupain had 18 points and seven assists for the Bearcats, including seven free throws in the closing minutes. Four players finished in double figures after a sluggish first half in which Cincinnati shot only 33 percent from the field.
"Before we started the second half, (Cronin) told us we're a veteran team and we're going to be in situations like this," Washington said. "We're on a pretty good roll, our starting five especially coming together. It was ugly at first, but we really prevailed."
Shizz Alston, Jr., led Temple with 25 points for the second game in a row, matching his career high.
Obi Enechionyia made a 3-pointer, a dunk and a 15-foot jumper as Temple opened a six-point lead at the start of the second half, its biggest of the game. Washington then led the decisive run by scoring on two shots near the basket.
BIG PICTURE
Temple: The Owls have been prone to bad first halves, but that wasn't the case this time. They led 28-26 at the break despite having nine turnovers and no offensive rebounds.
"We think we're a second-half team," Alston said. "I felt strongly we were going to win because we were up by two at halftime, but the ball didn't bounce our way."
Cincinnati: The Bearcats have won their last 19 home games, their longest such streak since taking 19 in a row from March 2, 2013 through Feb. 15, 2014. Their last home loss was 77-70 to Temple in their league opener last season.
POLL IMPLICATIONS
A ragged win over a struggling Temple team won't much help the Bearcats. They don't play a currently ranked team until next week, when they host crosstown rival Xavier, which is ranked No. 22.
CLEAN GAME
There were only six fouls in the first half and six free throws. Temple didn't pick up its first foul until there was 7:43 left before halftime.
FIRST TIME
The Owls wasted a good offensive showing. They shot 53 percent from the field, the best by any opponent against the Bearcats this season. They had been 9-0 when scoring at least 70 points this season.
UP NEXT
The Owls have a week off before hosting Memphis next Wednesday. They split their series last season, with each team winning at home.
The Bearcats play at Tulane on Saturday. They beat Tulane 92-56 at home on Jan. 1.