No. 2 Spartans beat CMU 30-10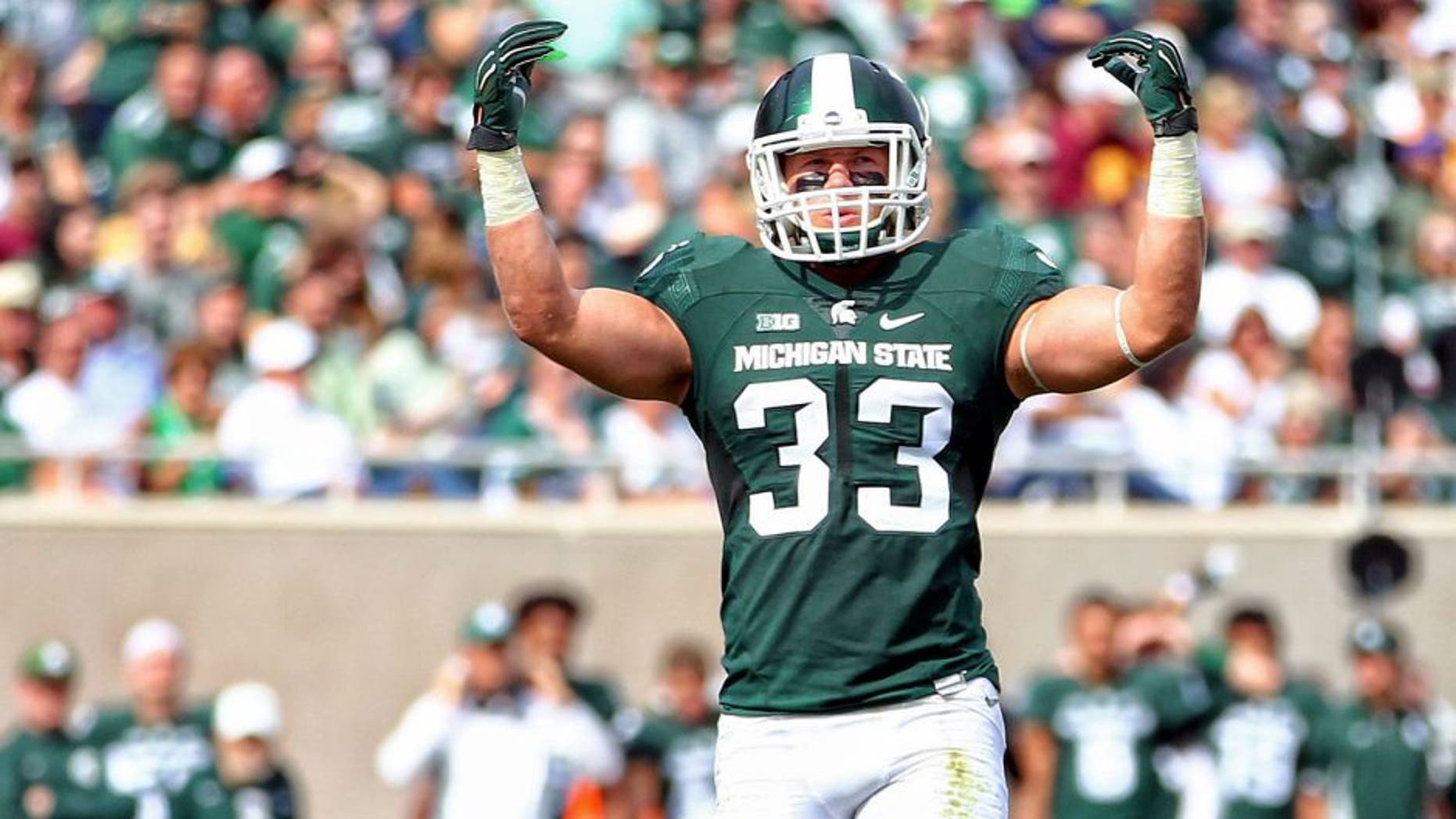 EAST LANSING, Mich. (AP) -- On a day when Michigan State's offense was sluggish and an upset seemed possible, Shilique Calhoun stood tall.
The star defensive lineman had 2 1/2 sacks and blocked a field goal Saturday, and the second-ranked Spartans beat Central Michigan 30-10. It was closer than that until Gerald Holmes ran for two fourth-quarter touchdowns for Michigan State.
The Spartans (4-0) have scored at least 30 points in a school-record 12 consecutive games, but they did not look particularly good offensively for most of this one. Connor Cook threw for only 143 yards, and the Cippewas (1-3) kept their upset bid very much alive until the final period.
The Spartans, who have already lost linebacker Ed Davis and cornerback Vayante Copeland to season-ending injuries, lost standout tackle Jack Conklin to an apparent knee injury, although it's not clear how serious that is.
It was 17-10 in the third quarter and the Chippewas had the ball when the Spartans held on fourth-and-2 from the Michigan State 37. Cooper Rush threw incomplete under pressure from Calhoun and linebacker Riley Bullough.
That was as close as Central Michigan came to tying it. The Spartans added touchdown runs of 3 and 6 yards by Holmes in the final 8:37.
The injuries are beginning to mount for Michigan State. In addition to Conklin's issue, safety RJ Williamson was shaken up a couple times in the second half, and tight end Josiah Price was using crutches to support himself on the sideline toward the end of the game.
The Spartans took the field with their highest AP Top 25 ranking since 1966, but Central Michigan drove to the Michigan State 23 before settling for a field goal try on fourth-and-3. After a false start pushed the kick back, Demetrius Cooper blocked it.
The Spartans then drove 72 yards in six plays and took a 7-0 lead on Madre London's 6-yard touchdown run, but the Chippewas answered with another time-consuming drive, reaching the Michigan State 21 before stalling. Central Michigan was set to go for it on fourth-and-1, but another false start forced Brian Eavey to try a field goal again. Calhoun blocked this one.
The Spartans led 17-0 after Cook's 5-yard scoring pass to Price in the second quarter, but the Chippewas steadied themselves with a 13-play, 80-yard drive that ended with a 1-yard touchdown pass from Rush to Anthony Rice with 8 seconds left in the half