No. 2 Alabama's defense could get sizable boost from return of LB DePriest, CB Jackson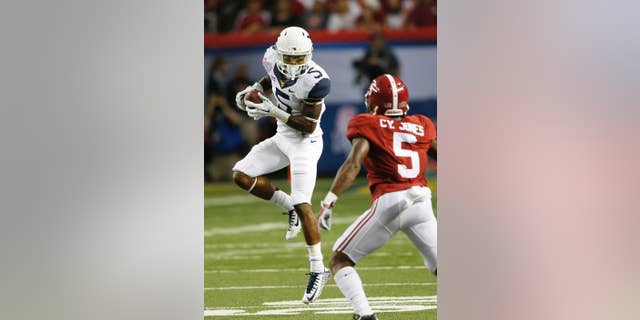 TUSCALOOSA, Ala. – Alabama's defense is hoping for a boost from the return of linebacker Trey DePriest and cornerback Eddie Jackson.
The second-ranked Crimson Tide could use their help, especially with starting defensive back Jarrick Williams sidelined for a month with a fractured bone in his foot.
Alabama coach Nick Saban said the secondary "didn't play very well at all" against West Virginia and the linebackers were confused at times without the steady guidance of DePriest.
DePriest returns Saturday against Florida Atlantic from a one-game suspension for an undisclosed NCAA infraction, and should fit right back into the starting lineup. First-time starters Reggie Ragland and Reuben Foster started at the inside linebacker spots against the Mountaineers' fast-paced offense.
"I think that we certainly didn't play defense the way we want to play it," Saban said. "We made a lot of mental errors. But I think not having Trey DePriest, our signal caller on defense up front, created a little confusion playing in the no-huddle with two linebackers who really could be good players but got a little confused.
"I think that created a lot of anxiety for us. I think we settled down and played a little bit better in the second half."
Jackson's role Saturday isn't as clear as DePriest's. He had knee surgery in April but is expected to play — how much is an open question. The secondary was burned for 365 yards in the opener.
"I feel like we'll play him some in this game, some kind of way, trying to ease him back into what he has to do," Saban said. "(He's) a very good player that we're anxious to get back in the lineup, but certainly not at the expense of putting him in any risk.
"From a medical standpoint, he's been cleared. So now we're sort of working him into it and he's looked pretty good."
Jackson started in four games and played in seven as a freshman, recording 19 tackles with an interception and two fumble recoveries. Saban said he hadn't gotten many practice repetitions with the first- or second-team defenses before this week.
Cyrus Jones and Bradley Sylve were the starting cornerbacks against West Virginia.
Saban praised the performance of Jones, who coaches recognized as one of their players of the week. Sylve was targeted at times and gave up a 19-yard touchdown to Kevin White, where he was in tight coverage but didn't appear to look back for the ball.
Saban didn't single out any specific player but said that was an issue for the Tide, and some mistakes could be attributed to "confusion" not lack of know-how or talent.
"Several plays we were in position and the guy didn't play the ball," he said. "It's not what he's coached to do. He's coached to play the ball, he's capable of playing the ball, he didn't play the ball. That's poise and confidence. He's supposed to look for the ball and play the ball."
Geno Smith and Maurice Smith are listed as backups to Williams at the Star position.
At cornerback, Jones appears to have come a long way since switching from receiver before last season. He said he's able to play faster now that he's more comfortable with the playbook.
He said the opening game hasn't dampened Tide players' confidence in Sylve.
"We as a defense and as a team as a whole know what Bradley can do, what kind of athlete he is," Jones said. "We never lost faith."
DePriest returns Saturday against Florida Atlantic from a one-game suspension for an undisclosed NCAA infraction. Jackson had knee surgery in April but Saban says he should play a role "some kind of way."
The Tide allowed 365 passing yards against West Virginia.