No. 18 Clemson looking to perk up offense with QB Watson's return against No. 24 Georgia Tech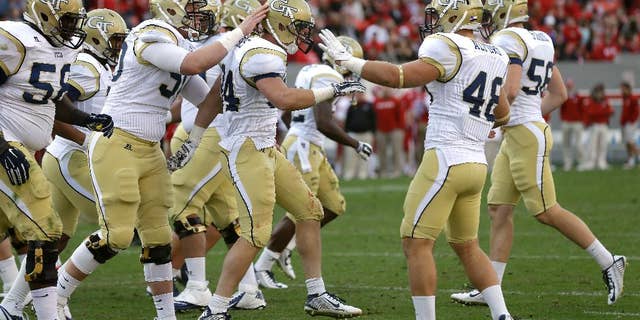 CLEMSON, S.C. – Clemson quarterback Deshaun Watson said his injured right hand has healed up and he's ready to re-ignite the 18th-ranked Tigers this weekend.
Watson missed the past three games for Clemson (7-2, 6-1 Atlantic Coast Conference) with a broken bone in his throwing hand in a win over Louisville last month. The five-star freshman could've played last week in a win at Wake Forest, but Tigers coach Dabo Swinney wanted to avoid using Watson.
Now, Watson can't wait to move behind center again when the Tigers (No. 21 College Football Playoff) head to No. 24 Georgia Tech (8-2, 5-2) on Saturday.
"No pain at all," Watson said Monday.
That's welcome news for fans and coaches who've grown accustomed to watching Clemson pile up big offensive numbers and put away opponents by halftime for much of the past four seasons under coordinator Chad Morris.
The Tigers had averaged more than 500 yards and 40 points a game the past two years and were on their way to doing it again after Watson took over for senior starter Cole Stoudt early on in a 23-17 overtime loss at Florida State in September. Then, the freshman cracked a small bone in his hand against a Louisville defender's helmet.
While Stoudt stood tall the past month winning all three of his starts, the offense averaged nearly three touchdowns fewer than it had before Watson's injury — 41 points a game
The Tigers had put up 40 points a game in the five contests before Watson got hurt and 22 points a game in the four games since.
Morris said there's pride that his guys got the job done despite injuries that have limited key performers like Watson, receiver Charone Peake and expected top rushers Zac Brooks and Adam Choice this season.
"Yes, that's one way to look at it," Morris said. "To be truthfully honest, the way I approach it is we want to be the best in the country. Yes, we have won, but we haven't played up to where we set a standard around here offensively."
Morris believes that should change with Watson's return. Watson accounted for 15 touchdowns in Clemson's first five games while the Tigers have only managed seven offensive TDs in the four games since.
"Circumstances have dictated some of the things that have happened," Morris said. "But to be honest with you, I really don't care. It's about performance."
Watson was the Georgia state prep record holder with 17,134 yards and 218 touchdowns at Gainesville High. He slipped seamlessly this fall into Morris' offense, which took flight the past three seasons with record-setters in quarterback Tajh Boyd, receiver Sammy Watkins and 1,000-yard tailbacks in Andre Ellington and Rod McDowell.
Watson set a school record with six TD passes in a 50-35 win over North Carolina in September, his first-ever start in Death Valley. He accounted for four more touchdowns to beat North Carolina State 41-0 a week later.
But in the opening quarter against Louisville on Oct. 11, Watson felt pain after a run play. He stayed in for two more snaps before Stoudt took over. He had four small screws put in the finger to set the bone, then began rehab process. "Just using stretchy balls, rubber bands and moving my fingers," he said. "Little things like that trying to work the muscle."
Clemson and Georgia Tech (No. 24 CFP) have plenty to play for. While it would be almost impossible to overcome ACC Atlantic leader No. 2 Florida State (No. 2 CFP), the Tigers are in line for a major bowl should they win out while the Yellow Jackets are a game behind Coastal Division leader Duke for that spot in the league championship game.
"We have been talking to them all week about controlling what we can control and not worrying about anyone else," Georgia Tech coach Paul Johnson said after the Jackets defeated North Carolina State last Saturday. "If you can find a way to keep winning, the games will get bigger and bigger."
Watson's confident he can pick up where he left off and spark an offense that's struggled to get going the past month.
"I just have to find that out Saturday and hopefully, get even better than the past couple of weeks," Watson said. "I just have to do my role and get the W."