No. 18 Clemson can't recover after losing QB Watson in 28-6 loss to No. 24 Georgia Tech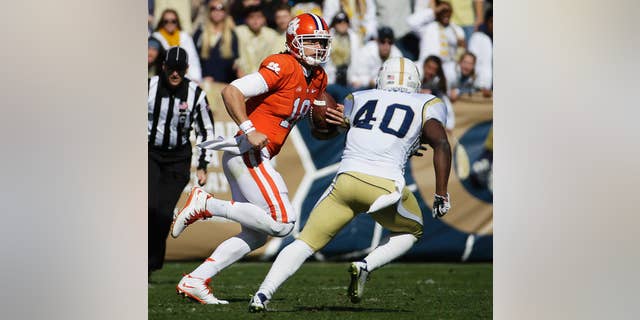 ATLANTA – With Deshaun Watson enjoying a productive return to the field, Clemson was leading and appeared to be on a roll.
Then Watson hurt his left knee on a play that changed Clemson's day and its outlook for the remainder of its season.
Cole Stoudt threw three interceptions after replacing Watson, including two returned for touchdowns, and No. 18 Clemson's Atlantic Coast Conference championship hopes ended with its 28-6 loss to No. 24 Georgia Tech on Saturday.
Clemson led 3-0 and was driving inside the Georgia Tech 10 when Watson hurt his left knee when making a cut on a 7-yard run for a first down. He fell to the ground and grabbed his knee before being escorted to the sideline and then to the locker room. He didn't return.
It was a cruel blow for Watson, the freshman who returned as a starter after missing three games with a broken bone in his right hand.
"He just planted," said Clemson coach Dabo Swinney. "Just unbelievable. ... That was a tough loss for us, but we don't make any excuses."
Swinney said ligament damage is feared.
"It's a tough situation for the team," Stoudt said of Watson's injury. "We're all sad and hurting for him."
Clemson, held to 190 yards, never recovered from the loss of Watson.
"We lost the turnover margin three weeks in a row now," Swinney said. "It's a recipe for disaster, and that's exactly what it was today, an absolute disaster."
Stoudt completed only 3 of 11 passes for 19 yards with three interceptions.
"It just didn't really go right this day," Stoudt said. "It's just something that happens. I've just got to move on from it."
With the loss by Clemson (7-3, 6-2 ACC), No. 2 Florida State clinched the ACC's Atlantic Division before playing Miami on Saturday night.
Jamal Golden and Chris Milton returned interceptions for touchdowns for Georgia Tech, which moved up to first place in the ACC's Coastal Division.
With Virginia Tech's 17-16 win over Duke on Saturday, Georgia Tech (9-2, 6-2) moved ahead of the Blue Devils (8-2, 4-2) in the division. Duke, which beat Georgia Tech on Oct. 11, would win a tie-breaker with the Yellow Jackets if it finishes 6-2 in the ACC.
"We're finished with our ACC schedule. There's nothing else we can do," said Georgia Tech coach Paul Johnson. "We have to wait and see what happens to Duke."
Clemson tried to focus on its running game. Wayne Gallman ran for 82 yards on 14 carries, but the Tigers were held without a touchdown. Ammon Lakip kicked field goals of 27 and 32 yards.
Clemson finished the game with sophomore Nick Schuessler at quarterback.
Golden had an 85-yard return only three plays after Watson's injury, and Milton returned an interception 62 yards for a touchdown in the third quarter.
Justin Thomas' 65-yard run set up his 5-yard touchdown pass to DeAndre Smelter in the third quarter as Georgia Tech (9-2, 6-2) earned its fourth straight win.
Thomas completed 8 of 11 passes for 102 yards with a touchdown.
Stoudt's first interception came on his third play. He rolled to his right before turning and throwing to his left. Golden had an open field after stepping up for the interception to give Georgia Tech the lead.
Stoudt's first pass of the second half was intercepted by cornerback D.J. White, setting up a field goal for the Yellow Jackets.
Watson completed 5 of 7 passes for 27 yards and ran for 40 yards.
Georgia Tech running back Broderick Snoddy's 46-yard run, the longest of his career, set up a 25-yard field goal by Harrison Butker in the second quarter. Later in the quarter, Snoddy had to be carted off the field after suffering an apparent broken right leg.
With Snoddy on the cart and still on the field, Georgia Tech's team circled the junior in a big huddle before he was wheeled off the field. Johnson said Snoddy was to have surgery on Saturday night.