No. 15 Cincinnati wins share of AAC title, Kilpatrick scores 24 in 70-66 win over Rutgers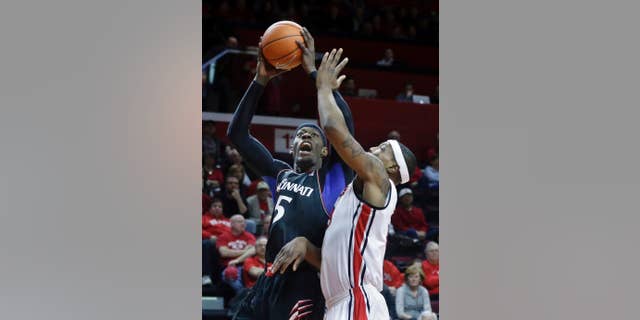 NEWYou can now listen to Fox News articles!
PISCATAWAY, N.J. – Sean Kilpatrick scored 24 points and No. 15 Cincinnati clinched at least a share of the American Athletic Conference regular-season title with a tough 70-66 win over Rutgers on Saturday.
Kilpatrick converted a three-point play and drove the lane for a layup in the final 68 seconds as the Bearcats (26-5, 15-3) rallied from a late deficit against the Scarlet Knights (11-20, 5-13).
Justin Jackson had given Cincinnati a 65-64 lead with 1:46 to play, scoring underneath after Kadeem Jack blocked his original shot in the paint.
Kilpatrick pushed the lead to four points with his back-door layup and free throw. The senior closed out the scoring with 17 seconds to play after Kerwin Okoro scored on a goaltending call against Jackson.
No. 11 Louisville can tie Cincinnati for the conference title if it beats Connecticut.