No. 14 Texas A&M focused on eliminating dropped passes with No. 3 Ole Miss coming to town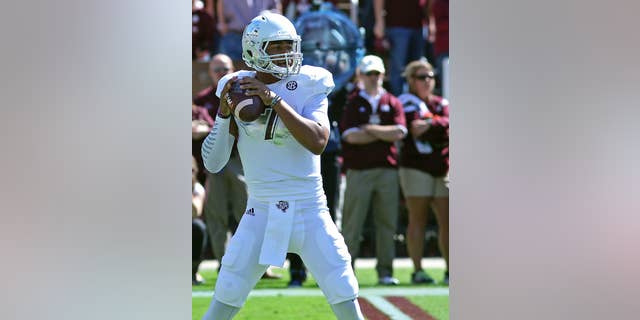 COLLEGE STATION, Texas – Depending on who you talk to, the receivers for No. 14 Texas A&M dropped between 10 and 15 passes in Saturday's loss to Mississippi State.
That's way too many for coach Kevin Sumlin. He and offensive coordinator Jake Spavital say everyone has to improve before Saturday's meeting with No. 3 Mississippi.
"That's something we emphasize every day, throwing and playing catch," Spavital said. "But it's been a concern in our meeting room recently, the incompletions we've had, so we'll be switching it up and getting the best guys in there and getting (quarterback) Kenny (Hill) as accurate as he can possibly be."
The team didn't have this problem through the first four games of the season, but has struggled with it for the last two weeks. No one is trying to shift blame for what's going on though.
"I need to be more accurate and smarter with the football," Hill said. "I put most of that on me. I've got to throw better balls and be more accurate."
Senior receiver Malcome Kennedy had a different take on the issue.
"As a receiving group we always put the blame on us because we always say: 'As we go, this team goes,'" Kennedy said. "When you're a good player you take responsibility for things you mess up on."
That attitude could have something to do with a bit of a mind game Spavital has used on his offense this week.
"There's a lot of gray area with that," Spavital said when asked who was at fault for the drops. "There's a lot of times I'll tell Kenny: 'You've got to be more accurate with the ball,' then go to the receiver on the same play and say: 'You've got to make that catch.' You've got to play both sides."
The receivers are often the last group remaining on the practice field, but they've worked even longer this week to get in extra work making catches. Receivers coach David Beaty has a very simple thought when it comes to how to help his receivers improve.
"The way you get better at catching balls is catching them," Kennedy said. "So he wants us to catch it as many times as we can."
Some of the group's problems last week could be that the unit was without Kennedy, who is second on the team with 378 yards receiving. He missed the game with a separated shoulder, but hopes to return this week.
"We miss him," Hill said. "He's a definite leader for our team and he makes a lot of plays for us."
Hill had just two interceptions entering the game, but threw three on Saturday in Texas A&M's first loss this season. Despite the miscues, Sumlin was quick to point out that the turnovers weren't all his fault.
"It wasn't a poor performance by him," Sumlin said. "It takes a complete team. We have to correct mistakes whether we win or lose and keep his confidence at a high level and get other players to that level. The evaluation of him is that he's got to continue to get better, which he understands, but there's more than just him on the field."
On Saturday, they'll face a defense that ranks second in the country by allowing just 10.2 points a game. They've given up just four touchdowns all season, with just one of those scores coming against the first-string defense.
"They're playing very, very well," Sumlin said. "This is a talented team. You're looking at the nation's No. 1 recruiting class a few years ago, those guys took their lumps and now they're playing with a lot of confidence."