No. 12 Mississippi routs Presbyterian 48-0; Bo Wallace throws for 2 TDs, runs for another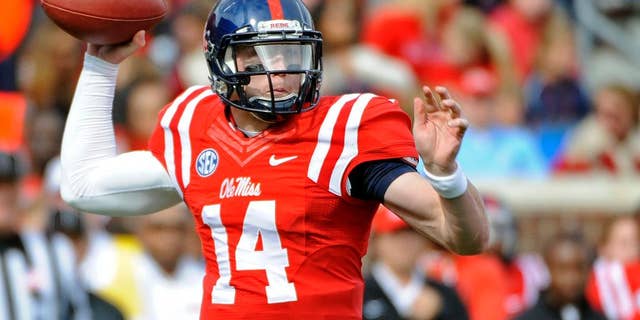 OXFORD, Miss. – Shortly after a pair of heartbreaking losses that tarnished a 7-0 start and a No. 3 ranking in the poll, Mississippi head coach Hugh Freeze made a promise to himself and his Rebels.
"I promised to stay the course and not be discouraged," Freeze said. "So, I'm happy to have eight wins and be sitting where we are. It's a happy locker room today."
Ole Miss (8-2, 4-2 SEC West) appeared to be emotionally healthy in a 48-0 win over Presbyterian College on Saturday. The Rebels ran up 640 yards of total offense, highlighted by Bo Wallace, who threw for two touchdowns and ran for another, exclusively in the first half.
Wallace was 11 for 15 for 140 yards, including scoring strikes of 66 and 23 yards to Vince Sanders and ran for a 9-yard score. Jordan Wilkins and Mark Dodson rushed for 171 and 128 yards, respectively, accounting for three touchdowns.
"The two that jumped out to everyone were Jordan Wilkins and Mark Dodson," Freeze said. "Their downhill run was very impressive today. I'm impressed with what we saw, for sure."
Dodson scored on first half runs of 65 and 62 yards. In the second half, Wilkins scored on a 73-yard run and DeVante Kincade threw a 31-yard touchdown pass to Derrick Jones.
"I felt like we played really well," Wallace said. "I think we got everything accomplished that we wanted to get accomplished."
Presbyterian (5-5, 2-2 Big South) got 13 tackles and an interception from safety Ed Britt, but could not answer the big plays from the Rebels.
Offensively, the Blue Hose managed only 156 total yards and did not cross the Ole Miss 38-yard line.
"Unfortunately, we did not play as well as I would have hoped," Presbyterian coach Harold Nichols said. "Some of it had to do with us, but a lot of it had to do with them. They have a great team."
The win, before an announced Vaught-Hemingway Stadium crowd of 60,546, snapped a painful two-game losing streak to LSU and Auburn, respectively. In both games, the Rebels had potential game-winning scores wiped out by turnovers on their final offensive series.
The two losses also redefined the depth chart. Eight starters did not dress out or play against Presbyterian, including a handful of postseason honors candidates. The most obvious was wide receiver LaQuon Treadwell who dislocated an ankle and broke a leg on a fumble while crossing the goal line against Auburn.
The Rebels get a bye week before closing with division games at Arkansas and arch-rival No. 1 Mississippi State Bulldogs at home. A sweep would allow Ole Miss to keep faint hopes alive for an SEC West title, an SEC Championship Game berth and a spot in the College Football Playoff.
"We got to sit a few guys today and with a bye, we hope to be as healthy as we have been in a long time when we travel to Fayetteville," Freeze said. "We've just got to get better physically and work on some things for Arkansas."
Ole Miss must win and would still need an odd set of outcomes involving Auburn, Alabama and Mississippi State to make those title hopes a reality. But the Rebels remain convinced that anything is still possible.
"You can yield to outside sources and pressures and different things when things aren't exactly what everybody wants them to be or you can yield to something bigger than yourself," Freeze said. I thought our kids handled the week very, very well."