No. 1 overall pick Myles Garrett admits he cant be a savior for the Browns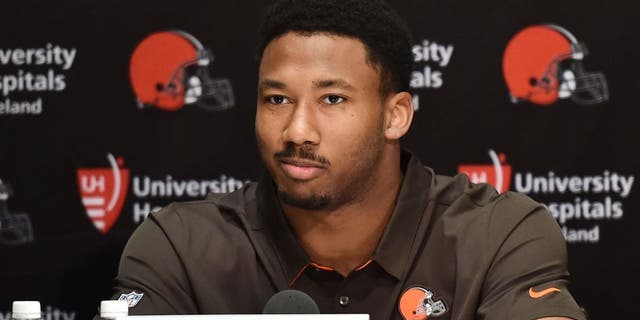 The Cleveland Browns are in desperate need of a player who can resurrect the franchise and get it back on the winning track. That player will likely be a quarterback one day, but the Browns have yet to find the right man for the job.
Some hope that No. 1 overall pick Myles Garrett can save the team on the defensive side of the ball, but even he knows thats impossible. He admitted as much Friday when speaking about the Browns in 2017.
"It takes a culmination of all these guys coming together and just having the attitude that we're not going to lose. And that's what we're going to do. I can't be a savior," Garrett said, via NFL.com. "But I can be the best I can be. I can give it my all and make plays and dominate my side of the field, but it takes all 11 guys with a certain thought process that we're going to go out there and we're going to win."
Garrett is going to be a Day 1 starter for the Browns and is the favorite to win Defensive Rookie of the Year. He has all the makings of a cornerstone defender in the mold of Von Miller and J.J. Watt, which should provide the fan base with some excitement.
That being said, hes not going to win the Browns games without a lot of help. Hes not going to turn them into a playoff team after they won just one game in 2016.
Garrett said himself that one person cant win games, making it clear that it takes an entire team to have success in the NFL. Sure, his play as a rookie will help the Browns win more often in 2017 or at least they hope so but he cant do it all.
He remains as confident as ever, though, after saying he wants to sack Steelers QB Ben Roethlisberger most in the NFL and he plans to back it up.
"You just gotta back up your words. Don't be scared from it or don't shy from it," Garrett said. "Make sure, if you're willing to say something, that you worked hard enough and prepared well enough to back those things up."
Denver Post via Getty Images | The Denver Post, MediaNews Group