No. 1 Florida State getting healthier in secondary, set to host struggling Wake Forest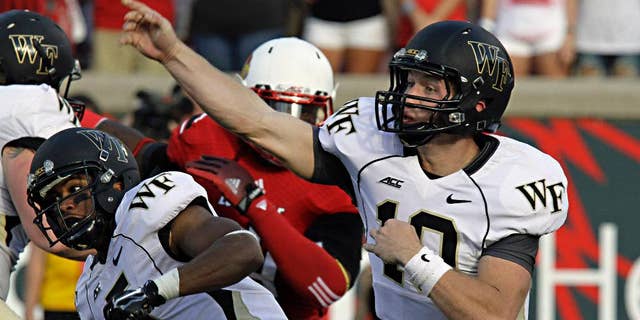 NEWYou can now listen to Fox News articles!
TALLAHASSEE, Fla. – The Florida State "No Fly Zone" has been little more than a catchphrase as opponents have racked up passing yardage on the secondary all season long. The Seminoles pride themselves on shutting down receivers and the nickel package — with a fifth defensive back — has basically become the team's base defense.
The production, however, from the secondary hasn't been there.
No. 1 Florida State has allowed 300-plus passing yards in two of three games against FBS opponents in 2014. That didn't happen once during the title run. The Seminoles lost Lamarcus Joyner and Terrence Brooks to the NFL, but P.J. Williams, Ronald Darby and Jalen Ramsey are expected to be high draft picks one day.
Coach Jimbo Fisher said the secondary improved in practice this week and Darby and Williams have looked much healthier after struggling with hamstring injuries suffered near the end of preseason camp. Williams missed the second game of the year due to the injury.
"This is the first week I've really seen them fly around and be 100 percent," Fisher said. "Looked like the quickness and surge and pull. . They were playing good, but they weren't fully to where they need to be and I can see a difference in them right now.
"You have a pulled hamstring, those things don't just heal up. They look healed now, though."
The Seminoles (4-0, 2-0) host a Wake Forest team (2-3, 0-1) that brings the No. 94 pass offense in the nation that averages 201.0 yards per game. Freshman quarterback John Wolford's 10 interceptions are tied with Virginia Tech's Michael Brewer for the most in FBS. Wake Forest coach Dave Clawson said his struggling offensive line has contributed to many of Wolford's issues.
FSU only has one interception this season after leading the nation in 2013 and setting a school the school record at 26.
"Of course we're going to think we should have had more, but you can't just go out there and think 'I'm going to catch an interception,'" FSU senior safety Tyler Hunter said. "You can't really go out there trying to make plays because that's where you mess up at. We do our job, interceptions are going to come."
___
Some things to watch for Saturday:
SUPER MARIO(S): The Seminoles return starting defensive end Mario Edwards, Jr. and No. 2 running back Mario Pender after both missed last week with concussions. Edwards, Jr. is much needed along a defensive line that has been banged up recently. His numbers aren't earth-shattering, but the former No. 1 recruit in the country has elite athleticism and the versatility to play on the interior or end of the line. Pender adds some punch to a run game that has struggled.
YOUTH MOVEMENT: Fisher said to expect freshman receivers Travis Rudolph and Ermon Lane to get into the rotation this weekend after a gradual improvement this season. Both were widely considered Top 5 prospects at the position. Rudolph (6-foot-2, 182 pounds) had his first catch of the year last week on a 40-yarder that set up a Jesus "Bobo" Wilson touchdown that cut the N.C. State lead to three in the third quarter. Lane (6-3, 206) caught three passes for 37 yards against The Citadel. Fisher hopes the pair, and freshman Ja'Vonn Harrison (6-2, 197), can contribute to a receiving corps that has lacked consistency and size on the outside.
THE TRENCHES: Football games are won and lost along the line of scrimmage and Wake Forest has a distinct disadvantage there. Seven of the Demon Deacons' 10 offensive linemen on the depth chart are redshirt sophomores or younger while Florida State has three 300-pound defensive linemen on the two-deep. Wake Forest has the nation's worst rushing offense, averaging 29 yards and being held to negative yards rushing in three games. "Any time this year that we have played a 300-pound nose guard or tackle, it's PHOOM," Clawson said.
RANKED? SPANKED. Wake Forest hasn't beaten a ranked team since 2011 — when then-No. 22 Florida State left Winston-Salem, North Carolina, with a 35-30 loss. The Demon Deacons have lost nine straight against Top 25 teams, have never defeated a No. 1 team and the highest-ranked team they've beaten was then-No. 4 Tennessee in 1946.
___
AP Sports Writer Joedy McCreary in North Carolina contributed to this report.