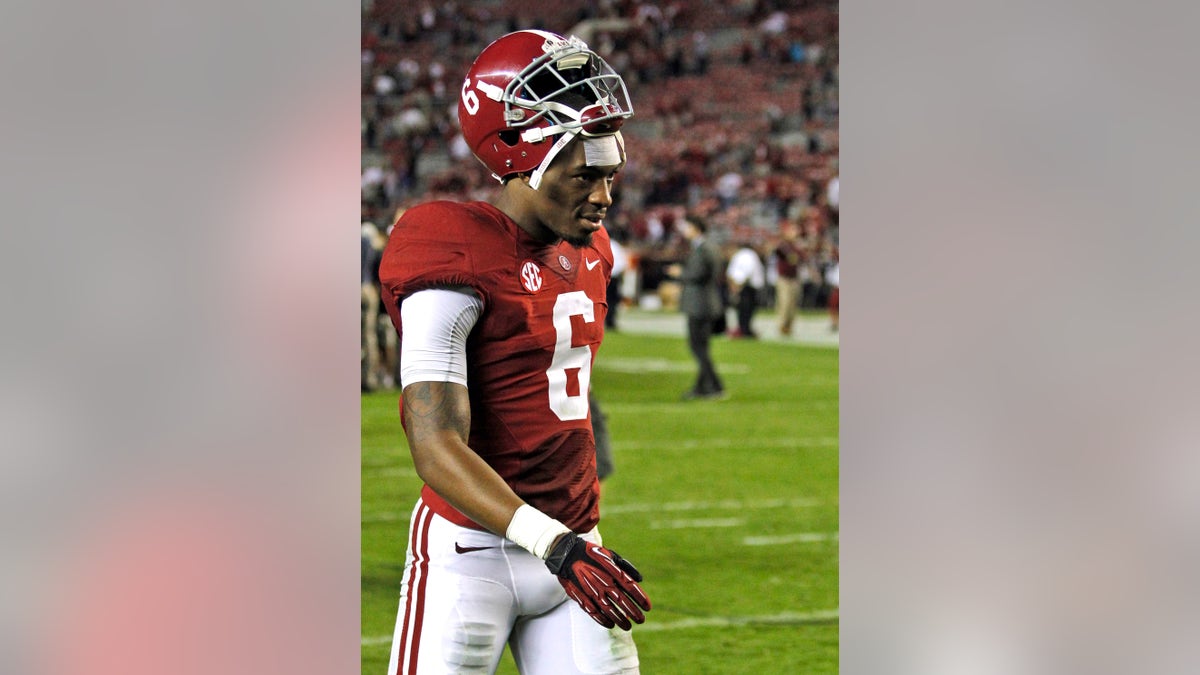 TUSCALOOSA, Ala. – No. 1 Alabama has had a string of stumbles off the field even though the Crimson Tide is still rolling inside the lines.
The Tide has had suspensions and separate reports of NCAA violations, including one that has sidelined starting safety Ha Ha Clinton-Dix.
Despite the potential distractions, Alabama (5-0) is still unbeaten and has faced only one close game — against No. 9 Texas A&M — in its bid for a third consecutive national title.
Off the field, it hasn't been all smooth sailing going back to the February arrests and subsequent dismissals of four players. The latest issue was last week's indefinite suspension of Clinton-Dix, a potential first-round NFL draft pick who reportedly accepted and repaid a short-term loan from assistant strength and conditioning coach Corey Harris. Harris was placed on administrative leave.
Clinton-Dix was the ninth player suspended or dismissed for off-the-field issues since last season's win over Notre Dame in the BCS championship game.
"We just don't worry about it," Tide quarterback AJ McCarron said on Monday. "It's not affecting me as a person. It has nothing to do with me. It has nothing to do with anybody else. It's whoever it's going on with. Us as a team, we can't let anything like that affect us that we have no control over."
It didn't against overmatched Georgia State. Now, Alabama begins a five-game stretch of Southeastern Conference games with Saturday's visit to Kentucky, and Clinton-Dix's status remains up in the air.
The program that's won three national titles in four years has remained dominant on the field. With Clinton-Dix out, Alabama inserted another five-star recruit, Landon Collins, in his place.
But the Tide has received its share of negative attention and scrutiny. Coach Nick Saban said Alabama can't worry about outside perception of the program.
"I think that our concern is that we get our players to do the right things the right away all the time," Saban said. "If players are committed and doing the right things, we won't have those issues to be dealing with. But if it's not happening that way, I think the way to get it that way is to make sure everybody knows and understands that in this world we live in, there's consequences for every choice and decision that you make.
"Those consequences can be good or they can be bad, all relative to the choices that you make. I think that's true in life. I think it's true in any endeavor, including athletics."
Trouble started barely a month after the BCS championship game win over Notre Dame.
Four players were arrested on Feb. 11 after two on-campus robberies. Safety Eddie Williams, linebacker Dennis Pettway, linebacker Tyler Hayes and running back Brent Calloway were all dismissed from school.
Williams, Pettway and Hayes are charged with two counts of second-degree robbery after two students were attacked in separate robberies. Williams and Calloway are both charged with using a stolen debit card.
Reserve wide receiver Danny Woodson Jr. was suspended for spring practice, and later transferred to South Alabama. In August, starting linebacker Trey DePriest and tight end Malcolm Faciane were suspended for violating unspecified team rules.
Defensive back Geno Smith was suspended for the opener after getting arrested on a drunken driving charge on Aug. 18. Tailback T.J. Yeldon also was held out of the first quarter against Colorado State after drawing an unsportsmanlike conduct flag in the Texas A&M game.
"To protect players and allow them to think that, 'I don't have to do that,' is probably doing them a tremendous disservice," Saban said. "It is what it is. We have to continue to get our players to be committed to doing the right things and the more players that do that, the better chance we have to be successful."
The Clinton-Dix situation was the second report of misdeeds involving NCAA rules since the season started.
In September, Yahoo Sports reported that five SEC players received improper benefits during their college careers, including ex-Tide offensive lineman D.J. Fluker.
Alabama athletic director Bill Battle at the time said the athletic department had been investigating the allegations and was continuing to do so. He expressed confidence in the university's handling of the situation.
"We deal with issues," Battle said Monday in a statement to The Associated Press. "Our approach to all of these situations is consistent. It involves the time and effort of many dedicated people in our university and our athletics department. Because of that approach, and the thoughtful, consistent methods that I have been a part of over the last six months, I am proud and confident in our ability to both identify and effectively handle the many issues that arise."
While the process runs it course, the Tide appears unfazed in pursuit of another national title.