NNS: Young Guns Spark New Interest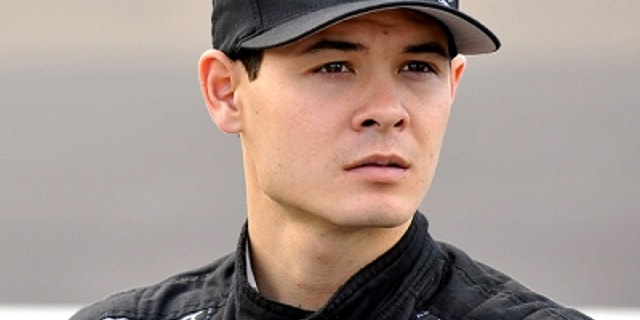 On Saturday, it was clear that there's a new Kyle on the block.
Yes, Kyle Busch continued his winning ways at Bristol Motor Speedway while extending his record for most career victories in the Nationwide Series to 53.
But in the closing laps of the 300-circuit bout, it was Kyle Larson not only nipping at Busch's bumper but actually muscling alongside to contend at the finish.
Given Larson's aggressive nature, Busch wasn't entirely clear what to expect from the 20-year-old newcomer.
"He played it smart today, and that was good on his end," Busch said. "I think that a lot of people have been looking at him to try to see if he's going to be a wrecker or a checker, and today, even though he didn't get the checkers, that's how you get them. That will come back.
"You drive in the corner and drive in the back of me or something like that — I'm going to be here for a while. And if he keeps coming up through the ranks, then he's not going to have fun dealing with me every week. Right now, I'm going to race him as hard as he raced me, but just as clean as he raced me because he didn't put a fender on me all day."
The margin at the line was a mere 0.023 seconds. And Larson's second-place finish matched his career-best showing among NASCAR's top three tours, which he established last November at Phoenix in the Camping World Truck race.
Not bad for a rookie in his fourth Nationwide start who before the race began was just hoping to finish his second start at Thunder Valley.
"I was running 10th early in the race, and I was like, 'Man, I'm happy here. I'd just like to finish,' and missed a couple of wrecks," Larson said. "But I really, really just wanted to finish.
"But then once I got to the front, I wanted to win. It was a lot of fun."
Larson's first top five in the Nationwide Series follows three weeks of sporadic results and a controversial finish in the Battle at the Beach, when he dumped C.E. Falk for the win in Late Models.
Despite ending up in the fence in the Nationwide Series season opener at Daytona International Speedway, he still salvaged a 13th-place finish and exhibited tremendous poise against some of the best Sprint Cup Series drivers who were also in the Nationwide race throughout the event.
At Phoenix, he bounced off the wall three-quarters through the race and fought his way back to 13th — one position behind five-time Cup champ Jimmie Johnson. Larson's 32nd-place Las Vegas result was courtesy of a miscue between Ryan Sieg and Joey Gase less than 20 laps before the finish.
Still, growing pains are part of the learning process in NASCAR — and why young drivers cut their teeth in the Truck and the Nationwide series before punching a ticket to Sprint Cup.
At 16, Busch was the youngest driver ever to compete in the Truck series. And while he ruffled a few racers along the way, the 27-year-old has matured into one of the most talented drivers on the circuit.
"Well, you certainly want to try to win races the right way," Busch added. "That's how I tried to do it the best I could growing up — I don't remember getting myself in a lot of hay when I was running races in the Nationwide Series or the Cup series. I didn't win a lot, but the ones that I did, I didn't do it dirty."
Could Larson be the next Kyle Busch? The fact he won 30 races in 123 starts in 2012 could prove a solid indicator. Certainly, Larson's effort at Bristol should prove encouraging for the Turner Scott Motorsports crew after a few rough weeks in the fabrication shop.
"It's been a rough, rough three weeks so far," Larson said. "Phoenix wasn't bad, but we didn't finish inside of the top 10.
"I just needed to finish because we were kind of digging ourselves a hole here, especially after Vegas. I just need to be consistent from here on out and inch back up in the points standings."
Larson, who returns to his home state of California for this week's race at Auto Club Speedway, remains one of the most talented prospects in stock cars. But he's not alone. Larson and a number of younger drivers posted solid runs in NASCAR's Triple-A Division on Saturday in what has been a revitalization of the Nationwide Series.
Fans have waited for a time when that tour would return to a breeding ground for up-and-coming racers. And the action has never been better.
Although Larson stole the rookie spotlight at Bristol, certainly his fellow freshmen Chris Buescher and Parker Kligerman deserve a nod. Buescher, a 20-year-old ARCA campaigner, made his third career Nationwide start behind the wheel of a Jack Roush Mustang and finished seventh.
Buescher, who is the cousin of Truck series champ James Buescher, says that patience and a fuel-only stop near the finish of the race were the keys to his first career top 10 in the Nationwide Series.
"It's an absolute blast, and I'm so appreciative of it," Buescher said of the opportunity he was offered by team owner Jack Roush and vice president of competition Robbie Reiser. "I'm glad we came out here and ran as well as we did with the opportunity.
"This is a very new team, which, for the most part, was assembled on Monday of this week and to come out here like this right out of the box, I think it's awesome. There should be a lot of good things to come."
It's also the first full Nationwide season for Kligerman. He was released from Brad Keselowski Racing last summer then was picked up by Red Horse Racing and won his first Truck race last fall at Talladega. Toyota Racing insisted on keeping Kligerman in the fold and, consequently, he was recruited by Kyle Busch Motorsports for 2013. Kligerman, who moved up to 11th in the points standings after his ninth-place Bristol finish, acknowledges that his Joe Gibbs-powered Camry has "been a rocket lately" despite suffering a broken track mount at Las Vegas on March 9.
"We've had top-10, top-five speed every (race)," Kligerman said. "We haven't quite figured out some of the kinks as a new team jelling together. We'll figure those things out. We definitely passed the most cars today, that's for sure. . . . We showed the speed to be there, but now it's about clicking them off, and I really think we're going to surprise some people coming halfway through the season.
"(Crew chief) Eric Phillips and this whole team has really got some good things going on. We just haven't been able to show it exactly, so I'm excited for the rest of the season and clicking off top 10s like this is what will bring us to Homestead(-Miami Speedway) top five in points and hopefully fighting for a championship."
While neither Kligerman nor Buescher have an eight-year contract with a Cup team such as Larson's lock with Earnhardt Ganassi Racing, the youngsters have plenty of time to prove their potential among some of the best talent in stock cars.
And shouldn't that be Nationwide Series' raison d'etre?