NNS: Win Gets Monkey Off Sadler's Back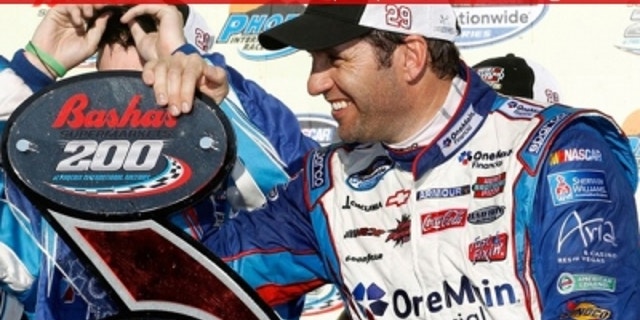 It was a huge weekend for Virginia native Elliott Sadler, who won the Bashas' Supermarkets 200 NASCAR Nationwide Series race at Phoenix International Raceway on Saturday.
At PIR, Sadler passed Brad Keselowski on Lap 175 and held on for the last 26 laps to score his sixth career Nationwide race victory and his first since Halloween Day 1998 at Rockingham Speedway.
Coupled with his third-place run in the season-opening race at Daytona International Speedway, Sadler has a 10-point lead in the Nationwide points over his Richard Childress Racing teammate, Austin Dillon.
More than anything, though, the victory lifted a monkey off Sadler's back after he finished second in points last year, but failed to make it to victory lane. Scratch that — it wasn't a monkey that got lifted off his back, it was an 800-pound gorilla.
"To win this early, means I don't have to answer this question anymore. But it also gives me confidence, it really does," Sadler said in an exclusive interview with SPEED.com on Monday. "For me to win at Phoenix gives me confidence that we can win just about anywhere because you know what, that is not one of my best tracks at all. It's a tough track, it's very slick."
Winning at the one-mile PIR oval was a truly special moment for Sadler.
"Phoenix to me was unreal," he said. "It's been well documented that it's been a long time since I won a race. ... Last year, we really thought we were going to win a race and we really thought were going to be in a little bit better position to win a championship. And when that didn't happen — not like I felt like a failure, but I felt like I let everybody down."
That didn't sit particularly well with Sadler.
"I'm a guy that's always going to try to look in the mirror and see what I can do better," said Sadler. "I don't like passing the blame. I'd rather take it all in myself. What could I have done better?"
Last year, of course, Sadler drove for Kevin Harvick Inc., but owners Kevin and DeLana Harvick shut their operation down in the off-season and merged some of it with RCR. Sadler's new crew chief this season is Luke Lambert, who held the same post with Jeff Burton's RCR Cup car for much of last season.
And Sadler has a great relationship with his new boss, team owner Richard Childress.
"The way he talks to me, the way he believes in me — he really believes in me," said Sadler of Childress. "To me, that really means a lot, because I've been on the other side of the fence with people who didn't want me there or care if I was there or not. So to be on this side of the fence with somebody who really wants you to be a part of the team, it's been a really good experience."
Sadler said many of his crewmembers worked on Kevin Harvick's Sprint Cup car last year and winning in the second race of the season helped bring the squad together. "Working with me for the first time, I really kind of think that it got their mojo going and I think it was good for Luke. ... I could kind of see it lifted it off his shoulders, too."
For Sadler, there was comfort in how he won as well.
"We had to pass people like Denny Hamlin, people like Brad Keselowski, had to outrun people like Kevin Harvick and Ricky Stenhouse, guys that are really, really good race-car drivers. It wasn't a fuel mileage race, it wasn't like everyone wrecked in the field and we were the last ones standing. It was a good win for our race team."
So now, it's time to hunt for a Nationwide championship, which Sadler got close to last year. "To go to the banquet last year and see the trophy, but it's not yours' and you can't touch it, that hurt," said Sadler. "That burned. ... To win it this year would mean so much to me and my family. It would almost be vindication for a lot of what I've been through in the last couple years of my life.
"It would be a lot of pride and lot of happiness," said Sadler. "That's why we race."
Tom Jensen is the Editor in Chief of SPEED.com, Senior NASCAR Editor at RACER and a contributing Editor for TruckSeries.com. You can follow him online at twitter.com/tomjensen100.