NNS: Wallace Primed To Race Again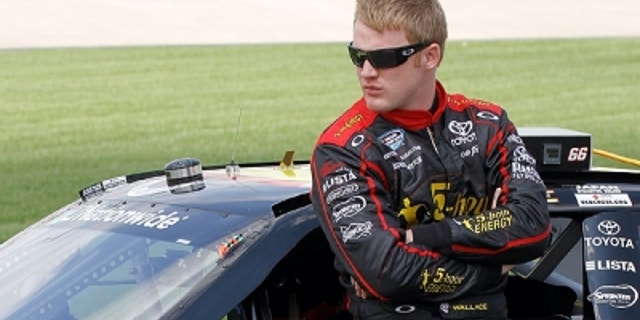 It's funny how things sometimes work out in NASCAR.
Steve Wallace lost his NASCAR Nationwide Series sponsor, 5-Hour Energy, after the company decided to move up to the NASCAR Sprint Cup Series with Clint Bowyer and Michael Waltrip for 2012. That led to Rusty Wallace Racing temporarily discontinuing its on-track efforts this year.
Trevor Bayne lost his NASCAR Nationwide Series ride with Roush Fenway Racing after five races into this season because the team couldn't find sponsorship, either.
JTG Daugherty Racing campaigns Toyotas in the NASCAR Sprint Cup Series and RWR was a Toyota team in Nationwide last year.
But this weekend at Richmond International Raceway, the various parties will come together in a somewhat odd mix: Wallace will make his 2012 Nationwide debut in the No. 4 RWR Ford Mustang, one of the cars Bayne formerly raced for Roush Fenway. Campaigning the No. 4 car this weekend will be a collaborative effort between RWR and JTG.
The in-race crew chief for Wallace will be Todd Berrier, who is the full-time crew chief for Bobby Labonte's No. 47 JTG Cup car. Blake Bainbridge, the original RWR crew chief for Jamie McMurray, will lead the team during practice, along with Wallace's 2011 car chief, Ricky Cade.
Confused yet? You probably aren't alone. But this much is certain: Steve Wallace is eager to go.
"I'm really excited to get back on the racetrack finally," said Wallace. "We've worked very hard to make this happen. Blake and I, along with a couple of other guys, put the entire car together. We tested it the other day up at Motor Mile Speedway and it went really well. Hopefully we'll have a smooth race and put together a good finish that can help us firm up some sponsorship to run more races this year."
Wallace, who has nine consecutive top-20 finishes at the 0.75-mile RIR facility, is hoping to parlay this weekend into a part-time ride for the rest of the season.
"Right now, our goal is to run 10 or so races this year and look at going racing again full-time in 2013," said Wallace. "Just like everyone else, though, that's just dependent on sponsorship. A good run this weekend though, certainly wouldn't hurt in that department. I also want to thank Todd Berrier and everyone at JTG Daugherty Racing for helping us out this weekend-having someone with his experience on the radio will definitely help us a lot."
And like all true racers, Wallace professed to be optimistic about what he can do at RIR.
"We've run a lot better at Richmond than our record shows," he said. "We've had a couple flat tires and mechanical problems that have taken us out of possible top-five or top-10 runs there. Just like any short track, it takes a really good handling car to be fast at Richmond. You've got to be able to turn in the center of the corner and still have a lot of forward bite up off. It's a little bit bigger than your normal short track too, so good horsepower and torque will definitely help a lot. I don't think we'll have that problem this weekend with Roush-Yates Engines."
Tom Jensen is the Editor in Chief of SPEED.com, Senior NASCAR Editor at RACER and a contributing Editor for TruckSeries.com. You can follow him online at twitter.com/tomjensen100.