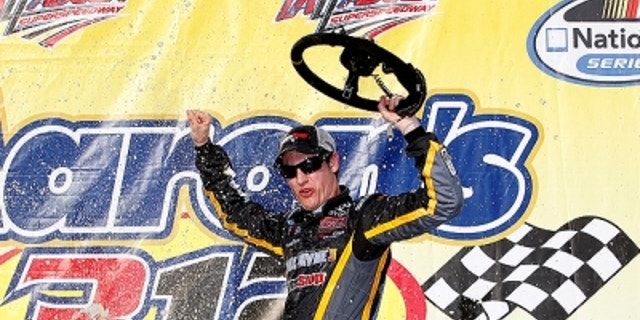 NEWYou can now listen to Fox News articles!
Joey Logano pushed Kyle Busch into position to win the Aaron's 312 Nationwide race at Talladega Superspeedway Saturday afternoon but then won the race himself.
Logano broke away from a two-car draft with Busch at virtually the last instant then edged Busch by about half a car length to win the race, a dangerous event marred by a late-race crash that sent driver Eric McClure to a Birmingham hospital.
The race finished with the second of two green-white-checkereds. The verdict came down to Logano, Busch, Cole Whitt and Ricky Stenhouse Jr., with Busch and Logano drafting together and Whitt and Stenhouse locked together.
They ran in a line toward the finish. Rolling into the trioval, Logano shot to the outside to move alongside Busch, then outran him to the finish.
Busch finished second and was followed by Stenhouse Jr., Whitt and Dale Earnhardt Jr.
The wild finish was set up with nine laps to go when Mike Bliss spun out after being tapped by Elliott Sadler, prompting the fifth caution.
The green flew with four to go and Kyle Busch and Earnhardt Jr. in front. That lap wasn't completed under green as Mike Wallace and Danny Efland crashed in turn four to bring out another caution.
That resulted in the first attempt at a green-white-checkered finish, with Kyle Busch again at the point.
The field roared into the third turn in a huge pack, and contact near the front sparked a multi-car melee that resulted in a red flag. Among the drivers involved were Michael Annett, Kevin Harvick, Austin Dillon, McClure, Robert Richardson, Danica Patrick and Jeffrey Earnhardt.
McClure got the worst of the crash. He lost control and slammed head-on into the turn's inside wall. The race was stopped as the track's safety team peeled the roof from McClure's car and removed him from the cockpit of the vehicle.
NASCAR said McClure was talking to rescue personnel as they removed him from the car. He was airlifted to UAB Medical Center in Birmingham with undisclosed injuries.
The crash set up a second green-white-checkered finish, with Kyle Busch again starting the run in front.
With typical Talladega pack drafting mixed in with some two-by-two tandem drafting, the lead was swapped among a large group of drivers.
The race for the lead was interrupted with 36 laps left when Josh Richards blew a tire and spun, bringing out the day's fourth caution.
The green flew with 30 to go with Harvick, Kyle Busch, Patrick, Kenny Wallace and Earnhardt Jr. in the top five.
After the race, Patrick bumped Hornish in apparent retaliation for a last-lap incident.
Mike Hembree is NASCAR Editor for SPEED.com and has been covering motorsports for 30 years. He is a six-time winner of the National Motorsports Press Association Writer of the Year Award.