NNS: Sadler Wins At Chicagoland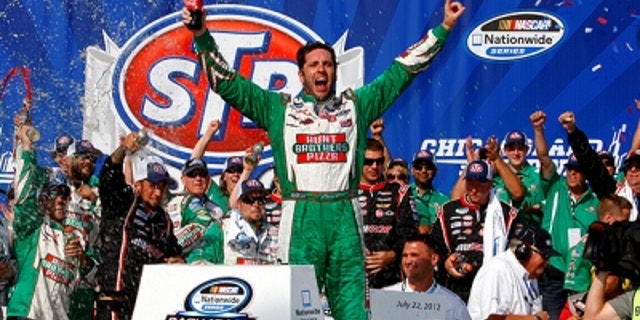 Ricky Stenhouse Jr. dominated Sunday's STP 300 at Chicagoland Speedway, but in the end, it was Elliott Sadler who took home the victory and the $100,000 NASCAR Nationwide Series Dash 4 Cash bonus money.
Stenhouse led 135 of the first 166 laps, but an ill-timed late-race caution flag caught him a lap down. The defending series champion put on a fierce drive over the final 35 laps to finish second in his No. 6 Roush Fenway Racing Ford Mustang.
The race ended in a green-white-checkered finish, with Allgaier pushing Sadler into the lead on the penultimate lap restart, with Stenhouse moving to second on the final lap.
Sadler, the series points leader, scored his third race victory of the season behind the wheel of the No. 2 Richard Childress Racing Chevrolet and eighth in 182 career NNS starts. Allgaier was third in his Turner Motorsports Chevrolet, followed by Kenny Wallace and Michael Annett.
"I knew we had to get a good restart there," said Sadler, who was battling a stomach ailment for much of the week. "I have got to thank Justin Allgaier for pushing me and pushing me straight. He was a great Chevrolet teammate right there."
Sadler credited crew chief Luke Lambert for improving his car over the weekend.
"The guys worked hard yesterday," Sadler said. "We knew we had a good car on the long run, and we knew we had to make it better on the short runs today. Luke made a great call, made some good adjustments there at the end. It was all about track position. Our car was really fast out front."
Stenhouse started on the pole, but it was Sam Hornish Jr. who led after the opening lap. Hornish's lead proved short-lived, however, as Stenhouse took the top spot for the first time on Lap 7.
Hornish got the lead again after a restart on Lap 60, following a caution for Jamie Dick's stalled car. Within 10 laps, Stenhouse was back on Hornish's bumper, the two waging an excellent battle up front. That ended on Lap 77, when Stenhouse went to the point.
Once out front, Stenhouse took off, opening a whopping 5.217 lead at the halfway point. All told, Stenhouse led 71 of the first 100 laps.
Just past a cycle of green-flag stops, the caution came out on Lap 110 for debris.
The green flew on Lap 116, with Hornish driving to get the lead, but Stenhouse aggressively defended his turf and held the top spot. Unlike earlier in the race, Hornish stayed close this time, Stenhouse unable to open another big lead.
Brad Sweet spun in Turn 2 to bring out the next caution on Lap 129. Stenhouse and three other drivers stayed on track under yellow, but Hornish and most of the other leaders pitted.
That allowed Parker Kligerman to move to second in the No. 22 Penske Racing Dodge. His teammate Hornish started losing ground, falling to sixth on Lap 155.
Stenhouse pitted under green on Lap 167 and seconds later, Sweet spun again in Turn 2 to bring out another caution. That caught Stenhouse one lap down, and while he got the Lucky Dog, he restarted 10th.
Sadler was the leader when the green came out, while a tremendous battle for second developed with Allgaier, Kyle Busch, Ryan Truex and Kenny Wallace.
In just two laps, Stenhouse was back to sixth, but time was running out.
On Lap 181, Stenhouse got all the way to third, some 2.8 seconds behind Sadler and Allgaier.
With 16 laps to go, Stenhouse passed underneath Allgaier and started his pursuit of leader Elliott, Sadler who had a 2-second lead.
With seven laps to go, Hornish, Busch and Brendan Gaughan piled up on the backstretch setting up a green-white-checkered shootout for the victory.
On the restart, Allgaier pushed Sadler clear into the lead, with Stenhouse third. On the last lap, Stenhouse got second place, but couldn't catch Sadler.
"Cautions just didn't fall our way," said Stenhouse afterwards. "… We had the car to beat but cautions kept falling at the wrong time. It just got us. The 2 (Sadler) got a heck of a push from the 31 (Allgaier) there and just got out in front of us. We couldn't do anything with him."
"I knew if I pushed him (Sadler) out there, we could race for the win," said Allgaier. "It was fun racing. I can't say enough about Ricky here. They dominated the race. I feel bad they didn't win, but a great day for our Brandt Chevy."
Tom Jensen is the Editor in Chief of SPEED.com, Senior NASCAR Editor at RACER and a contributing Editor for TruckSeries.com. You can follow him online at twitter.com/tomjensen100.