NNS: Nationwide Season Could Produce Fireworks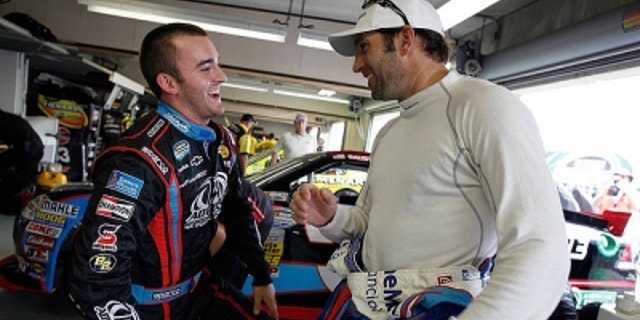 Kyle Busch. Elliott Sadler. Travis Pastrana. The Dillon boys.
Sounds like a mix for some adventurous racing. And that's not including the other folks who will wander in and out of the Nationwide Series this season.
It could be a sparkly sort of year.
Opening up the championship doors considerably in NASCAR's No. 2 series was the departure of two-time champion Ricky Stenhouse Jr., who will race in the Sprint Cup Series this season (while also doing some date-night scheduling).
Stenhouse's strength the past two seasons would indicate that he would be a favorite again if he kept camp in Nationwide, but the fact that he is moving on makes the championship hunt practically wide open.
Among the favorites – maybe THE favorite – will be Sadler, who finished second to Stenhouse the past two seasons after tailing off in the schedule's final months.
"It's going to be tough again," Sadler said. "Ricky being gone doesn't mean it's going to be any easier. The competition in this series just gets tougher. You've got young guys with good teams and experienced guys who've been to all these tracks a lot. It gets harder and harder to win these races."
Sadler's former teammate at Richard Childress Racing, Austin Dillon, will be among the favorites this year after coming close last season.
And Sadler also will have competition in-house at Joe Gibbs Racing in the person of Brian Vickers, who's back on the circuit full time.
Kyle Busch also will run a Toyota based at JGR. He'll be in only 25 races, but his traditional strength in the series is bound to impact positioning for those seeking the seasonal championship.
Also in the mix will be Roush Fenway Racing entries Trevor Bayne, Joey Logano and Travis Pastrana, JR Motorsports' Regan Smith, Sam Hornish Jr. at Penske Racing, Parker Kligerman at Kyle Busch Motorsports and Nelson Piquet Jr., apparently moving up from the Truck Series to try to add to his Nationwide win last year at Road America.
Mike Hembree is NASCAR Editor for SPEED.com and has been covering motorsports for 31 years. He is a six-time winner of the National Motorsports Press Association Writer of the Year Award.