NNS: McClure Back On His Feet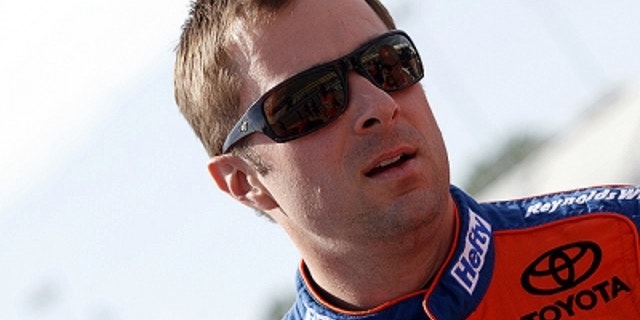 Eric McClure winced a little as he walked and he moved gingerly through the Darlington Raceway Media Center Friday morning, but his mere presence was a hugely encouraging sign after the events of last weekend.
Last Saturday at Talladega Superspeedway, McClure had a frightening high-speed crash, hitting the inside wall on the backstretch almost head-on. He had to be cut out of his No. 14 TriStar Motorsports Toyota and was airlifted to a Birmingham hospital, where he spent two nights before being released on Monday.
McClure said his memory of the crash was erratic.
"I remember bits and pieces of everything," he said. "It's very spotty at times after the impact. I just remember being really excited — we were in a good position and I felt like I had an opportunity for our first top 10 and we were just in a pack there. Saw the smoke ahead of me and went to hit the brake pedal and the brakes were not there. At that point, I just remember getting hit by someone and going towards the wall. At that point, I just braced for impact and that's really all I remember until after the accident."
The driver had no specific timetable for his return.
"The largest thing we battled was the internal bruising, which is still quite painful, and the concussion," McClure said. "As far as getting back in the race car, we're following the process that NASCAR has in place — it's a very thorough process and a very good process. We're consulting with the doctors on that. Once they feel that I'm cleared to get back in the race car and that I'm ready to get back in the car, then I look forward to doing that. We're definitely preparing the best we can to do that as soon as possible."
Asked if the horrifying incident had caused him to question his resolve, McClure said it hadn't.
"Never had a doubt that I wanted to do it again," he said. "Obviously, when you're in a situation like that and things are happening fast and you've just been through something like that, you're a human being and thousands of things run through your head. As far as questioning my desire to do this, I don't. I look forward to going through the process that NASCAR has laid out, getting the right clearance when it's time to come back and at this point, when they do that, I look forward to doing it and racing again and trying to get better."
Tom Jensen is the Editor in Chief of SPEED.com, Senior NASCAR Editor at RACER and a contributing Editor for TruckSeries.com. You can follow him online at twitter.com/tomjensen100.