NNS: Kyle Busch On The Clock At Chicagoland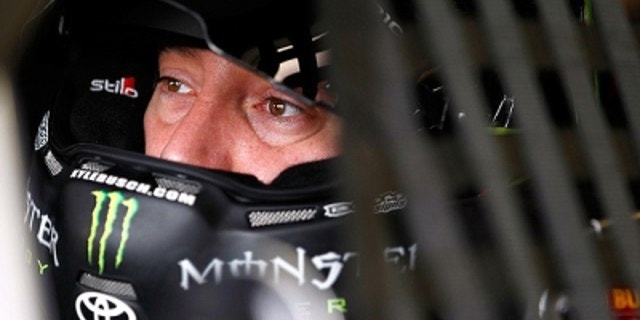 There's a very big reason Kyle Busch isn't taking the weekend off, as will many of his Sprint Cup contemporaries.
This weekend is only the second (and the last) "open date" for the Sprint Cup Series this season. After Sunday, it's a 17-race run to the championship. Most Cup drivers are on vacation, participating in charity events or, in the case of Jeff Gordon, traveling internationally.
Busch, however, will be at Chicagoland Speedway, which is hosting the Camping World Truck Series Saturday and the Nationwide Series Sunday. He's entered in the STP 300 Nationwide race with one goal in mind – scoring his first win in his Kyle Busch Motorsports entry.
Busch is 0-for-9 in his No. 54 Toyota in the Nationwide Series, although his brother, Kurt, drove the car to a win at Richmond in April.
"I like racing Chicago and think our intermediate-car program at KBM is competitive enough that we can have a good finish," Kyle said. "In Cup in 2008, I started at the top of the grid and won the event. That was pretty cool. Then between 2008 and 2010 I had two wins each in the Nationwide and Truck series here, one that came in our KBM truck.
"Hopefully, we can get the monkey off our back now and put another win in the column for the KBM Nationwide team in Chicago."
Busch owns one Sprint Cup, two Nationwide and two Truck wins at Chicagoland.
Busch owns a series record 51 victories and has won at least one Nationwide race each season for the past eight years. A win in his car obviously would be special.
"Our odds are always good with Kyle in the driver's seat," team general manager Rick Ren said. "On the competition side we've made gains in our intermediate-track program, improving our equipment since this car ran last at Michigan. The results we've seen at the seven post and in the wind tunnel show us we should unload really fast."
The team has hit a few potholes this season.
"The main thing to overcome is beating ourselves," Ren said. "There have been four races this year that come to mind where we were contenders for the win and beat ourselves with errors. Each race had a different set of issues, and each of those problems have been addressed internally.
"Last week's fuel-cell problem (at New Hampshire Motor Speedway) was disappointing, but we duplicated the problem on the chassis dyno and have made adjustments to our processes that hopefully will keep that type of hurdle from happening again.
"You have to remember, we are still a young team. We are learning every week, but that learning curve is getting smaller. With Kyle behind the wheel and with limited mistakes, we will be strong in Chicago."
The car the team plans to race this weekend has produced top-10 runs at Fontana, Darlington and Michigan this season.
Mike Hembree is NASCAR Editor for SPEED.com and has been covering motorsports for 30 years. He is a six-time winner of the National Motorsports Press Association Writer of the Year Award.