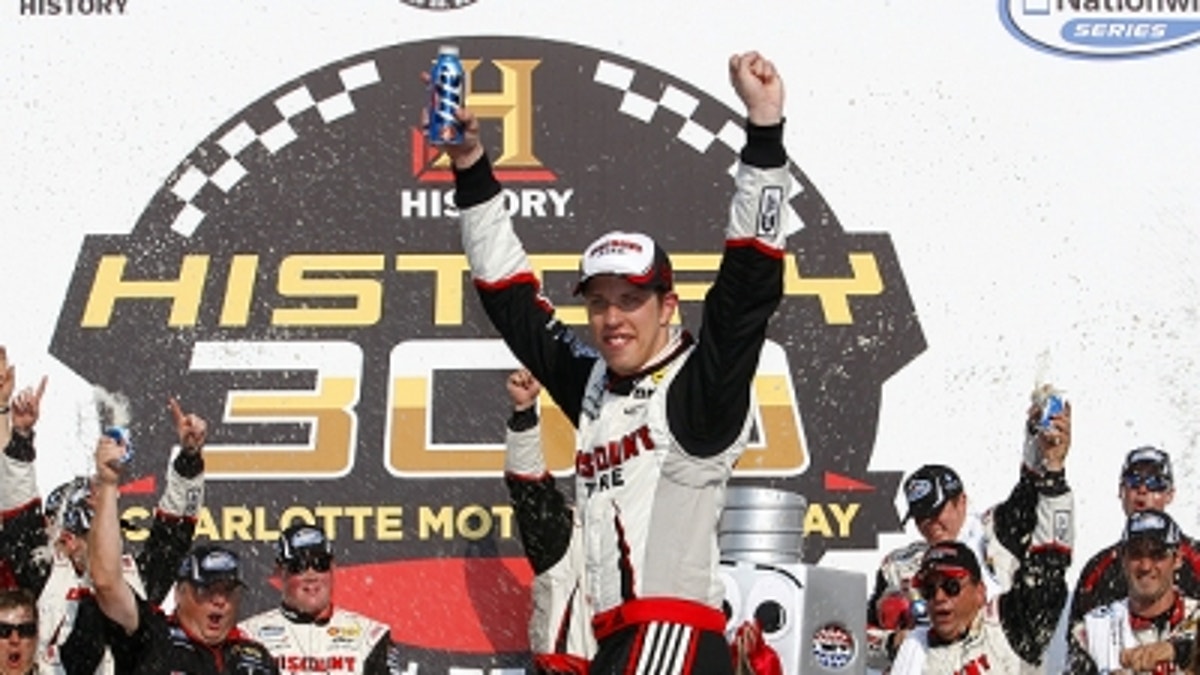 Brad Keselowski stretched his fuel over the closing laps and outran Denny Hamlin to win Saturday's History 300 Nationwide Series race at Charlotte Motor Speedway.
Keselowski made his final fuel load last to the final drop, running 73 laps. He held a relatively comfortable lead of about 1.5 seconds over Kyle Busch and Hamlin over the closing miles but was running in danger of losing fuel pressure.
"There's only so much you can do as a driver," Keselowski said of saving fuel. "A lot comes down to the car and what it needs."
Hamlin passed Busch for second place with 10 laps to go. He rallied for a strong finish after pitting to change a carburetor early in the race.
"It was a great battle back for us," Hamlin said. "We were just struggling to get the motor running at end of the straightaway. I thought we had a carburetor problem. We fought the handling. We just didn't have that good of a car, but we were able to make something of it.
"I had used my stuff up so much trying to get back through the field. I wore out the right front right off it."
Following Keselowski, Hamlin and Busch at the finish were Kevin Harvick and Elliott Sadler.
Pole winner Joey Logano dominated the first part of the race, leading the first 21 laps before Kevin Harvick stormed to the front to lead the next 33.
Teams used a variety of pit strategy in the second half of the race as Keselowski took over the dominant role.
Caution flags slowed the field several times during the last half of the race.
One of the biggest crashes occurred with 54 laps remaining as Cole Whitt and Brian Scott, both running in the top 12, slid off the third turn – possibly in oil on the track – and slammed hard into the inside wall, crumpling their cars.
On the ensuing green flag, with 46 laps to go, Keselowski held the lead in front of Kasey Kahne, Justin Allgaier, Kyle Busch and Hamlin.
The day was a struggle for defending series champion and point leader Ricky Stenhouse Jr., whose Ford dropped a driveshaft near the end of the race's first half.
Stenhouse drove into the garage and spent 22 laps there for repairs before returning to the track in 33rd place.
Stenhouse opened the race with a 28-point leader second-place Sadler but finished the race only 13 in front. Stenhouse finished 26th.
Danica Patrick finished 13th, and Travis Pastrana was 24th.
Mike Hembree is NASCAR Editor for SPEED.com and has been covering motorsports for 30 years. He is a six-time winner of the National Motorsports Press Association Writer of the Year Award.