NNS: JRM Seeking Boost With Retooling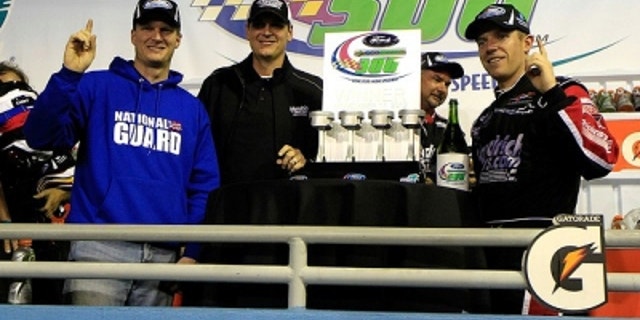 NEWYou can now listen to Fox News articles!
Some of the biggest personnel news of the 2012 NASCAR season occurred not in the Sprint Cup Series but on the Nationwide circuit.
Team co-owner Dale Earnhardt Jr. and his sister, Kelley Earnhardt Miller, decided in September to make dramatic changes in the landscape at JR Motorsports, one of the Nationwide Series' most prominent teams. Leaving JRM within a two-week span were competition director Tony Eury Sr. and his son, crew chief Tony Eury Jr.
Earnhardt Jr.'s uncle and cousin, respectively, the Eurys had long-time competition and business ties to the Earnhardt family.
The team was stagnant, at best, however, and the Earnhardts made the tough decision to retool. Ryan Pemberton, a crew chief with Sprint Cup experience, was hired in September as the team's new competition director, and JRM began working much more closely with personnel from Hendrick Motorsports in an effort to strength the operation's foundation. Rick Hendrick, Earnhardt Jr.'s boss in the Sprint Cup Series, is one of the owners of JRM.
The new infusions paid dividends relatively quickly. Regan Smith, who had signed to drive full-time for JRM in 2013, jumped into the team's No. 5 Chevrolet for this year's season finale at Homestead and brought the group its first victory since Jamie McMurray scored in September 2010. The victory was Smith's first in Nationwide and JRM's 10th overall.
Smith, who had filled in for Earnhardt Jr. for two races in the Hendrick Motorsports No. 88 on the Sprint Cup side while Junior recovered from a concussion, turned in a seasoned, solid performance at Homestead and gave the team confidence that it can roll into 2013 with a much better shot at scoring series wins and competing for the championship.
"I can't wait for next year," Smith said after the win. "Let's get it going right now. I'm ready, and this team is ready. I'm looking forward to great things next year."
As matters now stand, Earnhardt Jr. will drive the JRM No. 88 in selected races next season. There also is the possibility that driver Cole Whitt will remain with the team, although sponsorship difficulties make that look unlikely.
Whitt finished seventh in Nationwide points this season, and Danica Patrick, driving in the series as a preview of her move to Sprint Cup with Stewart-Haas Racing next year, finished 10th in points. She became the first woman to finish in the top 10 in a major NASCAR touring series. Sara Christian previously held the highest finishing mark for a woman – 13th in 1949, the first year of what became the Sprint Cup Series.
Smith will work next year with crew chief Greg Ives, newly hired from Hendrick Motorsports, where he was a key engineer in Jimmie Johnson's five straight Sprint Cup championships.
"Greg comes highly regarded," Earnhardt Jr. said. "He has been a huge part of the 48 team's success, and this is a good opportunity for him to get his feet wet as a crew chief. The partnership between JR Motorsports and Hendrick Motorsports gives us the opportunity to help employees advance their careers while still keeping them in the family, so to speak."
Earnhardt Miller said the team's goal is to field a pair of full-time Nationwide cars.
"That could still happen next year with other potential opportunities, but what we have right now is a strong team with Regan and Greg that will compete for a championship, and a part-time team with Dale Jr. that will compete for wins," she said. "Our focus is to streamline our company and equip those teams with everything they need to compete at a high level."
Mike Hembree is NASCAR Editor for SPEED.com and has been covering motorsports for 30 years. He is a six-time winner of the National Motorsports Press Association Writer of the Year Award.